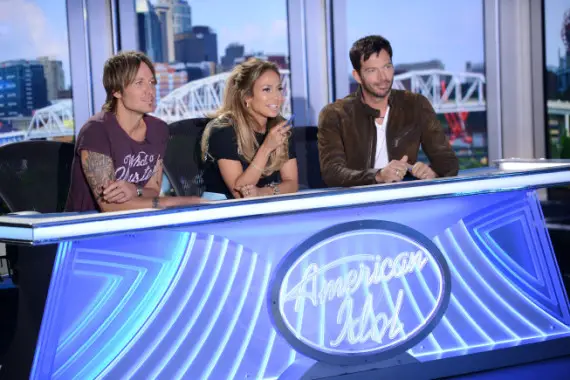 Lucky me. I had the opportunity to watch the first both the Wednesday January 7 and Thursday January 8 editions of the American Idol 14 premier! Here are a few semi-spoilery thoughts on the episodes.
Two and a half hours of the 3 hour premiere are spent in Nashville TN. Thirty minutes of the Thursday's two hour episode focus on bus tour hopefuls, who gathered in Kansas City, MO to sibng for the judges.
Compared to last year, there aren't as many auditions stuffed into an episode. The producers spend more time telling stories and highlighting the judges chemistry than they did last year. I rather liked the idea of featuring as many voices as possible, but maybe TPTB figured it was overkill.
There are LOTS of judges hijinks. The camera pulls back and we see AND HEAR the crew reacting.
Again, the tone is generally upbeat. Nobody is humiliated or made to look silly. No idiots in dumb costumes. Singers who don't make the grade are painted as either not ready yet, or naive (rather than delusional) regarding their talent. I felt compassion for the singers who didn't make it.
Idol music director, Michael Orland, is on hand to play piano for the hopefuls who want the accompaniment. A piano player in the audition room is an Idol first. The camera pans over to him frequently. The atmosphere in the room is a little party-like at times! Contestants play guitar, piano. One hopeful performs while playing rhythm on a percussive egg and a cajon.
Not a ton of time is spent dwelling on the open auditions. While there are fewer shots of big crowds shouting and singing, the show is still cut as if the cattle call and judges auditions happen at the same time.
The second night opens with a montage of alum auditions, including Kelly Clarkson, Carrie Underwood, Jennifer Hudson, Fantasia, and Adam Lambert. We also see those Idols, plus Phillip Phillips, picking up Oscars, Grammys, Platinum records. The video drives home the trop3 "Idol makes Superstars!"
There's a segment featuring Keith Urban performing with the houseband at a local Nashville club. Jennifer and Harry will also be featured in their respective "hometowns", New York and New Orleans.
Harry says NO to several singers that Keith and Jennifer pass through. He's ALWAYS right.
The judges seemed to be on the lookout for contestants with personality and presence–as well as good voices.
If you feel a little let down by the first night, stick around. I thought the talent was far better on the Thursday's edition.
Some Auditions you will see:
Riley Bria – We see shots of him playing in Keith's band for the 2012 Grammys. Eighteen years old, and dude can play guitar! He performs a Keith deep cut "Georgia Woods," impressing his Idol. Like a Hunter Hayes, but with more talent.
Kory Wheeler – He's the singer Idol producers found working at a nearby coffee shop. He sang, "I Can't Make You Love Me" and was my favorite of the first hour. Incredible tone.
Michael Simeon – He's the singer we saw in an early promo who asked Jennifer Lopez to slow dance. Michael croons while he and Jlo twirl. Harry and Keith pick up instruments and play along. Keith sings a little harmony.
Emily Brooke – 15 year old singer saved money to fly to Nashville audition by gigging.  Big voice, huge confidence, she wowed the judges with a cover of  Carrie Underwood's "Blown Away."
Trevor Douglas – Sixteen year old busker and science nerd is GEEKALISCIOUS. He performs a very musical rendition of "Sing" on his acoustic guitar.
Garrett Miles – Twenty five year old country boy, blind since birth, sings a gritty version of "Proud Mary." He completely charms Jlo. You'll see!
Clark Beckham – Street performer sings "It's a Mans World" accompanying himself on acoustic guitar. LOVED his tone.
Cody Fry – Touring musician. Also son of a jingle writer. He's sung on a few of his dad's commercials. He performs a pretty rendition of "Over the Rainbow" with his acoustic guitar.
Hector Montenegro – Cosmetologist performs a super bluesy rendition of "Too Close." He couldn't stop staring at Jlos hair.
Sarina Joi Crowe – She's back for her FOURTH audition, with a soulful performance of "Love Runs Out."
Savion Wright – He closes out the Nashville auditions and he's sounding and looking BETTER THAN EVER. You're going to be impressed with his performance of "Change the World."
And in Kansas City:
Zach Kaltanbach – This 22 year old native to Kansas City went to the same high school as David Cook.
Lovey James – Sixteen year old pop singer performs "Break Free" by Ariana Grande. And she has to answer a lot of questions about her name!
Read More
American Idol 14 Spoilers: Premiere Previews! (VIDEO)
American Idol 14 Preview – Meet Riley Bria (VIDEO)