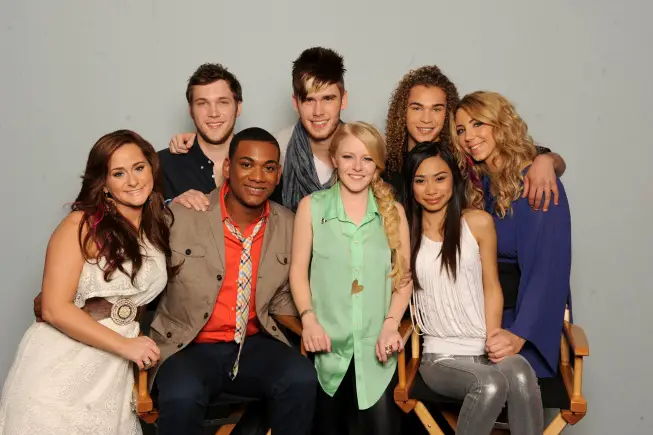 Deandre Brackensick sang for his life. The Judges DO NOT use the save.
Deandre Brackensick is Eliminated.
The American Idol 11 Top 8 results are tonight! Who will be eliminated? Will a finalist be saved? Tune in to find out!
Plus, Kellie Pickler will appear to perform "Where's Tammy Wynette from her album 100 Proof.  And The Wanted will sing their latest tune "I'm Glad You Came".  Plus, Jennifer Lopez debuts her new music video for "Dance Again".
Download Studio Performances From Tonight's American Idol
I'll be live blogging the show at Entertainment Weekly. Join us, will you?
Entertainment Weekly Live Blog
I got the bottom 3 correct this week, but I was so sure Hollie was going home. And frankly, I think she deserved it. I honestly don't see her able to function in a way that would allow her to grow in the competition. I don' thing she's capable of doing much more now than clutching the microphone while she robotically sings big power ballads.
The ironic thing is…if she's on the chopping block next week, the judges may decide to save her anyway, because the judges can only use the save until the Top 6.  This year, the judges HAVE TO use the save to make up for the Jermaine DQ.
So far, Jennifer has wanted to save Jeremy, Heejun and DeAndre. That's everybody, except the guy who lied about warrants. She probably wanted to save him too.
DeAndre really suffered from performing early in the lineup. Although the judges loved him, Jimmy kept throwing him under the bus.  If the judges had saved DeAndre, Jimmy would have pitched a fit.
Speaking of which, I didn't agree with many of his assessments this week. First of all, DeAndre wasn't all that bad.  Phil sang worse, for sure. So did Hollie. My favorite, Elise, did too, if I'm being perfectly honest.
DeAndre just was not connecting. His performances were hit or miss. But maybe America just hates falsetto.  Maybe DeAndre's voice was just too unusual for the competition.  He'll be pretty good in a couple of years. Maybe he's one of those alums who will pop up in a few years with a major label contract. I would not be surprised.
Also, I do not get Jimmy's beef with Jessica. She needed to go uptempo and she did. She outsang Joshua, if you ask me. Does the person with the biggest and the bestest runs win? Why is it necessary for Jessica to sing big songs every week? She's showing her versatility and that's a good thing. Frankly, for as good as Joshua is, he's been kinda singing the same thing every week. And he is still oversinging.
Guess what Jimmy? Elise DID pick the wrong song! Deal with it.
I'm glad Jimmy called out Phil Phillips on his bad singing. I think he could have been more critical, and should have criticized him in the past. Maybe they are trying to keep not only Phil, but his fans too, from falling into complacency. And Phil, when someone criticizes you, don't cop an attitude. The "Im just being me," deal is getting a little old. Most indie typed don't try out for Idol. You did, now you're going to have to eat the cheese baby. Velveeta comes on the menu whether you like it or not.
The show opens with Steven Tyler basking in the glow of his fans in the audience!  It's time to possibly send someone home tonight, and Ryan wants people to scream out the name of the person they voted for. SCREAM REAL LOUD KIDS!  Cut to the audience of people pretty much sitting on their hands. Lulz.
The Top 8 are already sitting on stage, and it's a good thing, because it turns out that Joshua isn't feeling very well. In fact he feels lightheaded and achy. When he stands up he kind of "blacks out a little."  Joshua passing out on live TV? That could be exciting. Oh wait. We've seen that shtick already. Nevermind. Feel better soon, Joshua!
The Que! Viva Live Show, featuring Jennifer Lopez,  will go on sale soon. Yippie.  Go to AmericanIdol.com for deets. And now it's time to preview Jlo's  SEXY NEW VIDEO for her new single, "Dance Again."  Ryan wants to know if Jlo had special chemistry with any of the dancers. Ha ha ha. Her boy toy,  Casper, dances with Jlo, blindfolded at one point. And Pitbull is in there rapping…or something. A clip takes us out to commercial.
After the break, the kids go on a little scavenger hunt in the latest Ford Video.  They basically play a version of "I'M CRUSHING YOUR HEAD. I'M CRUSHING YOUR HEAD to the strains of "Alright."

Say hello to your Top 8 America! It's time for results. But before that happens, Ryan plays the ailing Joshua a little video from some pre-school fans in Viet Nam.  The cute little kiddies old up letters that spell out "Good Luck Joshua!" How random. But sweet. Joshua looks like he's going to hurl at any minute.
The contestants will be called up onto stage as duet partners, Ryan informs us. Joshua Ledet and Jessica Sanchez take center stage first.  A recap package, including a critique from Jimmy Iovine runs for each contestant.  Joshua had the option to do it sitting down, but he's going to give center stage a shot.
Jimmy on Joshua: "When Joshua started in this contest, he was a little over-affected. I talked to him about it and I think he's reigned it in just enough. I think he's right in his sweet spot right now. If you're going to get hot in the show, now is the time to start getting hot. He looked very comfortable, and he looked like a real pro. Perfect song, perfect delivery, 10s all around.
Jimmy on Jessica: "Jessica came on last night and did what Jessica does–she sang beautifully with emotion, understood the song completely. But to me that wasn't enough, because she's a great singer of a song without enough horsepower. She needs bigger songs and more powerful songs.  Right now, there's a competition between the two power vocalists on this show–Joshua and Jessica. Last night, Joshua won because he picked a better song. Jessica, be careful, that can't happen two weeks in a row."
Ryan asked Jessica how she thought she did, and she feels she did an OK job.  There weren't a lot of 80s songs that fit her voice, Jessica insists, so she went with Whitney again.  About the comparison to Joshua, Jessica said, "It's hard to compare me to this dude, he's amazing." Josh shook his head no.
"Joshua, unfortunately you're not going to be happy," says Ryan, "until you relax and sit down on the couch…"  Joshua IS SAFE. PSYCH.  And Jessica IS SAFE too. Of course.
Brit boy band The Wanted sing their hit "Glad You Came."  It's the return of the boy bands ya'll. Aren't they cute? Who's your favorite. Just kidding.  OMG. There are a group of synchronized sway bots in the mosh pit. Nappy Tabs. You are scaring me now. They eventually take the stage.  The guy with the Beatle bangs sucks.  Look at them flirting with Jlo.

The Wanted – Glad You Came – American Idol 2012 by IdolxMuzic
Skyler Laine and Colton Dixon take center stage. Their recap package runs, including a critique from Jimmy Iovine.

Jimmy on Skylar: "I'm so happy we were able to talk her out of singing "9 to 5" and did "Wind Beneath My Wings". Last week, I compared Jessica and Hollie as the power singers in this contest. Turns out that Skylar must have said, "Hey Jimmy, hang on, I want to prove to you that I'm a power singer as well." Last night, she proved it to me. She took that great performance and that stage presence combined it with a great vocal with great power, and she went from the bottom right to the top. If she continues this, she can win the whole thing."
Jimmy on Colton "Colton was good last night. Not great. Most certainly not as great as Joshua or Sklyar, and I feel he came in 3rd or 4th. Just like sports–you don't have to be the best team, you just have to be the better team that night.  And last night, he just wasn't."
Ryan asks Skylar if she thinks she was being over looked as a power vocalist. "I probably was being overlooked as that kind of vocalist," says Skylar, but she says country music doesn't always lend itself to huge songs.  Now, Skylar realizes it's a competition, and she's going to have to show everything she's got.
Ah. Ryan is back to trolling Colton. "Colton, you know there's a nationwide vote…Hang tight!"  Skylar giggles. She must love a good troll too. There will be no results until Hollie and DeAndre are brought out onto the stage.  Time for more recap.
Jimmy on Hollie, "Hollie's problem, is she's approaching this like a high school performer. And last night wasn't even a great high school performance. It's projecting, stiff–she sang "What a Feeling" last night and we ended up asking ourselves, 'Where's the feeling?' She was in the bottom 3 last week, she'll probably be in the bottom 3 this week. As a matter of fact, she maybe fighting with DeAndre for who's packing."
Jimmy on DeAndre, "No Jennifer! No Randy! No Steven! DeAndre was not great. DeAndre needs to come out and grow at a much faster pace. If you look at the boys, Joshua is growing in leaps and bounds, and DeAndre is growing marginally. DeAndre was the weakest of the boys last night. That could put him in the bottom 3. Therefore, he could be going home, unless Jennifer, who has been supporting him through this entire show, saves him."
Ryan asked the judges what they thought about being called out by Jimmy about DeAndre. Jlo says the 3 of them will beat Jimmy up. Both Jennifer and Randy stand by their praise of DeAndre. "We loved him last night," says Randy. "There's no doubt–I went home and I watched the broadcast as well," says Jennifer, "I heard his vocal again, his vocal is amazing. Whatever happens tonight, we don't have control over that…at the end of the day, he did give a …goo..great performance."
Ryan asked DeAndre and Hollie how they felt being compared unfavorably to the other contestants in the recap package.  DeAndre says it's fine, "they're not my family..whatever happens, happens."  Hollie feels the same. Slightly embarrassed, she says that "Jessica is amazing."
It's time for results. The judges praised DeAndre, says Ryan, but America agrees with Jimmy. Deandre is in the BOTTOM 3.  DeAndre's mom is crying.  Colton is SAFE.  Skyler and Hollie are left. They were both in the bottom 3 last week. This week, one is safe, one is not.  Hollie and Skylar are roommates, it turns out. Ryan asks if there's anything they want to say to each other before the results. Hollie says, "no not really." She laughs and gives Skylar a hug. Hollie is in in the Bottom 3. Skylar IS SAFE. "I love you baby," Skylar tells Hollie before she heads off to safety, "You'll be Ok,"
Remember "Pick Pikler?" Kellie Pickler has returned home to Idol to sing "Where's Tammy Wynette", a song from her new album, 100 Proof.  Kellie was never the best singer, but the material fits her style and personality.   She flirts a little with Phil during her performance.  After,  She gives the Idols big hugs. Skylar is really really psyched.  Kellie says she was back stage about to have an anxiety attack during the results. It's the hardest part of the show. She hates to see anybody go home because "we're all here chasing the same dream."  She thinks everyone this season is going to get a record deal.

Kellie Pickler – Where's Tammy Wynette -… by IdolxMuzic
It's time for the last of the results. Elise Testone  and Phil Phillps take center stage…and you guys know the drill.
Jimmy on Phil, "Yeah, be yourself. But there are 3 versions of yourself. Great version of yourself, the good version of yourself, and a terrible version of yourself. Last night was Phillip's good version of himself. In my opinion, this was Phillips worst performance of the entire show. The song was not the best song. It was a safe song. It's very difficult to push yourself when everyone is telling you you're so great. Right now, what Philip needs, is to be pushed so he an go out and be the best version of himself that he can be. If he stands still, there's a very good possibility that other contestants will come up and pass him. And that would really be a shame."
Jimmy on Elise, "I assure you Steven, this was the right song. We went through the song in the mentoring session. She sang it incredible. She went to rehearsal. She sang it incredible. She probably sang it incredible while getting dressed. She hit the stage and did not sing it incredible. That's what happened. It's called an old-fashioned choke. She was brilliant last week. This week, she didn't even sing the tune. That could take her from the top right to the bottom."
Back on stage. Elise doesn' t think she choked, but got wrapped up in the emotion of the song.  "The more into it I get, the harder for me it is to stay in the lines," explains Elise.
Is Phil worried about complacency, asks Ryan. Phil starts the whole. "I'm just being myself" deal he always trots out when he's criticized. Then he goes off on how he's not the kind of person to walk around the stage and touch people's hands. "That's just not me." Yet, you're on American Idol, dude. So it kinda has to be you, right now. Or maybe he took literally what Jimmy said about standing still. In which case he's not the brightest bulb on the shelf. Cut to the judges panel. Jlo is not smiling.
Dim the lights. This one is a no brainer. Phillip IS SAFE. Elise is in the bottom 3. Elise joins Hollie and DeAndre on the stools of doom.  And in a sudden and dramatic turn, Ryan declares Hollie safe before he throws to break!  OMG. Hollie IS SAFE. She seemed to be the sure bet to go home this week. Everyone was so hard on her, the fans must have gone into over drive to save her.   Skyler is thrilled.  "You gave me a heart attack," Hollie murmurs to Ryan.
After the break, it's time for the final results.  Ryan asks the judges what they think of DeAndra and Elise in the Bottom 2.  Did America get it right? Steven doesn't think they did. Randy and Jennifer think they got it "half right."  Since they are both such big DeAndre stans, I'm assuming they think Elise belongs in the bottom two? Ugh. The person who is at risk of leaving us tonight is…DeAndre.  The boy's mom is sobbing in the audience.
DeAndre Brackensick will have to sing for his life! Elise IS SAFE. A slightly confused she hugs DeAndre and heads back to safety.
A very composed DeAndre reprises Stevie Wonder's  "Master Blaster". He works the stage, playing to the girls in the pit. At this point he might as well make sure he has an upbeat singout–the judges won't save him.
Colton does some white boy clapping. Jlo sits with her arms folded. DeAndre finishes and the crowd is chanting "Save, Save, Save". Jennifer delivers the news. "This boy right here? We've been watching him for two years. You're an amazing performer. I stand by that. I think that you have an amazing voice and you're going to share a lot with the world I really do believe that. I only get one vote. I' sorry . We're not saving you tonight."
"WHAT?" someone screams in the audience. Jennifer confirms that she was the lone judge who wanted to save him. DeAndre's goodbye clip runs, and we're out.
Jessica Sanchez
Joshua Ledet
Colton Dixon
Skylar Laine
Phil Phillips
Hollie Cavanagh
Elise Testone
Bottom 3
Deandre Brackensick
Hollie Cavanagh
Elise Testone