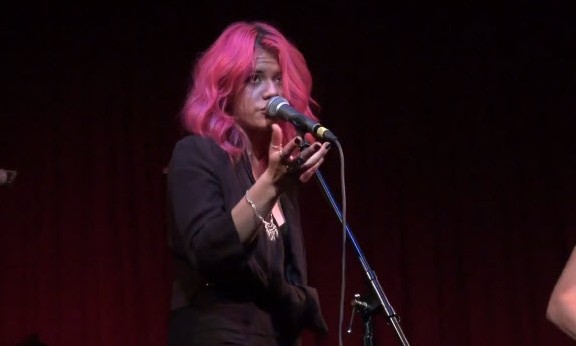 American Idol season 8 alum, Allison Iraheta, and her band Halo Circus, have signed a record deal, reports Yahoo Music.
Halo Circus have inked with L.A. indie tastemaker label Manimal Vinyl, which has released music by Bat For Lashes, Rainbow Arabia, and Warpaint, as well as allstar tributes to the Cure and David Bowie. The band's debut release, via Manimal's new pop imprint Badlands, will be the single "Gone" — which was actually the first song that Halo Circus's core trio wrote together, before they were even officially a band.
Halo Circus brings together Allison, her long-time guitarist and friend, David Immerman and husband of 7 months, Matthew Hagar.
Read More
Allison Iraheta and Halo Circus – "Stand Up" Music Video
Allison Iraheta is Married (VIDEO)
Allison Iraheta Debuts New Songs At the Troubadour (VIDEOS)
"I really have been digging back into my ranchera side, so I've been listening to Roy Orbison a lot and even Paul Williams," said Allison of her new musical direction with Halo Circus, "but also Rihanna's new stuff, which is very heartfelt. A lot of what I'm writing is heartfelt and also the story of where I came from."
The "Gone" official single will come in several editions, including the radio edit, a Spanish language version and a garage-band track recorded using 1961 technology–inspired by Allison's hero, Roy Orbison. The single will be available via iTunes and Spotify on October 8. A full length album is coming early next year.
Check out a live version of "Gone" performed recently at the Hotel Cafe in Los Angeles.
Via Yahoo Music