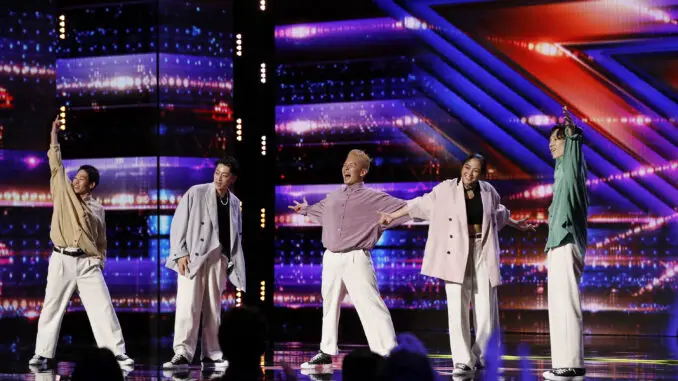 Double Dutch jump ropers, Waffle, came all the way from Tokyo Japan to audition for America's Got Talent 2017. Two of the five member crew work as performers, but the other three have office day jobs.
In any case, Waffle combines hip-hop dance moves with intricate double dutch jump rope tricks, in a very entertaining package. The group performs to the always fun 70s funk hit, "Let's Groove Tonight" by Earth, Wind and Fire.
AGT 2022 Final Auditions Spoilers – Meet the Acts (Photos)
America's Got Talent: Can Singer Aubrey Burchell Win it All?
AGT 2022: Top 10 Singers Who Should Make the Live Shows
Two of the group members wear huge 80s style blazers. How do they not get tripped up on the rope? And how do they not sweat wearing so much clothing? Meanwhile, Simon has a huge smile on his face throughout the performance.
Oh look. This audition took place during Howie Mandel's absence due to COVID-19. On Tuesday (August 1), the last of the season 17 auditions will air, before the judges Howie Mandel, Heidi Klum, Sofia Vergara and Simon Cowell "convene" to decide which of the 50+ acts will move on to the new Qualifier round. Expect a hodgepodge of acts on the last day.
And that short little glimpse of Waffle is all fans get for now. Tune in on Tuesday August 2 at 8pm on NBC to find out if the group gets a yes from Heidi, Sofia and Simon.
America's Got Talent 2022 audition: Watch Waffle's amazing double dutch dancing below.