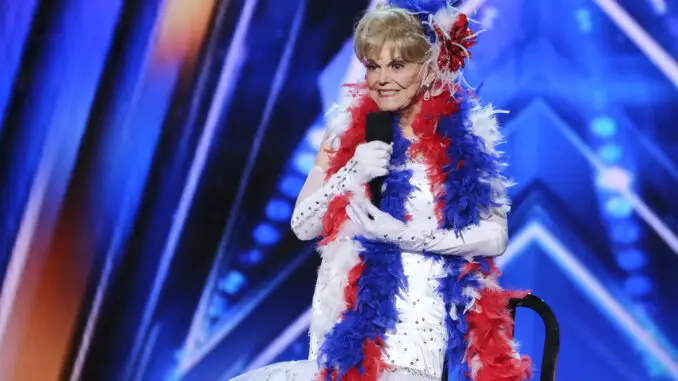 The America's Got Talent season 17 auditions come to a close on Tuesday (August 2) with acts including singers, dancers, acrobats and more. Howie Mandel, Sofia Vergara, Heidi Klum and Simon Cowell sit on the judges panel, while Terry Crews returns to host.
The America's Got Talent live shows begin on Tuesday August 9.
Featured this week: An American Idol season 16 alum, an 84 year old Burlesque performer, a drumming cow, Metalists and more.
Check out the list of acts auditioning on the final night of auditions, plus a photo gallery at the bottom of the page. 
America's Got Talent 2022 Auditions 9 Contestant List
Additional reporting by Blake Busch
Aubrey Burchell – Singer (American Idol S16 Top 70) – Aubrey is a 21-year-old pop/soul singer from the Pittsburgh suburb, North Huntingdon. NBC leaked her audition on Friday (WATCH). In it, Aubrey shares that she was recently diagnosed with level 1 autism. Her performances never aired, but Aubrey  made the Top 70 of American Idol Season 16.  AGT recruited her based on viral videos. Watch her Viral Tik Tok of "What I Know Now" from Beetlejuice HERE. Aubrey's vocal coach talks about here HERE. Instagram Tik Tok
Bay Turner – Singer – Bay is a worship and soul singer who took part in the "It's So Hard to Say Goodbye to Yesterday" Tik Tok Run Challenge which went viral. WATCH. We couldn't find a video, but he appeared on Season 10 of BET's Sunday Best. Instagram Tik Tok
Camille K – Singer-Songwriter – Camille is a Philadelphia based singer-songwriter and multi-instrumentalist. She learned to play electric guitar at 7. She has opened for Jon Anderson of YES. Her song, "I Believe in Miracles" is set to be featured in the movie Philly Christmas. She covers anything from soul to rock. Watch her cover of "Will You Still Love Me Tomorrow" HERE. Facebook Bio Instagram Tik Tok
David Snyder – Pianist – David is a piano player from North Dakota and based in Los Angeles. He takes his classical training (from Chicago) and implements it into fun takes on hit songs, sometimes collaborating with a DJ. He struggled after moving to Los Angeles at the start of the pandemic. He recently got a call from Snoop Dogg to open for him. Currently, he is pursuing modeling and screen acting. Website Instagram Tik Tok
Emily Bland – ???
Mind2Mind – Mentalists – James and Marina, also known as Mind2Mind is a psychic/mentalist type act. They are the recipient of Ukraine's Got Talent Golden Buzzer (WATCH) and appeared on Britain's Got Talent (WATCH), but did not get selected for the semifinals. The duo is currently based in Dubai, UAE. They also won Prestige Awards Specialty Act of The Year. Instagram Tik Tok
Mr. Moo Shakes – Drummer – Mr. Moo Shakes, a Washington native, is a drummer dressed as a cow, using household objects like buckets to produce sound. He has a few videos playing along to popular retro songs on social media. Instagram Tik Tok. 
Neguin – B-Boy Dancer – Neguin is a Brazilian-American based in NY. He is a performer, DJ, and creative director as well as a Red Bull athlete (WATCH). He has 651K followers on Instagram. He is a B-Boy that does crazy flips that are like break dancing on steroids. At times he adds lights and fire to his act. Instagram Tik Tok
Penny Starr Sr. – Burlesque – At 84 years old, Penny Starr Sr. is the oldest  burlesque dancer. She is in the Burlesque Hall of Fame and performs in Vegas every year at the Exotic World. Watch her on Little Big Shots HERE
The Lads – Hand balancing duo – The Lads are an acrobatic duo made up of Jack (UK) and Tiago (Portugal). They mainly perform at festivals/circuses across Europe. They specialize in hand-to-hand and other acrobatic type acts. Watch them at the Hand t0 Hand 22nd Int. Circus Festival of Italy HERE. Instagram
The Nerveless Nocks – Danger – The Nerveless Nocks (AGT Extreme) returns to AGT with father and daughter, Michelangelo and Angelina Nock.  They perform a terrifying act with super tall poles. The group is a family of acrobats that go back decades. Family member Bello Nock has also appeared on AGT. AGT: Extreme: WATCH The Kelly Clarkson Show WATCH Website Instagram Tik Tok
Unreal Crew – Dance group – Unreal Crew are from Rajasthan, India. They won Dance India Dance 7: Battle of Champions (2019). The group creates illusions with their arms and hands similar to golden buzzer winner, Mayyas. They are considered a tuttmation and animation dance crew. Routine from Dance India WATCH Instagram Tik Tok
Waffle – Double Dutch Jump Rope – NBC featured Waffle in one of the first promos, so their audition is sure to wow. They are a double dutch dance crew from Japan who was the Double Dutch Contest World Champions. Watch a 2019 routine HERE. Instagram Tik Tok