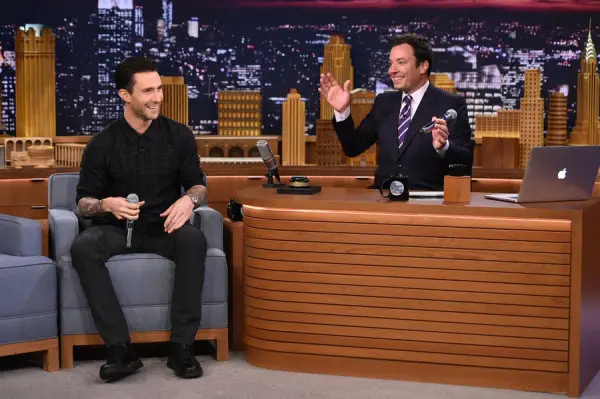 Jimmy Fallon challenged Adam Levine to a friendly game of random musical impressions on last night's Tonight Show.
Who knew The Voice coach and Maroon 5 frontman could imitate other singers? Apparently he can! Well sort of.
The game consisted of Jimmy operating a "musical impressions generator" that paired up random singers and songs. Some of the results are pretty amusing. Check out the bit below:
During their chat, Adam revealed that NBC tapped him as The Voice coach after watching him on Jimmy's Late Night!
On Gwen Stefani's Emmys gaffe, where she mispronounced Steven Colbert's name during a presentation, Adam (who presented with her) insisted it wasn't her fault. Beforehand, Gwen confessed that she couldn't pronounce the name, but unfortunately, Adam's attempt to help her totally backfired. Jimmy, who immediately turned the gaffe into one of the night's most hilarious impromptu bits, thanked Adam and Gwen for the inspiration.
Adam is out promoting The Voice, which will premiere on NBC on September 22, but he is also pimping the latest Maroon 5 album, V, out this week!
Listen to one of the tracks,  the beautiful "My Heart is Open," featuring Gwen Stefani!