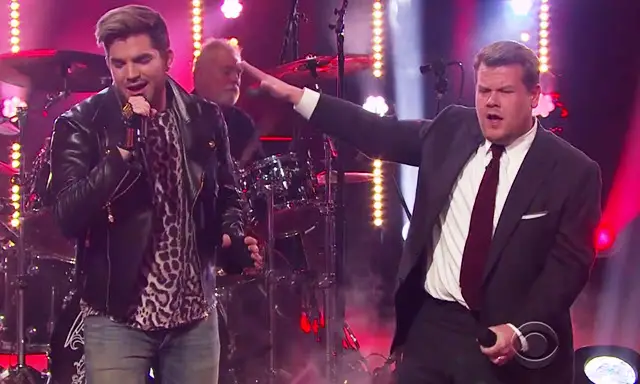 OK. This is pretty dang awesome. When Adam Lambert catches James Corden claiming he would be a better front man for Queen, the two settle the dispute with some help from Brian May and Roger Taylor of Queen.
It's an epic, EPIC battle of the front men! The American Idol alum and Late Late Show host go toe to toe with renditions of "We Will Rock You," "Don't Stop Me Now," "Crazy Little Thing Called Love," "Another One Bites the Dust," and "Somebody to Love."
I DON'T think it's a spoiler to say Adam wins pretty easily. Poor James is so heartbroken, that the glam one takes pity and sings a duet with him. Aw.
Queen + Adam Lambert were in Los Angeles this week promoting their big North American summer tour. Tickets go on sale to the general public on Friday (Feb 3).
In a recent interview with Time magazine, Adam talked about touring with Queen, the future of pop music and gay culture:
What was the biggest challenge you faced?

When I auditioned for Idol, I was in a really good place with who and what I was. I had no shame. After Idol, there were moments where I felt ashamed of my identity because I was made to feel that way, indirectly—by the industry I was in, by being a public figure, by being judged by pockets of people that I never would have encountered before. I was running around with artists and weird kids and then all of a sudden, Susie Homemaker is weighing in on what I'm wearing or who I'm kissing. Therefore, the recording industry and radio are going, "Maybe that's not mainstream. We're not going to make any money on this because of Susie Homemaker." That became such a mindfuck to me that I definitely had a moment here or there where I was like, "Should I even be doing this? Am I happy? Am I enjoying this? Is it worth it?" I would keep circling back to when I was onstage in front of an audience going, "This is what I'm supposed to be doing." It was a lot I had to fight against.

You're working on another solo album—what's the sound of what you're working on now?

I want to try something a little different than what I did before. It's a lot bluesier and earthier. I want to get back to live instruments—I like guitar and bass. I want to do it more for me. If people are into it, cool.
Also of Friday, Adam will take part in a twitter party with fans beginning at 9 am PT/12 pm ET.
Watch Adam Lambert and James Corden's epic Queen battle right here.