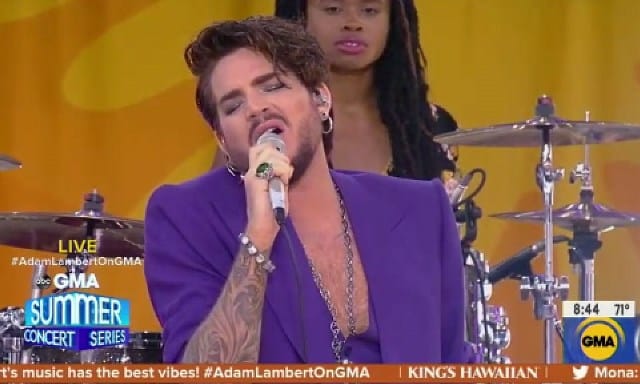 What a perfect way to celebrate Pride month than with a concert from Adam Lambert. The American Idol season 8 alum performed a short set of songs in Central Park in New York City Friday morning. It was all part of Good Morning America's Summer Concert Series.  The singer performed "New Eyes" and "Comin' In Hot" off his upcoming project, Velvet. He finished the set off with Queen's "Another One Bites the Dust."
Not aired during the broadcast: Adam also sang his post-Idol hit "Whataya Want From Me" and another Queen song, "I Want to Break Free."
On a somber note, this week, the LGBTQ commuminty is marking the 50th anninversary of the Stonewall riots. After a police raid of the Stonewall Inn in Greenwich Village on June 28, 1969, the gay community clashed with the police outside the club for six days. The event was a turning point for the nascent gay civil rights movement.
Adam Lambert Drops New "Velvet" single "Comin In Hot" (VIDEO)
The Voice Australia: Adam Lambert Performs "New Eyes" (VIDEO)
Adam Lambert Announces New Single, Album Release Date (VIDEO)
Adam Lambert Drops Trippy "New Eyes" Single and Music Video
In an interview between performances,  Adam reflected on how far the LGBTQ community has come in the last 50 years:
"Stonewall was really the kickoff of the gay civil rights movement, and the queer community has come so far in the past 50 years, and I am a proud, proud member." said Adam. "To me, the most important things to remember this year for pride here in New York and all around the world is, visibility is key." Adam added, "Acceptance, inclusion–the queer community has become a bigger and bigger umbrella. It includes everybody–all colors, all sizes, everything in between. The trans community is repping nice and hard now. I think the thing to keep in mind is–make a friend, be safe and celebrate loud and proud."
In the interview, Adam also chatted about his new music which he describes as "soulful and funky" with influences from the 70s and 80s. Adam will release the first set of songs from Velvet in September. 
Adam is gearing up to hit the road once again as frontman for the legendary Queen. The tour kicks off July 10 in Vancouver, Canada. 
Watch Adam Lambert's Good Morning America concert performances below.
New Eyes
Comin in Hot
Another One Bites the Dust