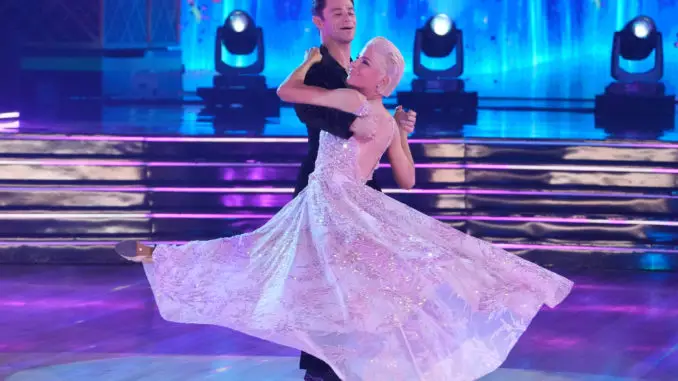 In 17 years and 31 seasons on ABC and Disney+, Dancing With The Stars has showcased dozens of stars and hundreds of dances since the reality competition debuted in 2005. But despite so many memorable routines hitting the ballroom, very few remain unforgettable.
Whether they won the show or left too soon, performed on their own or as part of a trio, or stuck to the choreo or threw in their own signature moves, no dances from the last 31 seasons of DWTS will ever be as memorable as these.
10. Zendaya and Val Chmerkovskiy and Gleb Savchenko – Trio Salsa – Season 16
It's still a wonder how Zendaya came in second place on Season 16 with her partner Val Chmerkovskiy, especially with a well-remembered trio dance featuring a new-to-the-troupe Gleb Savchenko.
The Disney Channel alum-turned-Emmy Award-winning actress excited the ballroom with this Salsa routine, leading Val and Gleb in a trio dance that an 18-year-old me found so good, she kept it on replay and attempted to learn it in the living room!
9. Selma Blair and Sasha Farber – Waltz – Season 31
Some DWTS contestants touch the hearts of the viewers not with their dancing, but with their drive; with their power to push on even when the going gets tough. And that's what Selma Blair did alongside pro partner Sasha Farber during her five weeks on Season 31.
In my opinion, all of Selma's performances are memorable, not only for what a great dancer she is, but for knowing she performed while battling her MS diagnosis. But it was an unforgettable moment of the season when Selma had the strength to bow out of the competition for her own health, and perform a final Waltz with Sasha to the song "What The World Needs Now (Is Love)."
8. JoJo Siwa and Jenna Johnson – Viennese Waltz – Season 30
JoJo Siwa made DWTS history in 2021 as the first female star to partner with a female pro in support of her recent coming out as part of the LGBTQ community. The dancer all but took home the mirrorball, but is remembered for her groundbreaking appearance as a Season 30 contestant.
While JoJo and Jenna may be remembered for their sexy Britney Week Argentine Tango and spine-chilling Jazz dressed up as Pennywise and Georgie from Stephen King's It, this couple's most loved performance came during Disney Week. Always one to break the mold, while other female stars took this opportunity to dress up as their favorite Disney Princesses, JoJo made a point to dress as the Prince Charming to Jenna's Cinderella during their beautiful Viennese Waltz to "A Dream Is A Wish Your Heart Makes."
7. Meryl Davis and Maks Chmerkovskiy – Tango – Season 18
Ice skater Meryl Davis and pro dancer Maks Chmerkovskiy had a special chemistry from the start of Season 18, ending with Meryl holding a mirrorball and often complimented as one of the few stars on the show who could pass as a pro.
While Meryl and Maks nailed most dances, it was their Week 6 Tango that blew both the audience and the judges away. It was a modern Tango danced to "Feel So Close" by Calvin Harris, but it was Meryl's impressive way of perfecting each and every step of it that landed the couple with their first perfect score.
6. Jordan Fisher and Lindsay Arnold and Corbin Bleu – Trio Salsa – Season 25
After often being mistaken for High School Musical alum Corbin Bleu after starring in another Disney Channel musical, when Jordan Fisher had the chance to perform a trio dance with a celebrity partner, it was every millennial's dream come true when Corbin appeared on the screen.
Jordan often perfected routines alongside his partner Lindsay Arnold, but when up against a fellow triple threat like Corbin, they became a match made in DWTS heaven. This Salsa was hot and fast-paced, with not a single step out of sync, and all I can say is that Lindsay is one lucky girl.
5. Charli D'Amelio and Mark Ballas – Jazz – Season 31
Long before she was crowned the winner of Season 31, it was during Disney+ Night that Charli D'Amelio and her pro partner Mark Ballas performed one of the best Jazz routines in the show's history.
To the tune of The Simpsons' theme and dressed as Homer and Marge (big, blue hair and all), Mark proved yet again what a phenomenal choreographer he is while Charli more than proved her place in the ballroom by merely Week 4. Fun and full of content, this Jazz rightfully earned all 10s from the judges after a performance that hadn't a single step out of place.
4. Drew Lachey and Cheryl Burke – Freestyle – Season 2
Plenty of boy banders have come and gone from the DWTS ballroom, but when you think of Season 2 winner Drew Lachey and his partner Cheryl Burke, it's impossible not to think of their epic cowboy Freestyle.
Donning a cowboy hat and a sexy Cheryl, these two lit up the dance floor as they danced to "Save A Horse (Ride A Cowboy)," leaving Drew's impressive performance and Cheryl's spicy choreography forever embedded in our brains along with Drew's unforgettable knee walks from their Paso Doble to "Thriller."
3. Iman Shumpert and Daniella Karagach – Contemporary – Season 30
Basketball star Iman Shumpert traded his Air Jordans for dancing shoes in 2021 when he joined the cast of DWTS as the underdog of Season 30. Long before winning the season with his partner Daniella Karagach, it was their Halloween Week dance that turned this couple into contenders.
The combination of Daniella's unique choreography along with Iman's execution of this spooky Contemporary not only earned them a perfect score, but became one of the most memorable dances not only from Season 30, but in the show's history.
2. Bindi Irwin and Derek Hough – Freestyle – Season 21
Less than a decade after her legendary, wildlife TV personality father Steve Irwin's passing, a grownup Bindi Irwin took to the ballroom alongside pro Derek Hough and won it all, but not before paying a special tribute to her late dad.
A freestyle is the star's last chance to lay it all out on the dance floor and show why they deserve the mirrorball, but for Bindi, hers was simply to connect with her father. Dancing to "Footprints in the Sand," Bindi and Derek flowed throughout the beautiful and emotional lyrical that has me in tears as I watch it back to write this, and ultimately secured their place as the winners of Season 21.
1. Alfonso Ribeiro and Witney Carson – Jazz – Season 19
The second it was announced that Fresh Prince of Bel-Air star Alfonso Ribeiro would be hitting the ballroom in Season 19, the most anticipated dance move throughout his first few weeks on the show was his signature "Carlton." It wasn't until Week 4 that his partner Witney Carson was finally able to incorporate the beloved dance step into their Jazz routine.
The couple danced to "It's Not Unusual" by Tom Jones, telling a cute, little love story taking place in a very fresh mansion setting. Alfonso, dressed in a Carlton Banks-esque sweater, led Witney around the dance floor with fun, energetic steps that built up to the big moment of him and Witney perfecting the "Carlton," earning them their first perfect score of the season.