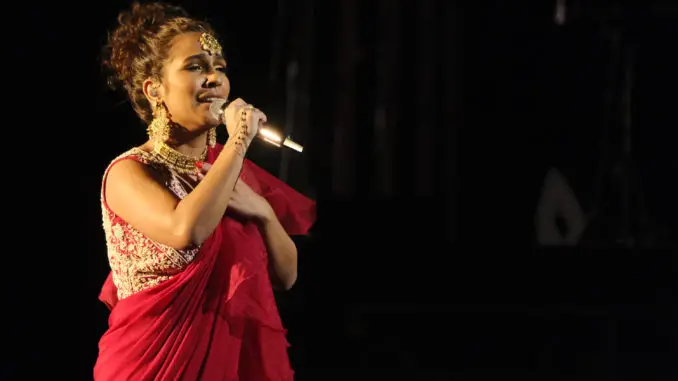 Parijita Bastola chose Team John Legend after all 4 coaches hit their buttons during her The Voice 2022 Blind Audition. John was the perfect coach for the 18 year old. As a fellow R&B singer, he could help the 18 year old vocalist from Baltimore shape and refine her sound.
But, as the first Nepalese singer to compete on The Voice shared in a recent Instagram post, she also has an interest in social justice and supporting issues around systematic racism, asylum reform and the right of refugees. John is famously involved in many social justice issues as well, including prison and bail reform.
Recently, Parijita spoke and performed at the National Immigrant Inclusion Conference which took place in the Baltimore area earlier this month. Alongside a few photos, and a video of the young singer on stage speaking about how organizations like NIIC helped her immigrant parents settle in the US, she wrote in the caption, "I got to share who I was very truthfully on The Voice. I showed my love for fashion, my family story, how I care for south Asian representation and so much more !!!"
Parijita wants to share her family's immigrant story–both the good and the bad
The singer continued, "My journey after the show begins with music of course but also alooot of conversations! Truthful (off television) real Conversations about being a Nepali American." Parijita confessed that her family's immigrant story wasn't always easy. She wants to share, "not just the happy success story," but also, "the not so happy stories that my family suffered and so many families suffer with being in this country as an immigrant."
"I am a singer yes," wrote Parijita, "But I also care deeply about immigrant reform, racial injustice, systemic racism, asylum reform , rights of refugees and more. I want to share the informal ways of creating justice within our communities, which always begins with conversations and educating!! It is truly a privilege to be having this conversation with this platform! Can't wait to talk."
Maybe she and John can collaborate on a project, both musically and otherwise.
Next up for Parijita: She and fellow The Voice 2022 alum Kique will perform a co-headlining concert on December 30 in Severna Park, Maryland at Sullivan's Cove.