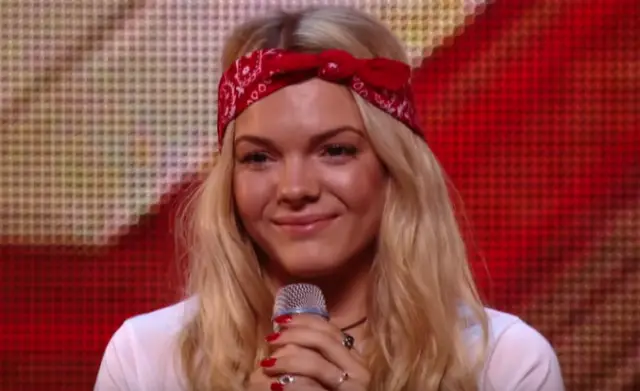 X Factor UK winner, Louisa Johnson's, debut single, a cover of Bob Dylan's "Forever Young," has landed in a disappointing 12th place in the UK charts, failing to nab the highly coveted Christmas number one spot. The NHS Choir's "A Bridge Over You" topped the chart, out-selling Justin Bieber's "Love Yourself" by 31,000 copies in a very close race.
Of the 11 previous X Factor winners, which include Little Mix and Leona Lewis, seven went on to achieve Christmas number ones. Louisa is the first X Factor winner to miss out on the Number One spot completely with her winner's single.
"It's an embarrassing result for Syco," a source told The Sun. "Even though Louisa had two fewer days of sales, they expected the single to fare much better."
"On reflection, they feel picking a more up-tempo, anthemic song would have been a better idea. But they are fully behind Louisa and insist the poor chart position was down to the song, not the performer."
"Forever Young" only sold 39,000 copies in its first week.
The success of the winner's song doesn't seem to have any impact on the future of an act, taking X Factor history into consideration. For instance, former winner, James Arthur, has the best selling track ever but was dropped after one album. Little Mix are one of the show's biggest acts, but their winner's' single was one of the worst performing.
It could be X Factor's waning popularity played a role in Louisa's failure to land that number 1 spot.
The battle for Christmas No 1 was the closest seen since Rage Against The Machine's victory with their song, "Killing in the Name," over The X Factor's Joe McElderry in 2009. (Joe climbed to Number One the following week).
The NHS choir of doctors, nurses, physiotherapists, midwives and administration staff was formed on a TV show, The Choir: Sing while you work. All proceeds from "A Bridge Over You" will go to several charities, including Carers UK and Mind.
Via Telly Mix, Daily Mail.
For more of this week's X Factor UK news, including more UK and Irish chart news, Click This Link!