TOP 9 become TOP 8 tonight.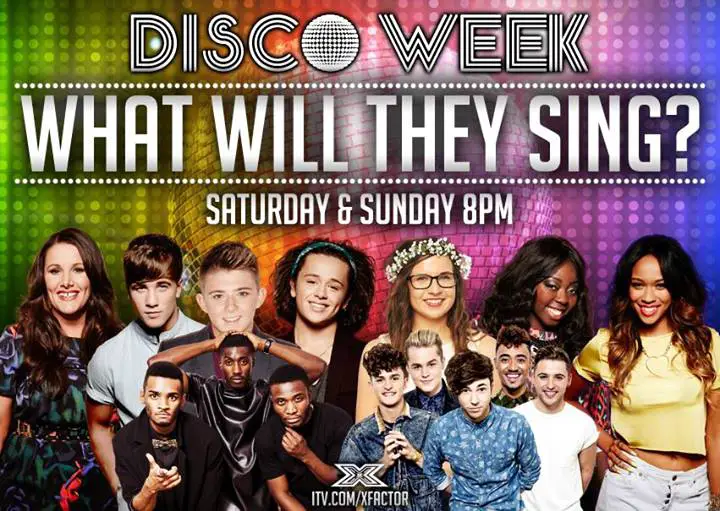 ---
HOW TO WATCH X FACTOR UK LIVE ON THE INTERNET
Please post working live feeds as you find them in the comments. Some feeds are posted on TVPC (United Kingdom/ITV1).
ITV streams the show HERE, but you have to pretend you are in the UK. Use free UK VPN service. Make a VPN connection, use the server, username and password given on the site. Password changes every day, so bookmark the link for future use.
More free UK VPN: UK IP VPN, GET UK VPN, UK NEW FREE VPN, VPN FOR UK.
If the ITV Player asks you for your postcode, find some valid ones (UK) on the internet. EXAMPLE.
---
Performance-wise last night definitely wasn't tragic, but because of the ancient theme, nobody sounded relevant either.
The X Factor ditched the flash vote tonight, so I guess DEADLOCK is a possibility tonight.
It's hard to say who will end up in the bottom 2 tonight. Sam Callahan was criticized for bad vocals, but this could actually help him make it through. Abi Alton sucked the life out of "I Will Survive" and made it unrecognizable. She got good comments, but I'm not sure if this will make her fanbase complacent or not. Nicholas McDonald was totally out of his element, but I think the grannies will pull him through tonight. I'm worried for Tamera Foster. Watching the recap last night, her performance just didn't stand out.
Little Mix and Taylor Swift are performing tonight.
Cold open. Long intro. Taylor Swift is performing with Snow Patrol's Gary Lightbody their duet from Taylor's latest album. Dermot repeats the info form the intro again and finally, the judges arrive.
TOP 9 sing "A Night To Remember" by Shalamar. I had to google the lyrics, I admit.

THE RECAP. LOL @ Gary's open mouth during Sam Callahan's performance.
Little Mix perform their new single "Move". They are also performing on The Xtra Factor tonight.
5 minute warning!
Commercial break.
Phone lines are now closed!
Louis: the best: Sam Bailey, in trouble: Kingsland Road
Sharon: The best: Hannah, the worst: Sam Callahan
Gary: the best: Sam Bailey, the worst: Sam Callahan
Nicole: the best: Rough Copy, the worst: Sam Callahan
Taylor Swift and Gary Lightbody perform their duet "The Last Time". It's Taylor's latest UK single.
Results after the break.
The Results!
Safe:
Sam Callahan
Hannah Barrett
Sam Bailey
Nicholas McDonald
Rough Copy
Luke Friend
Commercial break. We are left with Tamera Foster, Abi Alton and Kingsland Road on stage. I'm praying Abi is the in the bottom 2.
Well, Gary Barlow successfully put Sam Callahan through to the next week. Good job.
We are back.
Safe:
Abi Alton
Disaster.
Kingsland Road sing "I Won't Let You Go" by James Morrison.

Tamera Foster sings "I Have Nothing" by Whitney Houston.

Nicole sends home Kingsland Road.
Gary sends home Tamera Foster.
Sharon sends home Kingsland Road.
Louis sends home Kingsland Road.
Kingsland Road are GONE.
Gary Barlow is down to 1 ACT. Just like Sharon Osbourne. Meanwhile, Nicole Sherzinger and Louis Walsh continue with 3 acts each.
Hopefully TPTB decide to take TOP 9 acts on tour. Boyband would be a valuable addition.
Next week: Big Band week. Robbie Williams and Celine Dion will be performing.
---
The end of the road: Kingsland Road are latest act to be eliminated from The X Factor after sing-off with Tamera Foster
Kingsland Road were the latest act to be sent home from the X factor after a tense sing-off with Tamera Foster.
The two acts with the lowest number of public votes – Tamera Foster and Kingsland Road – came as 'a shocker' to Gary Barlow and the other judges.
While Sam Callahan was both the judges' and the bookies' favourite to be eliminated, the singer received the largest number of public votes and was the first act to be saved.
Read more: Daily Mail
It's a black out! Taylor Swift channels Audrey Hepburn as she works tight-fitting turtle-neck top and trousers on The X-Factor
Taylor Swift channeled Audrey Hepburn while performing on The X Factor when she cut a striking silhouette in an all-black outfit.
Singing her track The Last Time with Snow Patrol's Gary Lightbody, the 23-year-old looked classy and alluring in her understated outfit.
Recalling Hepburn's role in Funny Face, the singer wore a tight black turtle-neck top, which she teamed with black skinny trousers and boots.
Read more: Daily Mail
Sheer style: Nicole Scherzinger and Sharon Osbourne wow in ornate transparent gowns on The X Factor results show
They never fail to impress with their wardrobe on The X Factor, battling to steal the show.
But Nicole Scherzinger and Sharon Osbourne both shone on Sunday's live results show with the judges going for coordinated looks with sheer patterned gowns.
Nicole, 35, went for a white floor-length gown which was split to the thigh and featured a sheer Celtic-style design on the bodice.
Read more: Daily Mail