Rivers of tears continue.
Tonight's episode starts at 8pm BST, 9pm CEST, 3pm EDT, 12pm PDT.
---
XF UK S11E13 Previews:
Paul Akister Judges' Houses Preview

Sinitta joins Simon Preview

Fleur East Judges House Preview

TELLYMIX: SONG LIST FOR TONIGHT
---
HOW TO WATCH: LIVE, ONLINE, FROM ABROAD
You can watch X Factor live, online. ITV streams the show through ITV Player. However, ITV blocks viewers from outside of the UK. To get around that, you need to use VPN connection. If Google Chrome is your preferred browser, install ZenMate or Hola extensions and set them to UK server. There are also many free UK VPN services that allow you to make a connection on your own (Pick one and follow the instructions: 1, 2, 3, 4, 5, 6, 7, 8, 9, 10. For more Google "free UK VPN".). ITV might ask you to enter your UK zip code. Find valid UK zip code HERE. Don't let the browser send any information.
You can also try to find a working ITV stream on MyiPlayer.com, TVPC.com, VIPLeague.me, Stream2Watch.me or FilmON.com.
If you know any other working links, please post them in the comments below.
---
The unnamed boyband still doesn't have a name, but they have 40.5K followers on Twitter.
We are back in Mexico.
Danny Dearden – Beautiful Disaster (Kelly Clarkson)

Jordan Morris – Apologize (Timbaland feat. OneRepublic)

Another montage of two acts together. Basically, these two guys are fodder.
Jake Quickenden – Every Little Thing She Does Is Magic (The Police)

Nicole Scherzinger sent him home at this stage two years ago. He is obviously really nervous to be here again. He is an average vocalist, but he is giving it his 110%. Mel B and Emma think he really connected with the song, but Emma wonders if his voice is strong enough.
Paul Akister – Bridge Over Troubled Water (Simon and Garfunkel)

Paul made it to this stage last year. Poor guy is still traumatized by Louis' rejection. But this year he is getting to the live shows without a shadow of a doubt. He makes Mel B cry. Emma loves him.
And now time for Mel B and Emma to pick the finalists. Everything looks soooo staged.
MEL B'S DECISION:
Danny, Andrea and Jordan will receive the news first. Andrea Faustini is through to the live shows, the other two are going home. Like we didn't know that earlier when they put the two in a montage.
Paul Akister is finally getting a YES. Let's face it, we all knew it as soon as we saw his room audition. Mel B is faking it once again? Paul isn't connecting? WTH?
Jake Quickenden and Jack Walton are the last two boys waiting. Jack is going home. Jake is finally getting a YES. He is not Mel B's stronger singer, but he will do, if her performs topless.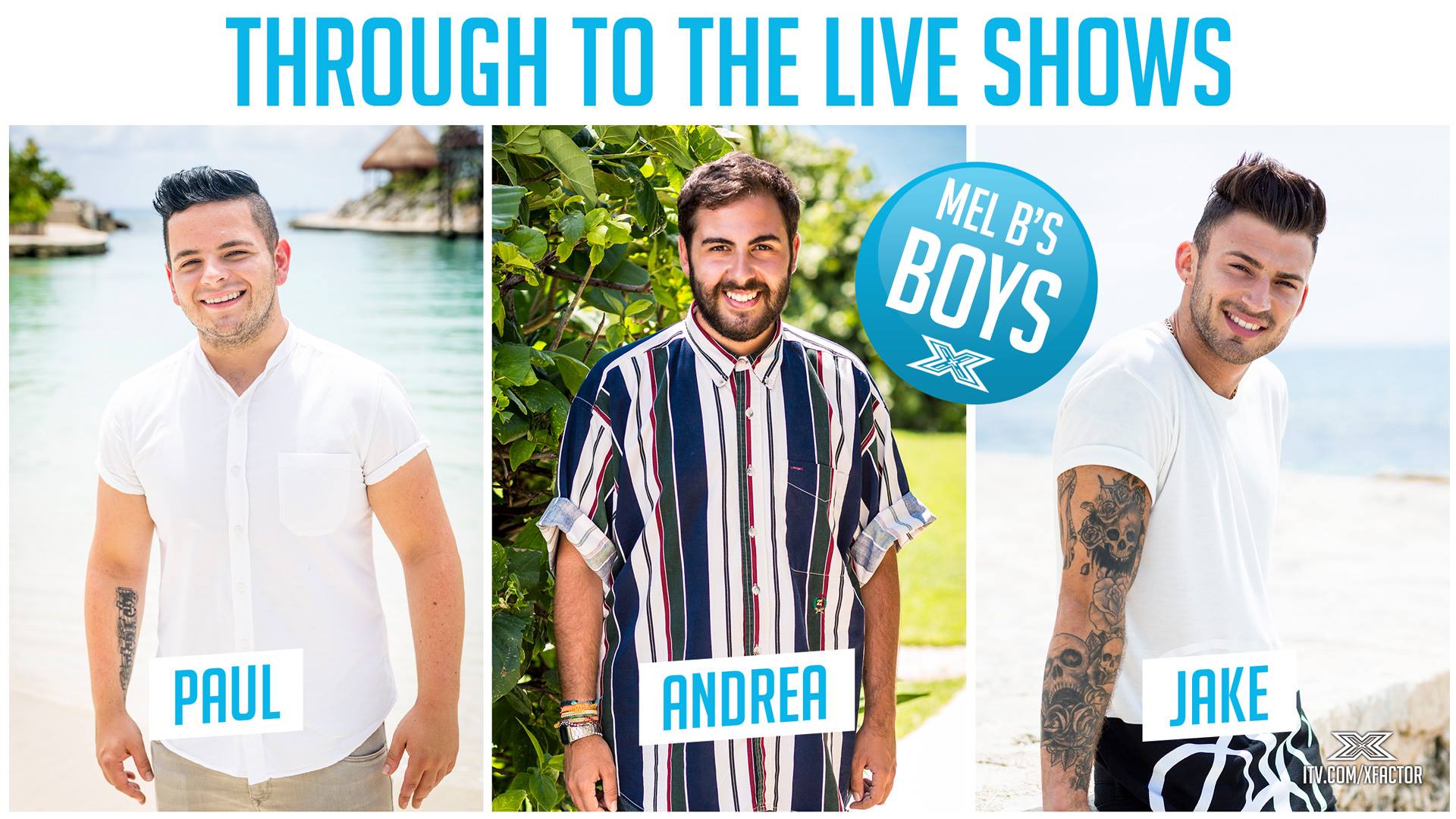 Simon and the overs are next. Simon took them to his real Los Angeles home. British tabloids report Simon has 9 OVENS in his LA home. Apparently the reporters saw them during the filming.
A while ago it was reported that the conditions were really bad for singing and filming. Expect the performances to be rough.
Simon is taking the overs to One Direction concert in LA! How nice of him. And now, time for Simon's house. What a lovely place. Simon's guest judge is Sinitta. She arrives nearly naked in huge native American headgear. HAHAHA.
Stevi Ritchie – I'm a Believer (The Monkees)

He is definitely this season's WAGNER. He gets back up singers. Not that he can't hold a tune on his own, but he is most definitely not a candidate for the next big recording artist. Simon: "What the bloody hell was that?" He compares him to a dog with three legs.
Lizzy Pattinson – Don't Make Me (Blake Shelton)

Robert Pattinson is her younger brother. Simon thinks she hasn't shown her 100% yet. And she is singing some country, because Simon loves it so much. She sings fine, but I'm a bit bored. Simon says she just doesn't have "the impact". Sinitta thinks Lizzy's performance on the show would be time for bathroom break.
Helen Fulthorpe – I'd Rather Go Blind (Etta James)

Helen is a single mother of two children and her son has diabetes. She is doing this for the kids. She starts singing and her vocal sounds fine, but something isn't right. During the performance Simon points out to Sinitta that Helen has timing issues. Later on Sinitta is a bit frustrated. She says the show is meant to give people like Helen a chance and she obviously blew it. Helen returns to the waiting room. She knows she messed up. Poor woman.
Jay James – Everybody Hurts (R.E.M.)

He misses some notes during the performance and destroys the melody. Simon obviously expected more from him. He also points out that Jay has a bad habit – sometimes he sings through his nose. Simon is disappointed.
Fleur East – Bang Bang (Jessie J)

Simon stopped her during her room audition. Yikes. Fleur wants to prove herself to Simon. Simon says he hardly remembers her.
She is doing Jessie J's new song. She is giving it her 110%, Simon seems to be enjoying it. Fleur even does Nicki Minaj's verse. Simon and Sinitta are pleased.
Ben Haenow – With A Little Help From My Friends (The Beatles)

Ben's performance is saved for the end and there is a reason for it. Rock solid.
Before Simon is due to reveal his decision, Helen suffers a panic attack.
This is it for tonight!
---
Second time's a charm: An emotional Jake Quickenden scrapes through to the X Factor finals after being kicked out last year… while Jordan, Danny and Jack head home
Last year was one of the toughest Jake Quickenden has ever had to face.
The X Factor hopeful was booted out of last year's competition by Nicole Scherzinger at the Judges House stage, and then tragically lost his 19-year-old brother to bone cancer just weeks after.
'If I get rejected again it's going to be heartbreaking. When I got a no last year the journey home was horrible. I don't think I could do that again,' he admitted ahead of his performance on Saturday night's show.
Read more: Daily Mail
Truly the mane attraction! Sinitta steals attention at Judges' Houses as she teams outrageous 'hair-kini' with giant Native American headdress on X Factor
Fans were only just beginning to get over the risqué palm leaves outfit she wore in 2009.
But Sinitta managed to outdo herself as she left X Factor bosses speechless by turning up to help Simon Cowell at Judges' Houses as a naked Native American.
The 50-year-old ensured that all eyes were on her as she maintaining her modesty with a 'hair-kini' while she also covered up with nude underwear.
Read more: Daily Mail
Flushed with disappointment: Sinitta brands Lizzy Pattinson's X Factor performance the perfect time for a toilet break
With her pretty looks and tuneful voice, there's no doubting that, like her little brother Rob, Lizzy Pattinson has got bags of talent.
But Simon Cowell's ever-present sidekick Sinitta wasn't quite so sure when they came face-to-face on Saturday's X Factor.
After listening to London-born Lizzy perform a gentle rendition of Blake Shelton's Don't Make Me, the Eighties popstar turned to Simon and hinted that she'd been far from blown away.
Read more: Daily Mail
'I think she might be having a panic attack': X Factor contestant Helen Fulthrope is overcome with emotion as she feels the pressure at Judges' Houses
She gave an impassioned performance of Etta James' classic hit, I'd Rather Go Blind.
But it seems the pressure of her audition was too much for X Factor contestant Helen Fulthrope as dramatic scenes played out at the Judges' Houses on Saturday night's show.
The mother-of-two was battling it out with fellow contestants in the Over 25's category to convince Simon Cowell that she deserved a place in the live rounds.
Read more: Daily Mail