Louisa Johnson's new single is coming on Friday!
Louisa Johnson's new single, 'YES' (feat. 2 Chainz) is coming on Friday, 3/16.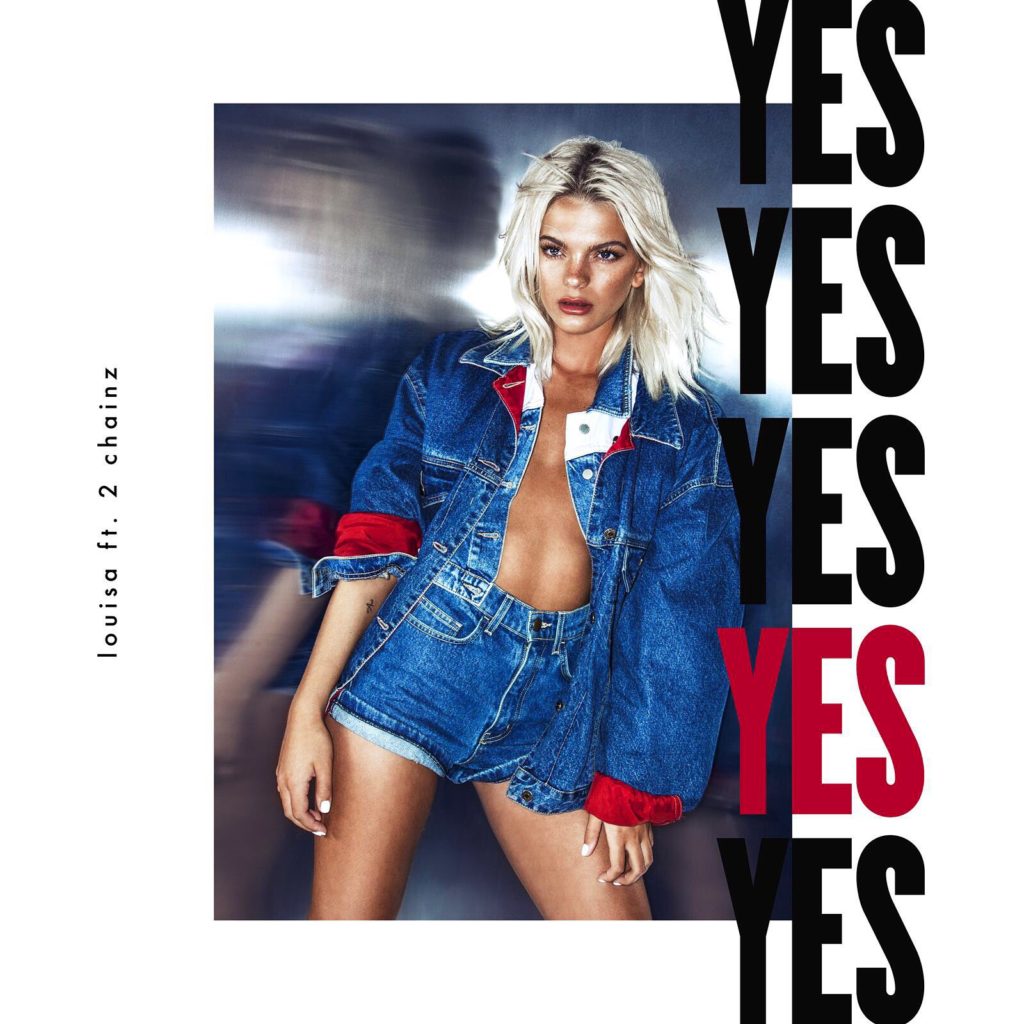 — Louisa (@louisa) March 9, 2018
YES ft @2chainz 16.3.18 let's do this ? pic.twitter.com/pdODCzoAF3

— Louisa (@louisa) March 9, 2018
Just say YES to Louisa Johnson's new single: First listen preview
Louisa is on her way back – and she's not messing about this time.
Someone raise the alarm – Louisa Johnson is back!
In fact don't worry about doing that, because she's got it covered on her new single, called YES (important styling note), which kicks off with a whirring alarm as if to say, 'HIYA EVERYONE CLEAR A PATH PLEASE' – just the way a comeback single (of sorts) should.
Some admin on YES: It's out on March 16, it features 2 Chainz, it was written by Camille Purcell (Little Mix, The Script) alongside Bully (Chainsmokers, Galantis), and produced by Chris Loco, Goldfingers and Matt Rad.
We've had a few listens of YES now, and it's essentially about going out and getting on it – nothing more, nothing less – and there's something oddly refreshing about that in today's pop landscape. "Whatever it is you've been thinking about me, I ain't playing around no more," she sings on the intro, and to be fair she really isn't here.
Read more: The Official Charts
Harry Styles to Star in Gucci Tailoring Campaign
The Italian label teased the campaign on Instagram over the weekend.
Former One Direction frontman Harry Styles has always set his own style score, known to leave us swooning with his androgynous, boy-in-the-band look (heavy on Saint Laurent and Gucci) enlivened by his 55-and-counting tattoos. (Should you need to get up to sartorial speed, the Twitter account @Harryworewhat is dedicated to tracking the 24-year-old's every fashion move.) Let's just say that Styles was knighted into the fashion world, so to speak, in 2013, when he nabbed the British Style Award at the British Fashion Awards and has been on the up and up ever since.
Read more: Billboard
Harry Styles cradles a rubber CHICKEN as he shoots debut Gucci campaign outside suburban fish and chip shop… after Italian fashion house confirms him as their new ambassador
A terraced street in suburban St. Albans served as the unlikely starting point for Harry Styles and his new role with fashion house Gucci on Monday afternoon.
The One Direction star, 24, made a surprising appearance in the Hertfordshire town's Cambridge Road, where he shot his debut campaign for the luxury Italian brand in collaboration with designer Alessandro Michele.
Dressed in a stylish check coat and double-breasted suit, Harry inevitably attracted plenty of attention while idling outside the area's local fish and chip shop.
Read more: Daily Mail
The cod-father of Style(s): Harry models checked dressing gown with pink socks and green loafers to film Gucci commercial at the chippy
He's something of a heartthrob with his own unique sense of style and Harry Styles certainly stayed true to himself when he was pictured out in St Albans on Sunday.
Looking like he had rolled out of bed to pick himself up a hangover treat, the former One Direction singer, 24, was in fact filming a commercial for Gucci, in collaboration with designer Alessandro Michele
The new face of Gucci modelled a checked dressing gown over a navy cropped leg suit, foregoing any sort of shirt or top underneath it.
Read more: Daily Mail
Niall Horan can't hide his devastation after being branded 'ugly' during brutal Mean Tweets segment on Jimmy Kimmel Live
It's the popular segment during Jimmy Kimmel Live! where celebrities often poke fun at people's opinions of themselves.
But Niall Horan looked genuinely upset during the Mean Tweets part of the show when a Twitter user made fun of his appearance.
'Niall Horan is ugly goodnight everyone,' read the bemused former One Direction star, 24, before his face dropped.
Read more: Daily Mail
EXCLUSIVE 'Bear isn't getting any presents': Cheryl and Liam Payne are planning a simple first birthday party for son at home because they 'don't want him to grow up spoilt'
They are set to celebrate son Bear's first birthday on March 22, but Cheryl and Liam Payne are not throwing a lavish do to celebrate.
A friend of the couple told MailOnline that this time is all about getting together as a family, not splashing the cash just for the sake of it.
They said: 'They're planning an intimate family party for Bear's first birthday with just their immediate family members from both sides.
Read more: Daily Mail
'He's gone cold': Liam Payne is 'more committed to his pop career than family life with Cheryl and baby Bear'… as split rumours continue to swirl
Rumours have been swirling for weeks that their two-year relationship is on the rocks.
And new reports now claim that Liam Payne is more committed to his pop career than Cheryl and their son Bear – driving the couple apart.
According to The Sun, the One Direction star, 24, is the one who has 'gone cold' on their romance, after spending much of his time away from the singer, 34, and their baby son to promote his debut album.
Read more: Daily Mail
Liam Payne 'has blamed Cheryl's close relationship with her mum Joan for the strain in their relationship'
They have been constantly hounded by split speculation for the last few months.
And now sources close to Cheryl, 34,and beau Liam Payne, 24, have revealed that Cheryl's mum Joan Tweedy has had a part to play in the reported growing rift between the couple.
According to The Sun, Liam has passed some of the relationship woes onto Joan, who is reportedly spending more time around the couple.
Read more: Daily Mail
'He's still part of the band to us!' Irate One Direction fans attack Liam Payne as he thanks the boys for their support on Twitter… but SNUBS Zayn Malik
They've got one of the most vocal fanbases on social media.
But One Direction obsessives were left with a sour taste in their mouths on Wednesday after Liam Payne thanked his bandmates for their continued support – but left out former member Zayn Malik in his acknowledgments.
Despite the fans' constant tweeting about One Direction getting the band to the number one trending slot on Twitter, they soon turned on Liam after he extended his thanks to them.
Read more: Daily Mail
She Hadid it again! Perrie Edwards makes thinly veiled dig at Zayn Malik during solo Shout Out To My Ex singing session… as Little Mix share unrecognisable 2011 throwback
She poured her heartache from the Zayn Malik split into Little Mix's chart-topping track Shout Out To My Ex.
And Perrie Edwards, 24, seemingly took another bitter swipe at her ex when she belted out the lyrics via her Instagram stories on Friday.
While the Little Mix stars shared a 2011 throwback of the group together, the golden-haired songstress took to her own social media for a solo singing session.
Read more: Daily Mail
'I'LL MIX ACTING AND SINGING' Little Mix's Jesy Nelson wants to return to acting and launch Hollywood career
Jesy has revealed she is looking for a Hollywood agent to help her land top roles and follow in the footsteps of Harry Styles
LITTLE MIX's JESY NELSON wants to relaunch her acting career – and is looking for a top agent to help her land Hollywood roles.
Singer Jesy scored bit parts as a child extra in a series of movies before finding fame with the girlband on The X Factor in 2011.
And she is now keen to follow in the footsteps of another X Factor star — HARRY STYLES — after his success with Oscar-winning war film Dunkirk.
A source close to the girls told me: "Jesy was in a few movies when she was little, and acting is something that she has always dreamed of pursuing.
"She was impressed with the way Harry managed to make his mark on the film world, and would love to be cast in a blockbuster of her own.
"So recently she has been looking for an acting agent to help her get a foot in the door."
Read more: The Sun
'The Voice pay my wages now': Olly Murs admits he STILL hasn't spoken to Simon Cowell since landing job on rival show as he says mogul is 'not involved in his career'
He helped him kick start his singing career, as a mentor on The X Factor, ut Olly Murs told Good Morning Britain on Thursday that he still hasn't spoken to Simon Cowell since landing a job on The Voice.
The 33-year-old said he holds no bad feeling towards the music mogul, 58, but admitted they have lost touch since he was axed as X Factor host in 2015.
He added that The Voice pay his wages now, and said he no longer sees himself as a part of the X Factor and that Simon isn't really involved in his music career.
Read more: Daily Mail
---
The Official Charts
Singles
1 Drake – God's Plan
.
10 Liam Payne & Rita Ora – For You (Fifty Shades Freed)
13 Camila Cabello – Never Be The Same
38 Khalid & Normani – Love Lies
39 Camila Cabello – Havana (feat. Young Thug)
72 Camila Cabello – She Loves Control
98 Harry Styles – Sign Of The Times
Albums
1 Motion Picture Cast Recording – The Greatest Showman
.
13 Camila Cabello – Camila
19 Little Mix – Glory Days: Platinum Edition