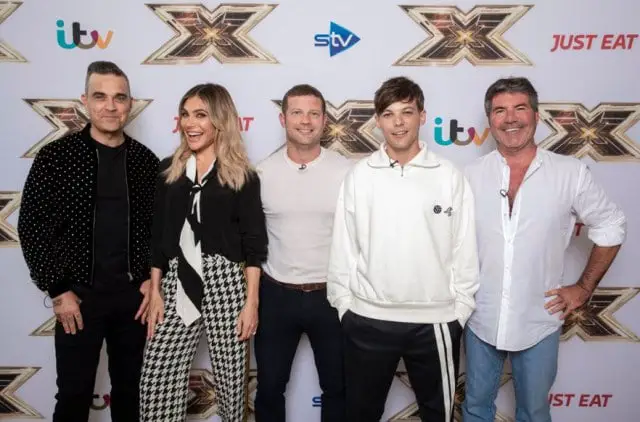 Set your alarms people. The X Factor UK 2018 final airs 2:30 ET/7:30 GMT PM this Saturday ( Dec 1) and Sunday (Dec 2) on ITV. The show will air live from Wembley Arena.
The three finalists, Anthony Russell, Dalton Harris (Louis Tomlinson's Boys) and Scarlett Lee (Simon Cowell's Girls) will be singing duets with popular recording artists.  According to the X Factor UK official Twitter account:
Dalton and Emeli Sande perform "Beneath Your Beautiful"
Scarlett and judge Robbie Williams perform "Angels"
Anthony and Tom Walker perform "Leave the Lights On"
Additionally, The X Factor 2018 winner's single will also be a duet. All three finalists have recorded songs to be released to download and streaming services if they win the show.
Dalton and X Factor UK 2012 winner James Arthur
Scarlett and X Factor UK 2006 winner Leona Lewis
Anthony and Kaiser Chiefs' frontman Ricky Wilson
According to The Sun newspaper, the thinking behind pairing the winner up with a pop star may help the song's chart performance.  
A source from The Sun explained: "The X Factor no longer has a monopoly on the Christmas No 1 like in the early days, so this exciting spin on the winner's single will ensure it is in the running. James, Leona and the Kaiser Chiefs are friends of the show and were happy to lend their vocals to the winner's singles, even though only one of the records will see the light of day.
"While Dalton, Anthony or Scarlett have to share the glory, the chance to collaborate with one of the country's biggest acts on their first ever release is an added perk."
Guest performers for the X Factor UK finale include Anne Marie, Take That, Chic, James Arthur, Ellie Goulding and George Ezra.
UPDATE: This Weekend's Song Spoilers from TellyMix
Anthony Russell
Let It Be – The Beatles
Leave the Light On – Duet with Tom Walker
Winners single: I Predict a Riot with The Kaiser Chiefs
Dalton Harris
A Song For You – Donna Hathaway
Beneath Your Beautiful – Duet with Emili Sande
Winners single: Power of Love with James Arthur
Scarlett Lee
Your Song – Elton John
Angels – Duet with Robbie Williams
Winners single: One More Sleep with Leona Lewis