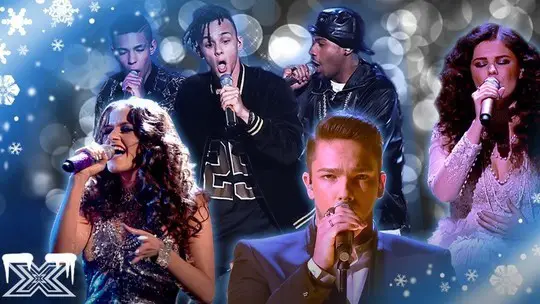 X Factor UK is coming down to the wire! It's semifinal week. The three contestants who remain after Sunday's results show will go on to compete in next week's finale.
It's also Christmas Week. So funny how the Jukebox wheel just happened to land on Christmas! Ha. In any case, each of the remaining four contestants will sing a holiday-themed song and a second song.
Here are this week's semifinal song choices:
Matt Terry – Nicole Scherzinger (Boys) – Silent Night and Say You Love Me by Jessie Ware.
Emily Middlemas – Simon Cowell (Girls) – War is Over by John Lennon and Mad World by Gary Jules.
Saara Aalto – Sharon Osbourne (Overs) – All I Want for Christmas is You by Mariah Carey and Chandelier by Sia.
5 After Midnight – Louis Walsh (Groups) – Stay Another Day by East 17 and Signed, Sealed, Delivered (I'm Yours) by Stevie Wonder.
The X Factor UK returns Saturday at 3:00pm ET/8:00pm GMT, on ITV. We'll be live blogging it all right here, so do join us!