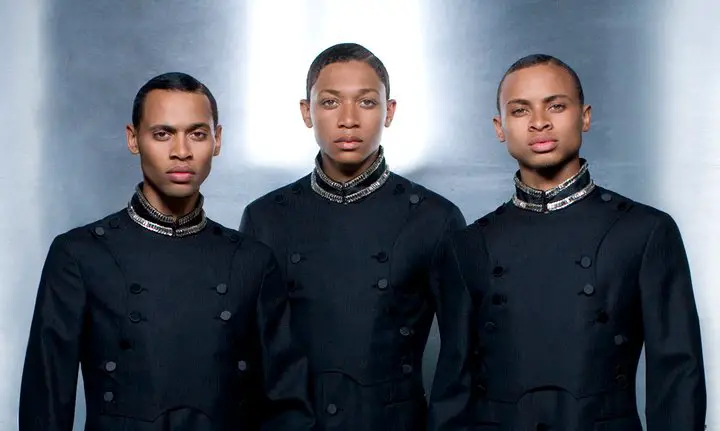 Simon Cowell would have you believe that he's plucking youth out of obscurity in order to turn them into stars, via his competitive singing show, X Factor. But behind those humble backstories, there's more than meets the eye.  Check out the resumes of three of last night's contestants.
The trio of boys, AKNU, that introduced themselves as growing up in the hood, and holding middle class jobs like car salesmen and youth worker. But as it turns out, the boys have a long resume. Here's a short bio:
AKNU (pronounced A-New). It stands for "A Kind Never Understood". The trio is heavily talented writing and producing their own music along with choreographing and playing instruments. There performances are full of dance, acrobatics and edgy vocals. AKNU has been featured on MTV and in Italian Vogue, Ebony, and Vanity Fair magazines. They are currently working on their debut album.
Check out their Facebook page. They also reportedly have a connection to Michael Jackson and were supposed to open for him on the ill-fated "This is It" tour.
Check out this cover of "We Found Love"
AKNU's X Factor Audition, "Valerie"
Fourteen year old Josh Levi didn't just plop into Los Angeles from Houston TX to make his dreams come true singing "Come and Get it" on X Factor. He was well on his way. Josh aka Joshua Bolden had a recurring role on Friday Night Lights as Darius Merriweather. He also starred in Debbie Allen's musical "Twist" Here's Joshua's bio:
JOSH LEVI, a native Houstonian, is an accomplished singer/songwriter, actor, and dancer. He personifies the true meaning of a "triple threat". He is a trained dancer in many styles of dance and has graced countless stages across the country.

Josh began singing at age five. In fact his first original song was performed for his younger sister's kindergarden graduation. His professional acting career at age nine, landing a recurring role on the NBC's hit series "Friday Night Lights. Josh played Darius Merriweather along Kyle Chandler, Connie Britton, Taylor Kitsch, and Jurnee Smollett. He also garnered rave reviews for starring as "Pistol" in Debbie Allen's production of "Twist an American Musical", in Los Angeles.

In order to keep his music career on the fast track, Josh Levi began training vocally and working on music covers and original music with the production duo, the Invaders. He permanently relocated to Los Angeles in 2013, immediately demanding the attention of some of L.A.'s top producers and songwriters.

Recently Josh starred in a feature film, "The Next Dance." He worked alongside Jonathan "Lil J" McDaniels (recording artist, Thats so Raven) , Cindy Herron (enVouge), Sabrina Brian (Cheetah Girls), and Brandon Smith (Sonny with a Chance, So Random, Let it Shine).

Josh is also working on his EP/mixtape; currently "untitled". He hopes to release his music to his current and new fans soon.

This triple threat, while having fun pursuing his dream, maintains balance by staying focused on his goals and pleasing his fans. JOSH LEVI is the perfect package, the next Pop & R & B sensation.
Josh's X Factor audition.
Here's Josh covering Miguel's Adorn
And, Millie Thrasher is more than a 14 year old student from Birmingham, AL who wowed the judges with a cover of Katy Perry's "Wide Awake," according to
Birmingham's Millie Thrasher, 14, appeared here in musicals such as "Seussical Junior," "Home for the Holidays," "Merry Memories" and "School House Rock Live, Jr." She's living in Los Angeles now, trying her luck at film and TV.

Thrasher's resume includes childhood cheerleading with ACE All-Stars of Alabama, a spot on the lineup of 2011's One2One tornado benefit in Linn Park, and movie roles in independent films such as "The Magic Clover."

In 2012, Thrasher was a member of Girl Squad — a dance-pop trio with Lexis Watkins and Maddie Simpson — and appeared with them on a YouTube series, "America's Most Talented School."
Here's Millie singing "These Boots are Made for Walking" on "America's Most Talented School."