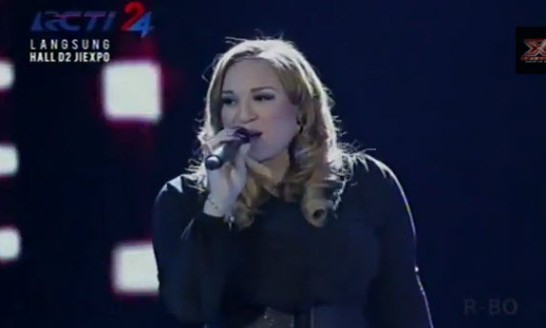 X Factor Around The World aired on live television in Indonesia today. Alums, including Melanie Amaro from XFactorUS and Jahmene Douglas from UK, performed. Paula Abdul (USA), Anggun (Indonesia), Daniel Bedingfield (New Zealand), Ahmad Dhani (Indonesia) and Louis Walsh (UK) sat on the panel of judges.
Weirdly, despite the judging, the competition was purely a performance showcase. There was no voting and no winner was announced. It was simply a special to celebrate the 24th anniversary of television network, RCTI.
Click for the X Factor Around the World You Tube Channel
Here's Melanie Amaro performing her single "Long Distance." Louis told her to move to the UK. Who knows, she may have better luck as a singer across the pond than she did in the US.
Long Distance
Melanie teamed up with X Factor Indonesia winner, Fatin to sing "The Worlds Greatest"
X Factor UK runner-up, Jahmene Douglas, performed "Titanium"
Jahmene sang "Halo" with Novita Dewi, Runner Up X Factor Indonesia
Here is the boyband, The Collective, from X Factor Australia, singing "Surrender"
And the winner of X Factor Australia 4, Samantha Jade, singing "What You've Done to Me"
There are more performances, including from Daniel Bedingfield at the You Tube channel I linked above.