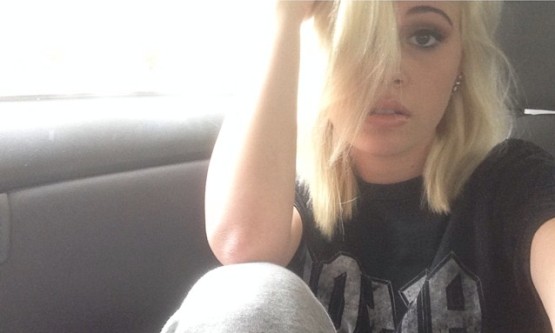 Remember Beatrice Miller from the second season of X Factor USA? One of her memorable moments was having a massive breakdown when the then-13 year old singer was eliminated.
Now 15, she's most certainly over it. She goes by simply Bea Miller, and is signed to Hollywood Records/Syco. She released an EP titled Young Blood, back in April, which went to #2 on the iTunes chart, and #64 on the Billboard 200. Check her out on Instagram, where she has nearly half a million followers.
Click to Download Young Blood from iTunes
These days, Bea is forging a musical career in pop/rock, citing Nirvana and and Taylor Momsen's Pretty Reckless as influences. The singer recently sat for an interview with Lyndsey Parker of Yahoo music, along with acoustic performances of 3 of her songs. Check out ALL of the performances at Yahoo Music.
Young Blood – Bea's first single, from the EP. She'll be releasing a full length album at a later date. She wrote the bridge on this song.
Fire and Gold – My favorite of the 3 performances. The song boasts a great hook and a shimmering melody.
Interview – Yaasss, Bea continues to be precocious. She no longer wears hats, ya'll.