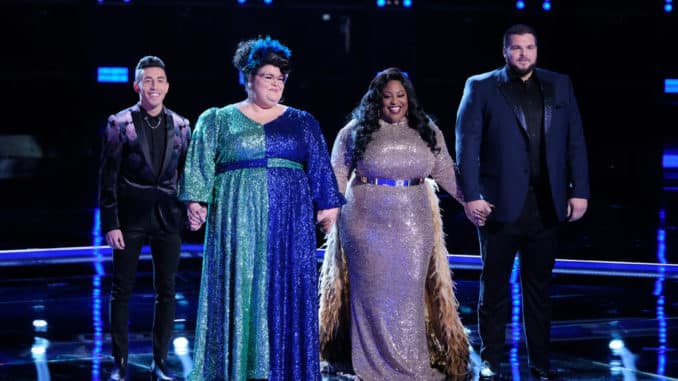 Who won The Voice 17? Now that viewers have voted for their favorites, The Voice season 17 winner will be revealed.  Who will take the crown? Will it be Jake Hoot, Ricky Duran , Katie Kadan, or Rose Short? We find out tonight, amid a ton of guest stars, including Adam Lambert, Jennifer Hudson, Season 16 winner Maelyn Jarmon, Lady Antebellum and more. Coaches Blake Shelton, Kelly Clarkson, Gwen Stefani and John Legend will be on hand, along with host Carson Daly.
The Voice 17 Finale Predictions: Who Will Win It All?
The Voice 17 Recap Finale Top 4 Perform (Live Blog VIDEO)
The Voice Finale: Adam Lambert, Little Big Town & More Artist Duets
The winner of The Voice walks away with a record deal with Republic, and $100,000.
The show kicks off with…what else! A video package. In the opening bit, Blake designs Gwen's wardrobe. Hijinks ensue!
Blake sticks a Christmas tree ornament on top of Carson's head. So fetching!
The show kicks off with Alex Guthrie, Will Breman, Max Boyle and Shane Q singing "Give Me Some Lovin" MAX WAS ROBBED Y'ALL. 
Next, it's country music group Lady Antebellum with their latest single, "What If I Never Get Over You." Nice harmonies! Group member, Charles Kelley co-wrote Ricky's original song, "A Woman Like Her."
Kelly Clarkson is the focus of the next video package. SHE'S SUCH A MOM. She drives her Voice kids crazy as she helicopters all around!
Next, it's The Black Eyed Peas ft J. Balvin and LED dance group Illuminate (the competed on America's Got Talent) performing the group's new song "RITMO." will.i.am's disembodied head singing at me is kinda creeping me out.   
A clip introduces Top 4 singer, Katie Kaden and her coach John Legend gushing about each other. "Everybody Loves Katie," says her coach John. And NOW Katie joins American Idol alum Adam Lambert. YAY! They sing his Cher cover "Believe." Two powerhouse vocalists, TOGETHER. This duet is so lovely. Adam is so good about giving his duet partners space to do their thing. 
SO MANY American Idol alums lighting up The Voice stage. THREE tonight. Adam Lambert (S8), Jennifer Hudson (S3) and, of course, Kelly Clarkson (OG!). 
Next, it's Rose Short and her coach Gwen Stefani. The love each other! The glorious Yolanda Adams joins Rose on stage for a beautiful gospel number, "In the Midst of it All." DANG. Yolanda is SOOO good! Rose is fanning herself. She probably can't freaking believe her life right about now. 
Next, Kat Hammock, Marybeth Byrd, Calli Wilson and Gracee Shriver sing  "Neon Moon." by Brooks & Dunn. Very nice, very nice!
Now, Dua Lipa takes he stage with her new song, the disco tinged "Don't Start Now." We dancing in the club.
Blake and Ricky's video package is next. "Ricky and I have a lot of things in common," says Blake. "Including pants…" HA HA HA. Ricky gives Blake a lesson on how to pronounce Worcester. It's pretty much a fail!  Ricky Duran joins blues singer Gary Clark Jr. for a performance of the Prince-inspired "Our Love."
It's time for the return of season 16 The Voice winner, Maelyn Jarmon singing a sublime version of "Have Yourself a Merry Little Christmas." She was so far above the competition last season, her win was a no brainer. This season isn't as cut and dried. Maelyn says it "feels like coming home." She admits finale week is REALLY HARD. She advises the Top 4 to take advantage of The Voice platform.
The next video package features Jake Hoot and Kelly Clarkson. Jake calls Kelly's coaching style as "tough love." She calls Jake a "unicorn." Jake says Kelly understands him as an artist. They have become true friends! Jake joins Little Big Town for a performance of their latest single, "Over Drinking."
Now, former The Voice coach and American Idol alum Jennifer Hudson debuts her rendition of "Memory" from the new movie Cats. Out on Friday! A super dramatic performance from Jennifer. The movie's CGI freaked people out so much, the director redid it. I wonder how it will do in the end… Cats is a really REALLY dumb musical.
Now, it's a video package featuring BLAKE SHELTON THE LIAR. After hitting his head, Blake becomes a truth teller. Har dee har har. In the end, Gwen Stefani gives him a concussion so he'll start lying again…or something. 
Hello Sunday, Myracle Holloway and Joana Martinez perform The Supremes, "You Keep Me Hangin On." Kind of a weird song choice.  Myracle is terrific!
Next, it's country music superstar, Luke Combs, performing the tender, "Even Though I'm Leaving." 
Now, it's time for John Legend's video package. Being named People's "Sexiest Man Alive" has not gone to his head! John strips and dances in secret. Of course, wife Chrissy Teigen makes a cameo. 
THE MOMENT HAS COME!
Results: The four finalists take the stage.  ARGH DUMB QUESTIONS. C'mon Carson, just tell us who won. There is a moment, however, when Kelly cries after Jake shares that she's made him a better parent.
The artist in FOURTH PLACE is…Rose Short. The artist in 3rd place is….Katie Kadan!!!! After a break, it's time to reveal the winner. And the WINNER OF THE VOICE IS JAKE HOOT!  My finale prediction? ONE HUNDRED PERCENT! Not that it was so hard to figure out. 
Kelly Clarkson has won her THIRD season. And she's only coached four seasons. She's won 75% of her seasons coaching the show. In that regard, she is the winningest coach in the history of The Voice right now. Blake Shelton's last triumph was Season 13 winner, Chloe Kohanski. Kelly and John have been Blake's worst nightmare!
As I mentioned in another post. Jake Hoot is *The Voice's FIRST one chair turn winner. Blake must be kicking himself for not turning. Oh well. Blake's team member, Ricky Duran, nabbed. 2nd place! That's Blake's life now. The perennial 2nd place finisher. Heh. 
*Season 12 winner Chris Blue is technically a one chair turn. However, only his coach Alicia Keys was available when he auditioned last.
Who Won The Voice 17? FINALE RESULTS
4th place – Rose Short
3rd place – Katie Kadan
2nd place – Ricky Duran
WINNER – Jake Hoot