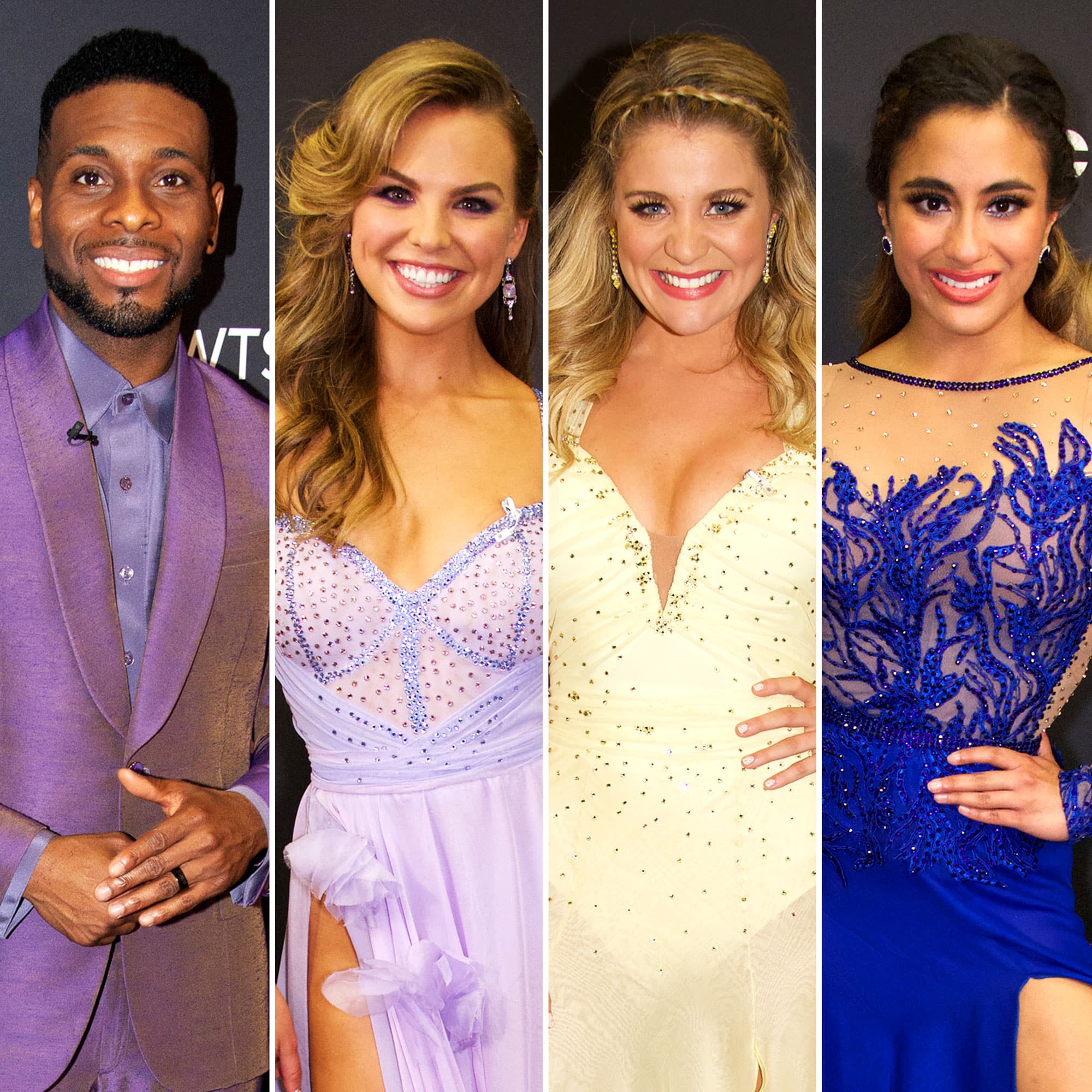 Hey All :)
This is it! We have arrived at the grand finale of season twenty-eight of <strong>Dancing with the Stars. Tonight, we find out who will succeed Bobby Bones as our new dancing champion! And considering this has been one wild ride this fall, anything is bound to happen and it all goes down live.
Last week, we saw the most shocking elimination of the season as James & Emma were eliminated by the judges after landing in the bottom two with Ally & Sasha. It was a devastating week for James, revealing a personal tragedy and then seeing his finale dreams dashed. Even Ally knew it was the wrong decision, as she tried giving up her spot to James in the closing moments of the show. But it wasn't meant to be as Ally will face off against Lauren, Kel, and Hannah for the championship.
This is one close finale, and the final two rounds of competition could decide everything. The final four will be tasked with performing a favorite routine and then showing off their freestyle. Remember, the freestyle is usually the round that most decides who takes the victory. With America voting live coast to coast, it is even more important this season that the dancers bring everything they have to impress with these last two dances.
The only contestant left who has never been in danger is Hannah but she is facing three formidable opponents. Lauren has shown growth and clearly has people behind her to vote. Ally, despite landing in the bottom three times, is an exceptional dancer that the judges are always raving about. And Kel has peaked at just the right time and become a true dark horse and possible underdog winner. I could make a case for each of them.
We will have some special guests tonight and surprise performances. Cher, Pitbull, and Ne-Yo are all on hand. Some major information about the upcoming DWTS tour will be revealed, and even some American Idol news will be announced. The show has not been renewed yet for 2021 and is not on the ABC Spring schedule, so this might be it for the foreseeable future.
I want to take a moment to personally thank you all for watching with me this season, commenting, voting in the polls, and generally being the best blog audience on the net. And a special thank you to MJ for letting me blog for another season. With all that being said, here is the voting information you need for the very last time…
Remember, voting starts right at the top of the show.
-You can head on over to ABC.COM or use the ABC App. A valid email is required and a limit of 10 votes per method.
-You can text the name of your choice to 21523. Example- text the word Hannah or Kel or Lauren or Ally to 21523 to place a vote. Again, a limit of 10 votes for this method.
We begin as everyone dances to… right on the nose, "Last Dance." The finalists eventually join their partners in the ballroom. Tom and Erin welcome us to the show. Brooke Lipton choreographed the opening. Voting is officially open and no judges save this week. The first round begins now…
https://www.youtube.com/watch?v=NnSmdQYPHW0
Round 1 – Favorite Dances
Ally & Sasha – Jive
Great opening. Nice little touch having Ally singing in the beginning. As expected, a completely wonderful jive and I have never seen look as comfortable dancing as she was here. Perhaps the thought that there really is nothing more she can do except wait to see how the audience votes has relieved some pressure. It was fun and exciting to watch.
Len says Ally's jive was fantastic. Today is Bruno's birthday. It is also the birthday of the director. Bruno says the dance was full throttle. He calls it brilliant. Carrie Ann says that dance is why she is here tonight.
Carrie Ann- 10
Len- 10
Bruno- 10 for 30/30
https://www.youtube.com/watch?v=-RWdlBh_JvM
Lauren & Gleb – Foxtrot
A hell of a lot more confidence and control this time around with the foxtrot. Really good attention to detail- especially that head placement and posture. I enjoyed the dance when she did it early in the season but this was so much better and really shows off Lauren's growth.
Bruno says Lauren really performs the character. He tells her that her lines and balance have both improved. Carrie Ann feels she wasn't as open as the first time. She tells her she feels as though she is holding back. Len calls it a mix of care and flare.
Carrie Ann- 9
Len- 9
Bruno- 9 for 27/30
https://www.youtube.com/watch?v=8rToRIsFDlM
Kel & Witney – Jazz
This wasn't my favorite Kel performance of the season but it was definitely when the tide turned for him, so I can understand picking it. I just feel it is a little jazz-lite and doesn't really capture his abilities. On the flip side, the fans love it and it gets everyone excited so it might just be the perfect choice for votes.
Carrie Ann says it showcases everything that is good about Kel. Len says Kel was the leader of the pack in that dance. Bruno calls it uplifting and positive. He says fantastic.
Carrie Ann- 10
Len- 10
Bruno- 10 for 30/30
https://www.youtube.com/watch?v=iqfixbW5aAM
Hannah & Alan – Viennese Waltz
So pretty. I had actually forgotten that dance as it was way back in week two. But Hannah looks and danced beautifully in that. Really like that she picked something elegant because the judges (Carrie Ann mostly) have harped on her about looking present in her dances and you have to be present in a dance that calls for emotion. Good job.
Len says lovely, sweeping movement but a little suspect footwork. Bruno says there was a tiny incident but he calls it beautiful. Carrie Ann disagrees and calls it Hannah's best dance of the season.
Carrie Ann- 10
Len- 9
Bruno- 9 for 28/30
https://www.youtube.com/watch?v=8yRmbRutr0s
Time for some filler. A look back at the past eleven weeks.
https://www.youtube.com/watch?v=GpGd-igJ0Eo
Here comes Pitbull, who is contractually obligated to appear on every reality-competition show finale, joined by Ne-Yo to perform as all of this season's stars return for one last dance. The stars only got around a few seconds to dance and for some, that's a blessing. Val, Jenna, and Sisqo (yes, Sisqo) are responsible for the choreography.
https://www.youtube.com/watch?v=JKxsz_1Z0bA
Round 2 – Freestyles
Ally & Sasha – Freestyle
Well, that certainly required a few Red Bulls. Dang at the energy. Love that Sasha went for a traditional Latin routine. A few sloppy moments with the lifts but hey, that was a lot of dancing and a lot of work crammed into the time allotted. Ally was all energy there and it showed.
Bruno says to unleash the star power. He loved the tribal bits thrown in by Sasha. He saw samba and salsa also. Carrie Ann has never seen a freestyle like that. Len calls it high energy and fast paced. He loved that the music was recreated in every movement.
Carrie Ann- 10
Len- 10
Bruno- 10 for 30/30
https://www.youtube.com/watch?v=Z0Glt9_ooRQ
Time for some American Idol news. Last night, three past contestants auditioned for a shot at returning to Hollywood. And America has voted for… Layla Spring. Idol returns February 16th on ABC. Good luck to everyone.
Lauren & Gleb – Freestyle
You know what? That was perfect for Lauren. Super country, super fun, and lots of steps that she could really do well. Gleb came through for her by putting something together that would be easy on the eyes for the audience and something Lauren could really shine with. Really good job.
Carrie Ann calls it the perfect freestyle for her. She adores her. Len enjoyed that she payed homage to her roots. He expected the unexpected and got it. Bruno calls it happy hour at Lauren's saloon. He loved the line dancing.
Carrie Ann- 10
Len- 10
Bruno- 10 for 30/30
https://www.youtube.com/watch?v=xRlFcIPMlKM
A break from the freestyle now as we see the pros dance as a preview for the upcoming tour. Hannah, Lauren, Kel, Ally, Kate, and Sailor will be guests on the tour. Wow, that's a lot of cast members on the tour. You can head over to DWTSTour.com for tickets and the schedule.
https://www.youtube.com/watch?v=o8YOYltNq-k
Hannah & Alan – Freestyle
Wow. I am impressed. That was a hell of a technical dance from Hannah. Loved the little touches of argentine tango thrown in. Good in-sync dancing when she was with the other pro ladies and a lot of clever and intricate lifts. Her lifts were done with more polish than Ally and Lauren for sure. It was a tour de force freestyle.
Len was shocked because he didn't expect it. He calls it great. Bruno loved the drama, the acrobatics, and the sexiness. He loved the opening sequence with the argentine tango sequence. Carrie Ann says Hannah is living her best life. She calls it a victorious freestyle.
Carrie Ann- 10
Len- 10
Bruno- 10 for 30/30
https://www.youtube.com/watch?v=HRtzpaEgejU
Kel & Witney – Freestyle
Hmm. Well, that was Kel totally in his element- lots of hip-hop styling and fast paced and fun. But I am not totally sure if it was freestyle worthy. It could be because both of his dances tonight were very un-technical if you will, so it just seems to me like the other three contestants had more actual dancing. But this is one of those freestyle routines the audience will eat up, so it could pay dividends.
Bruno loved the footwork and the final acceleration. He says Kel brought the house down. Carrie Ann's inner fly girl is going crazy. Len felt it was too similar to the first dance they did. He says it was really good though.
Carrie Ann- 10
Len- 9
Bruno- 10 for 29/30
https://www.youtube.com/watch?v=71YC7m_w8Jo
And now…the ICON. the DIVA. the LIVING LEGEND… Cher. She is performing her hit The Beat Goes On. Love the costumes of the dancers. We have been transported back in time. So much fun. Cher looks and sounds, as expected, fabulous. If you want to go see her on tour, you can visit Cher.com for the deets.
https://www.youtube.com/watch?v=ab64kl0kaiI
Well, that's it folks. All the dancing and voting is complete. Time for the final results of the season…
And since we aren't crammed for time as it is, here is some more filler- special comments from people close to the finalists. I guess we aren't going to find out who is in 4th, 3rd, etc… they are just going to announce the winner. Dang. I like knowing the placements. This is better than the usual maudlin song they go with as if everyone is dying though. LOL.
OOOO WE ARE GETTING PLACEMENTS. YESSS.
4th place- Lauren & Gleb
3rd place- Ally & Sasha
2nd place – Kel & Witney
The WINNER of DWTS 28 is… Hannah & Alan!!!!!!!!!
https://www.youtube.com/watch?v=mhJzmjF_VN0
Congrats to Alan on his first ever mirror ball trophy and congrats to Hannah on a well earned victory. Congrats to Kel & Witney on second place. And congrats to all the dancers this season.
With that………. it is a wrap…..until next time. Have an amazing winter and holiday season everyone. Love y'all. :D