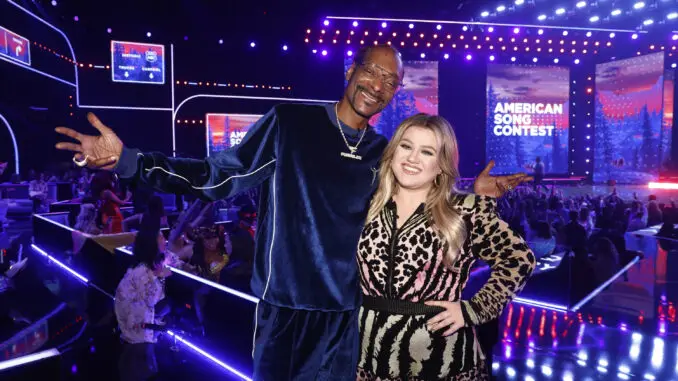 The American Song Contest Qualifiers rounds are behind us. Now it's time for two weeks of semi-finals. It's a SONG contest, so yes, y'all are going to hear the same songs AGAIN. However, show producers say production will be "stepped up" in the next round of competition.
The Qualifiers 5 episode only aired this past Monday, and hosts Kelly Clarkson and Snoop Dogg won't announce the three remaining singers who advanced to the semis until this coming Monday. The winners will perform in the the second week of the semifinals. Sometime after the reveal, the show will announce the second "redemption" wildcard song. That artist will perform on the semi-finals 2 episode as well. 
Five songs from each of the two semi-final weeks advance to the May 9 finale. American Song Contest airs on NBC at 8 pm ET/PT.
Find out which songs will be featured on Monday April 25 below. Ashley will be live blogging the show, so don't miss it. 
American Song Contest Semi-finals Week 1 Contestants
AleXa – Wonderland – Oklahoma – Alexa has South Korean heritage and grew up in OK. However, she left home for SK where she trained and performed as a popular K-Pop artist. – VIDEO
Heuston – Held on too Long – Rhode Island – Heuston closed out the first Qualifiers episode with an amazing guitar driven ballad. He won the jury vote that week. – VIDEO
Jonah Prill – Fire it Up – Montana – Jonah is a country singer who lives on a ranch in Montana. "The experience on stage was incredible," he says. – VIDEO
Jordan Smith – Sparrow – Kentucky – Jordan won The Voice on Team Adam Levine back in 2015. He wrote the inspirational power ballad "Sparrow" in 15 minutes. He won the jury vote in week 2. – VIDEO
Ni/Co – The Difference – Alabama – The two sing together, but are also a romantic couple. The song, a personal reflection on their interracial relationship, touched a lot of hearts. – VIDEO
Riker Lynch – Feel the Love – Colorado – Riker's song didn't rank high with the jury. But when ya got people, who needs a dang jury. Riker amassed a following playing a Warbler on Glee and through his family band, R5. Plus he came in second place on Dancing with the Stars! – VIDEO
Mari – Fly – New Hampshire – Mari is another contestant whose garnered a middling jury ranking, but sailed through anyway. She describes herself as a "Latina Lizzo."  – VIDEO
Jared Lee – Shameless – Massachusetts – Jared grew up  in the town where I live. Yay. He sat at the top of the jury rankings all during Qualifiers 4…until Allen Stone closed the show and knocked him out of the pole position. He had to know that was gonna happen. Viewers voted him through, so it's all good. – VIDEO
Allen Stone – A Bit of Both – Washington – Grammy nominated Allen Stone remains at the top of his performing and songwriting game. Maybe just give him the prize now. – VIDEO
Ada Leann – Natalie – Michigan – The 16 year old writes the kind of breakup/heartbreak songs that are sooooo popular with the kids these days. Blame it on Taylor Swift. The young singer won the Qualifiers 5 jury vote. – VIDEO
Ryan Charles – New Boot Goofin' – Wyoming – The jury ranked this song really low, and fans didn't vote him through. But producers chose the song as one of two "redemption" wildcards, because it's gone viral (as they hoped, I'm sure) on Tik Tok. This video has 1.6 million views. There is another with over 2 million views HERE. And this one with 3.6 million views. – VIDEO