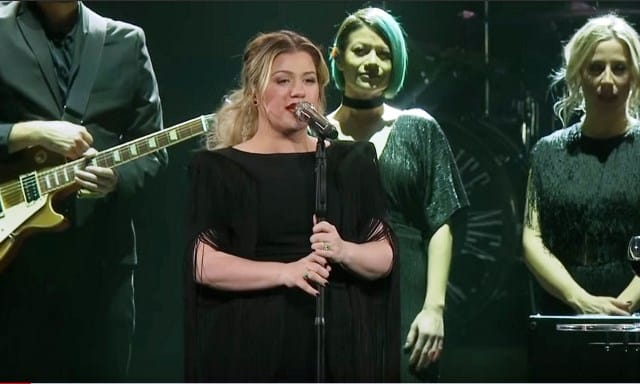 Ahead of the 2019 Academy Awards, which are airing this weekend, Kelly Clarkson covered Lady Gaga and Bradley Cooper's Oscar nominated song "Shallow." The American Idol OG winner and The Voice coach performed the hit at her Green Bay, Wisconsin concert stop on Saturday (Feb 16).
"Shallow" is from the movie A Star is Born, which has been nominated for eight Oscars including Best Picture and a Best Actress nod for Gaga.
Kelly spoke fondly of Gaga as she introduced the song on stage, "I know there's a lot of competition…with artists in the industry. but there's a lot of us that just dig each other. We really get inspired by each other. This chick is amazing. We're really different, but at the same time, we're really similar in the fact that she just loves music and that's why she's doing what she's doing."
Kelly reminisces about meeting Gaga for the first time: "We actually did a show together. She wrote me a hand written letter saying 'thank you so much, it was an honor to open for you.' She was the nicest human being ever. It's cool to know that someone that talented is also really nice. I've been rooting for her for awhile." 
In an interview with Forbes, she explained  why chose the song, and enjoys performing covers in general:
Well, we do covers every show and I'd been wanting to do that song ever since I heard it. I thought it was really cool and it's fun for the audience if they know the song.

I know that sounds goofy, but I'm just a fan of what they do and I mean a good song is a good song, right. I will say it's kind of nerve-wracking when you're like, 'Oh god, I hope they don't hear this.' If you didn't like it.
"This song…I love it," Kelly said before delivering a raw, soulful version of "Shallow." The cover has over 2 million streams since it was posted last weekend! Fun fact: The background singer with the blue hair is none other than American Idol 8 alum, Allison Iraheta.  Brynn Cartelli, who won The Voice season 14 on Team Kelly, is an opening act on tour, along with country artist Kelsea Ballerini. Check out Kelly's Meaning of Life" tour schedule HERE. 
Watch Kelly Clarkson cover Lady Gaga and Bradley Cooper's "Shallow" from A Star is Born.
https://youtu.be/IxJtkNfjByA