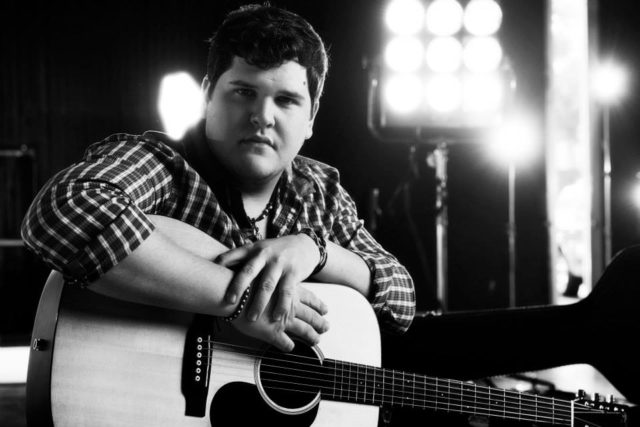 Remember Dexter Roberts? The country singer placed 7th on American Idol season 13 back in 2014. Sadly he had to leave the summer tour early due to complications of a tick bite.
But now, Dexter is giving TV talent shows another shot. The singer is currently a contestant on The Voice season 16. Check out his FOUR CHAIR turn audition below.
Dexter's rendition of Randy Houser's "Like a Cowboy" gets all four coaches–Adam Levine, Blake Shelton, Kelly Clarkson and John Legend to hit their buttons pretty quick. And as always in the wake of 4 chair turns, chaos ensues! The chatter mostly revolves around persuading Dexter NOT to choose Team Blake. Heh.
Coach Kelly delivers an impassioned pitch for the singer, but WITHOUT mentioning that big honking thing they have in common! Singing shows–all of them–might mention some past experience, but never include a resume of prior talent show runs. And at this point, those resumes can become quite lengthy!
The big deal is that Dexter was a finalist on American Idol. He place pretty high! There is only one other former American Idol finalist who also got a turn on The Voice. And that would be Season 3's Top 8 singer Jon Peter Lewis. He was one half of the duo Midas Whale, eliminated at the Knockouts in season 4. American Idol Season 6 Top 24 contestant, Sundance Head, won the whole dang show on season 12.
Find out which team Dexter chooses when The Voice Blind Auditions continue Monday March 4 at 8 p.m. ET/PT on NBC.
Check out Dexter Robert's The Voice Blind audition below. Good luck to Dexter on his new venture. 
https://youtu.be/KdxoTTHbNnE