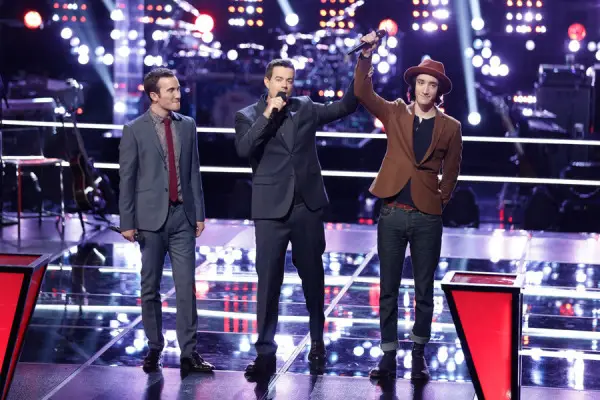 The Voice 7 Knockouts Pt 2 – There are SIX MORE performances tonight! Which of the artists will prevail? We're live blogging here. Pop star, Taylor Swift, returns as key adviser to the coaches.
Team Gwen Stefani: Taylor John Williams "Mad World" by Tears for Fears Vs. Troy Ritchie – "Hey Ya!" by OutKast – Taylor suggests that Troy do the first half of "Hey Ya" with his guitar before "blasting" into a dancy pop performance. While Troy exudes confidence, Taylor John is a self-confessed introvert. He really relates to the lyrics. Taylor S. gives him tips on how to move his body. Gwen suggests that he do the melody of the original song.
Performances:
Troy Ritchie – I LOVE this guys voice. There's nobody like him on the show. After a quiet intro with guitar, he ditches his instrument to launch into a fun dancy version of the song. THIS IS LOADS OF FUN ALSO AWESOME. The coaches are SMILING! I really do love his confidence.
Taylor John Williams – Welp. The Gary Jules version of "Mad World" is certainly one we've heard before. Taylor brings a few of his own vocal twists to the table, but overall, I find this singer unremarkable. The coaches love him, though. . "I ain't never seen anything like that before," says Pharrell. REALLY? Meh
Adam congratulates Troy on his bold performance, but feels Taylor's vulnerability won the day. Blake loved Troy's performance. He gives him the win. Pharrell calls Taylor's performance "hypnotic." Gwen loves Troy's voice, but notes that the whole room was in a trance as Taylor performed. She calls him a "peer". Ugh. Taylor Wins the Round. I DO NOT GET IT. Blake says he didn't steal Troy because the singer never really established the kind of artist he is. Boo.
Team Adam Levine: Alessandra Castronova – "Next to Me" by Emile Sande Vs. Mia Pfirrman – "Human" by Christina Perri – Mia freaks out when she sees Taylor. DON'T THEY ALL. Mia chose the song because it's in her lower register and has "never done anything like it."  Taylor gave Mia tips on singing quietly in a way that emphasizes her vulnerability. Alessandra wants a high-energy performance this time. Taylor suggests that she REALLY put her body into the notes and "grit" her vocals up.
Performances:
Alessandra Castronova –  Despite suggestions that she vocally punctuate certain places, use her body and grit it up, Alessandra still turns in a lightweight performance. Although, she does hit some pretty sweet high notes. This may not have been the best song for her to perform.
Mia Pfirrman – I love Mia's tone! She's a little under pitch and had some wobbly moments, but her phrasing is outstanding. She really knows how to set herself apart. This was a good song choice for her, but I think she could have used a little more rehearsal. Or calmer nerves, maybe. Still, I think she won the round.
Because of the soft quality of her voice, Blake would go for Allesandra. Pharrell says Allesandra showed everyone what she could do, while Mia pulled everyone in. Pharrell picks Alessandra too. Gwen loves Mia's control and would pick her. Adam thinks the two are equal, while Mia is more polished. Mia wins the round. Whoa. Adam's comments were kind of trolly! For a minute, I thought he was going to choose Alessandra. Again, Blake didn't use his steal, because he's "waiting for that artist that can bring me to the finale."
Team Pharrell: Elyjuh Rene – "With You" by Chris Brown) Vs. Ricky Manning – "Wrecking Ball" by Miley Cyrus – Pharrell paired these two together because he wants to gauge who delivers the most soulful performance. Pharrell thinks Elyjuh sang well, but is not sure he felt it. Taylor suggests he loosen up his blocking. He needs to let his performance "escalate" she says. Pharrell tells Ricky that he has to move past the arrangement. Taylor and Pharrell notice that he has a "Twilight" look.  Ha ha, he does! Taylor tells him to use intense eye looks like "sniper shots." If he does that, the girls will swoon. SMART ADVICE.
Performances
Elyjuh Rene – Elyjuh is one of the best vocalists in the competition. His sweet tone and effortless ability to phrase is impressive. But the coaches are right, he has to do more than show off those fancy runs. He's not quite there yet. Vocally, however, Elyjuh is amazing–listening to him is like drinking a shot of warm honey.
Ricky Manning – Ricky has really come a long way. His backstory painted him as the ultimate noob, moving to NYC without a clue. Having said that, he doesn't have Elyjuh's polish, but he sings with passion and vulnerability. He's pouring so much emotion into this performance–I am sold. Nope. Not as good a singer as Elyjuh, but Ricky's ability to move cannot be denied.
Gwen calls Ricky "insane." She was moved. She felt there was something missing in Elyjuh's connection to the song. YEP YEP. Adam agrees. He feels a star is being born in Ricky. Blake feels Elyjuh is coasting, while Ricky's performance was his favorite of the night. WOW PHARRELL CHOOSES ELIJAH! Elijah Wins the Round. Mostly because he believes in Elyjuh. There's more work to do, but Pharrell is totally down for that. Also, I suspect, Pharrell KNOWS DAMN WELL RICKY IS GOING TO BE STOLEN. Gwen steals Ricky. That was Gwen's LAST steal.
Blake is the only coach left with a steal.  Monday is the LAST day of the Knockouts! Join us then.
Here are the Teams as of right now:
Team Adam:
Taylor Phelan
Blessing Offor
Matt McAndrew
Damien Lawson
Mia Pfirrman
Chris Jamison
Rebekah Samarin
Team Blake:
Jessie Pitts
James David Carter
Allison Bray
Taylor Brashears
Reagan James
Grant Ganzer
Team Gwen:
Craig Wayne Boyd
Ryan Sill
Bryana Salaz
Taylor John Williams
Beth Spangler
Anita Antoinette
Ricky Manning
Team Pharrell:
Sugar Joans
Luke Wade
Elyjuh Rene
Danica Shirey
Jean Kelley
Menlik Zergabachew