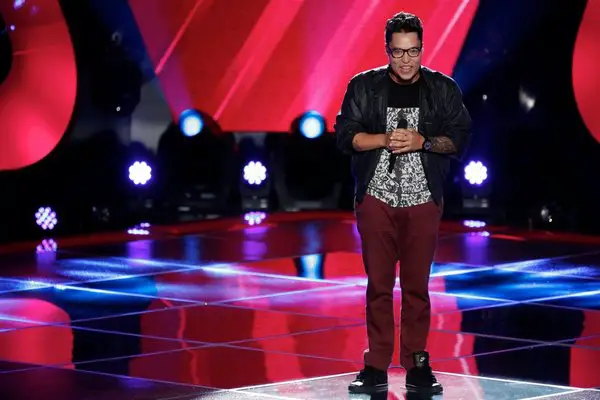 The Blind auditions continue on The Voice. Join me as I live blog the performances here.
Click to Download iTunes Performances from The Voice
Blake is still bragging that he's won 3 seasons in a row. He comes to the auditions with his little statuettes. And I think some of the contestants are falling for it. Actually, maybe I'd pick the winningest Voice coach to shepherd me through the competition too.
My favorite performers tonight were the sultry and soulful, Monika Leigh and Christian rocker, Preston Pohl. They both bring confidence, and a distinct style to the stage.
The Voice's central conceit, that the coaches have to choose the contestants without looking at them is beside the point. For instance, the coaches could tell that the subpar singer, George Horga was young and cute by the way the audience was reacting to him. By the same token, Malford Milligan's world weary and character-filled vocal was a give away that he'd been around the block a few times. That's why the former got Cee Lo to turn around and the latter couldn't.
And Briana Cuoco? She's exhibit a–proof that the coaches receive notes on who is auditioning. Briana's audition was mediocre, but she got both Cee Lo and Christina to turn around. Somebody put a bug in their ear. Eh. I'll be surprised if she makes it to the live shows. She's there for the buzz.
More blind auditions tomorrow!
Ray Boudreaux  – "Use Me" Young single father, from with an old soul. He's getting the hayseed edit. He began gigging when he was 20 years old. He had a little girl at 22. He devoted himself to fatherhood until he split up with his girlfriend. He cuts grass as side job. She's very adorable and also loves singing! The biggest crowd he's performed for was about 400 people. Flying to Los Angeles for The Voice was his first plane ride. Ray warns that the song he's singing doesn't match his image. Whatever that is. I guess they were expecting him to sing country rather than blue eyed soul? He's got a clean, bright tone with a bit of edge. Not bad. Adam says he was expecting him to sound like Blake, rather than Cee Lo. Cee Lo says Bill Withers is like a father to him. No pressure! "I want to win with you," he says. Blake calls the performance "swampy" and says no wonder, he's from Louisiana. So his singing style, not incongruous. Ray chooses Team Blake. He was planning on picking Cee Lo, but in that moment, Blake spoke to him. Maybe it was those trophys.
Lina Gaudenzi – Landslide – Mom was a professional model. She began when she was 13, and then stopped when she gained weight. It was awkward for her. She moved to Paris to study classical music. When that didn't work out, she moved back to Miami to work clubs. Oh. Her voice is strange. She's got a super goatie vibrato, and it's REALLY distracting. I keep waiting for her to break out into a yodel. She could go country. I'm not impressed with her phrasing. Blake and Christina turns around first. When she learns that Lena studied Opera, she mentions that she had an opera singer on her team (Chris Mann). Lena loves Opera, but her heart is in bluesy folk. Oh that's country! Says Blake. The two bicker over Lena, hard. Adam is Team Christina. After all, she turned first. Blake waited until she did some fancy runs at the end. And ultimately, Lena chooses Team Christina.
Juhi Pathak – "Mercy" – She's 16 years old and loves Nirvana and Sublime. Her dad has a PhD in electrical engineering. She gets her musical talent from her mom, who sings classical Indian music. But if she goes to college, she plans on studying something really nerdy, like computer science. Her Indian dad is not a stereotype. He's ready to support her dreams, no matter what they are. She's got an interesting quality to her voice, growly and soulful, but also passionate. I'm feeling this. Cee Lo and Christina are too. Cee Lo calls her fun and effortless. Christina wants to give her advice…as a female. She's giggling and indecisive, but eventually chooses Team Cee Lo . I'm not surprised. I think Cee Lo spoke to her inner kook. Check out her YouTube channel andWebsite.
Malford Milligan – "Let's Stay Together" – He's 54 years old! He spent his childhood working in the cotton fields. And he's a black albino. He's got the health problems associated, plus the bullying he's had to endure. He turned to music. He went on the BB King tour, so he's been around. He feels relieved that the auditions are blind. A smooth, soulful, voice, with a lot of character. It's obvious this guys done some living. Very nice. But nobody is turning around for him. I bet they are assuming he's old. Man. Nobody turned around. Poor guy. He would have been knocked out immediately. But still, I feel bad for him. Cee Lo felt it was karaoke. Christina was waiting for it to "take off" somewhere. Malford compliments the coaches–says they're nice. "This is a nice show," snarks Christina.
Now, a montage of singers who didn't make the cut. Again, it's the constructive criticism montage.
Justin Blake – "Sure Be Cool if You Did" – He's from Tennessee. He drives behind 18 wheelers, spotting them. It doesn't pay well, and SURPRISE–his girlfriend has a baby on the way. He only makes 8 dollars an hour. He's taking a risk, singing a Blake song. Adam turns first! Blake's thinking about it. Justin sings harder. He's sounding a little desperate. He doesn't have a bad voice though. But a little generic. Aw. Blake didn't turn around. I think Justin is a little disappointed. Blake says he picked a good one. Adam didn't even know it was a Blake song! And it's time for a BRO HUG. These two have been especially flirty tonight. Blake thought he was a little out of breath. Justin says not to assume he would have picked Blake if he turned around. Right. Blake says he might steal Justin later if he has the opportunity. Blake is on Team Adam Check out Justin's You Tube Channel, Facebook
Timyra-Joi – "Girl on Fire" – She's 15 years old. Her mother is super supportive. She's had a vocal coach since she was 5 years old. The vocal coach invited the family to move in when dad lost his job, and stopped charging them. Well. She'd love to be on Cee Lo's team, because she's finding herself as an artist, and she believes Cee Lo can help. Timyra has one of those preternaturally mature voices. Fifteen year olds shouldn't really be singing like that. I'm not sure I'm buying it. But no doubt, she's got a ton of pop potential. She'll sound great recorded. Christina turns right away. At the last minute, Blake and Cee Lo decide to turn. Christina says she nailed the run. She believes in her. Again, Adam is TEAM CHRISTINA. Cee Lo wants to nurture her and be a part of her journey. Blake goes straight to "I won this competition with a 16 year old girl." because he's got nothing. "He's tired!" says Christina. Timyra isn't impressed. She chooses Team Christina. She says she just went with her gut in the moment–obviously changing her mind about Cee Lo- Oh. This actress/singer was a "talented tween" two years ago. She competed in Kidz Star USA 2011.  Kris Allen was a celebrity judge and mentor. Check it out. And she won a VH-1 "Save the Music" songwriters.
Monika Leigh – "The Thrill is Gone" – She quit music at 22. She gave up. Got a job in a hotel as an administrative assistant. Well, that sounds awful. She decided to give The Voice a try.  She's got a super sultry alto.  It takes longer than it should have, but Cee Lo and Adam turn around. I love her warm tone. It's like honey. She's a little pitchy, but that might be nerves. She incorporates some minimal, well placed vocal runs, and never over sings. There isn't a note out of place. Adam, Cee Lo and Blake turn around. Adam calls her pure. He appreciates her subtly. Cee Lo likes that she sang the song so "womanly."  Blake just plain fell in love with her voice. And, once again, he trots out his trophys. Oy. To assure Monica, he notes that he's won the competition with singers that aren't country (he calls Cassadee pop without mentioning how he molded her into a country singer. Hmf.) And she picks Team Blake. Check out this singer/songwriter on YouTube, Facebook, Tumblr
Zach Hinson – "Drunk on You" – He's a fire fighter from a family of them. His female cousin died in the 30 mile fire. It's not a surprise that he's looking for a safer, and amore fulfilling job. A country singer, he's got a sweet, likable face, but the vocals aren't there. He's having trouble hitting the high notes. Oh, he's pitchy. Woah. That last note? NO. Poor guy. He kinda bombed. Blake admits that he's hot, but he needs to work on his vocal. They encourage him to do some work and come back. Zach admits that he didn't do a good job. Blake reveals that he wants an eclectic team this year.
Briana Cuoco – "You and I" – This singer is currently an assistant to her very famous sister, Kaley Cuoco from the TV show, The Big Band Theory. Kaley is part of the video package, gushing about her sister. She's a huge The Voice fan. Briana reminds us that just because Kaley is a famous actress, doesn't mean she has pull in the music world. She was, of course, personally invited to audition by the show, as Carson dropped by her San Fernando digs to personally deliver the invite and chat with the girls. Oh my. She kind of sucks. She's off the beat and is under pitch. She kinda hits the high note. Christina turns around. I guess she got the memo from producers. At the last minute, Cee Lo pushes his button. Christina was moved by her power and raw talent. Kaley is backstage crying.  This is great buzz, all thanks to a rival network! Cee Lo says being around a powerful woman is a place he wants to be. Unconvinced Briana chooses Team Christina. Girl power! Nobody mentions the mega famous sister. Oh look. Briana guest starred on Big Bang. Cover of "Dock of the Bay".
George Horga Jr. – "Treasure" – His parents were from Romania and built amazing businesses from nothing. He left his community to move to Hollywood, which is unheard of in the culture. Nevertheless, his parents support him. He's a good looking kid, but this song isn't doing anything for him. He sounds strained. Cee Lo turns around. He noticed that the crowd really reacted to him. That's probably why he turned around. When Christina saw the girls jumping around, she figured he was cute. George is on Team Cee Lo. George was an American Idol season 11 Hollywood contestant.
Now, a montage of artists who made it though. Aw. Poor widdle canon fodder – Anthony Paul – Team Cee Lo, Cilla Chan – Team Blake, Jacob Poole – Team Christina
Preston Pohl – "Electric Feel" – He played guitar in a very successful Christian rock band. After a band member died, he quit. But then, he decided his friend would have wanted him to keep going. Dad is crying before he hits the stage. Whoa. Like Cee Lo, Adam and Blake turn around immediately. Preston has a raspy, soulful voice. It's full of confidence and emotion. He's a pro. He says nobody knew he could sing. Really? There's a lot of raw passion in that vocal. Adam compared him to Marvin Gaye. Preston is a fan of all kinds of music. He's got poise, too. Preston is bonding with Cee Lo, but who will he choose? Team Adam. Huh.I thought for sure he'd go for Cee Lo. And  the Christian band Preston was a member of is StorySide:B (Music Video) (Cover of Pumped Up Kicks)