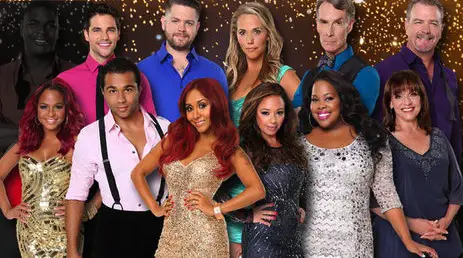 Hey All :D
Welcome to Week 3 of season seventeen of Dancing with the Stars. First, I want to thank my best buddy Ash for helping out with the pic above. Last week, we saw our first elimination of the season, as Keyshawn Johnson and his partner Sharna were booted from the competition. It was also the first time seeing the performance and result show combined together. While I did appreciate how the show wasn't boring and had entertainment from beginning to end, I do hope they slowly work out the timing. Towards the end, the judges were rushed to make comments and everything seemed to go at a rapid pace in order to fit it all in. But I will give the producers a pass. Plus, as we lose more couples, the timing will work out better. Tonight, eleven couples are left to dance and before the night is complete, another one will be given the ax.
Tonight is "Hollywood Night" on the show. Now I'm not entirely sure if that means the couples will be dancing to movie themes or if the show is just paying honor to Hollywood, both classic and new. I am going with the latter because the Charleston has been added to the roster of dances. An old-school dance that is fun and fast-paced, it gives me the feeling that we are paying some type of homage tonight to the days of old in Hollywood. Also, Sasha tweeted something about the night being inspired by Baz Luhrmann, a well known and respected producer, screenwriter, and director. The couples are tasked to perform any unlearned routine.
I personally think Bill E. and Emma need to come out swinging tonight because they could be in the most trouble. Bill Nye has fans, so I doubt he is any trouble regardless of what happens on the floor. Of course, there was a story earlier this week about how Bill's knee is injured but he said he plans on dancing despite it if he can. If Bill is unable to perform, will we be spared an elimination? I'm not sure how the timing of the show goes, but if a double elimination is planned down the line, this could be a good way to prevent that. We shall see. I also think Brant and Peta need to bring it in a big way because despite their chemistry and good looks, Brant is relatively unknown (especially to this show's demographic) and he could be a surprising boot. He is also suffering from an injury, per his and Peta's tweets. If Snooki doesn't score well, she could also find herself in danger. Those are my three couples to watch for tonight in terms of elimination.
So, with all that being said, let's kick off "Hollywood Night" and get to dancing!
The show opens with the usual major ensemble number featuring everyone, which doubles as an introduction of all the celebs and their partners. Yep, we are definitely paying tribute tonight to old Hollywood. Peta and Mark choreographed that.

Leah & Tony (dancing the Rumba)
An interesting James Bond inspired rumba, that's for sure. Some sensual and erotic faces coming from Leah. Wow, a really nice and quick move Tony put in there and Leah did it well. It looks like Leah had a moment of "whoops" in the middle of the dance but quickly came back. I wish we had a little more rumba movements as this routine is very performance quality over technique. That's not saying Leah's technique is bad but I wanted to see more of it. She can do it. She is one of those females this season that has a quiet potential to go far. But as for this dance, a nice rumba that was high on the entertainment value.
Len loved the chemistry. He enjoyed the passion and drama. He wanted a tad more fluidity. Bruno loved her face. He said "I'm going straight here." Yep, he said that. His only critique was agreeing with Len about the fluidity. Carrie Ann disagrees about the arms and only saw one little mistake.
Carrie Ann-8, Len-8, Bruno-8, for a total of 24/30
To VOTE for Leah & Tony, call 800-868-3411, or use ABC.COM and/or Facebook. 11 votes per method allowed this week.
Dang. Bill Nye tore 80 percent of his quad. OUCH. Brant has rehearsed all week in a boot due to injury. Even Tyne (Bill's partner) has a nagging injury.

Corbin & Karina (dancing the Quickstep)
Wow! Talk about fast. Corbin and Karina are racing through the ballroom. And Corbin is perfectly keeping up with Karina. Nice intricate footwork going on here, as expected in the quickstep. The theme of this is a seductress (Karina, Ha!) getting a film director to dance with her. Some great performance value here and Karina throws in some "Corbin-style" choreography in the end. This was pretty much a perfect quickstep if we are talking Corbin's technique (his feet and his posture). I guess it will be up to whether Corbin is hitting it home and connecting with the viewers.
Bruno thought it was incredibly fast and maintaining the synchronicity is nearly impossible but Corbin did it. He thought it was incredible. Carrie Ann was amazed by the footwork. She just wants him to work on not letting his hip hop background come into play. Len thought it was a big hectic at times. In other words, speed came on and technique went out a bit. He wanted more balance.
LOLZ. I guess when I said Karina put some "Corbin-style" choreography in there, I should have realized the judges may knock them for it.
Carrie Ann-9, Len-8, Bruno-9, for a total of 26/30
To VOTE for Corbin & Karina, call 800-868-3406, or use ABC.COM and/or Facebook. 11 votes per method allowed this week.

Elizabeth & Val (dancing the Foxtrot)
Elizabeth and Val are developing a really great relationship during rehearsals. This is like an episode of the short lived ABC series "Pan-Am." A very old-school and elegant foxtrot. Elizabeth lost a bit of timing (and was behind Val) for a quick portion in the middle. But it doesn't hurt the dance. Elizabeth and Val are still able to pull off a nice and entertaining routine that has class and fun. It helps that as an actress, Elizabeth is able to pull off the right tone for all her performances.
Carrie Ann loves to watch Elizabeth dance. She mentioned the mistake that I did in the review. Len thought it was chicken soup to the eyes. He calls Elizabeth a contender. Bruno thinks she is flying first class. He also mentions the little incident.
Carrie Ann-8, Len-9, Bruno-8, for a total of 25/30
To VOTE for Elizabeth & Val, call 800-868-3405, or use ABC.COM and/or Facebook. 11 votes per method allowed this week.

Brant & Peta (dancing the Quickstep)
Geez. Brant lost his phone, hurt his foot, and was robbed at gunpoint. Yes, gunpoint. I have no words. If you didn't tell me about Brant's foot, I would have no clue he was injured. He is doing an impeccable job with this quickstep. It has everything Corbin's did and then some. I even think he nailed the performance value of it better. I love what Peta has done here with the choreography. Okay. Brant loses his posture a bit during the routine but come on, this is a fabulous routine. As a leading man in old Hollywood, Brant is aces. Great job!
Len thought it had speed and control. He mentions a bit of posture issues but he loved it overall. Bruno thinks if Brant carries on like this, the nation will go crazy for him. He loved how Brant played the part. Again, frame issue. Carrie Ann says Neil Patrick Harris better watch his back. She calls him a fantastic dancer.
Carrie Ann-9, Len-9, Bruno-9, for a total of 27/30
To VOTE for Brant & Peta, call 800-868-3403, or use ABC.COM and/or Facebook. 11 votes per method allowed this week.

Valerie & Tristan (dancing the Cha-cha-cha)
Grace Kelly and Freddie Mercury. Yep. That's the inspiration here. The rehearsal package is hysterical. Eek. The routine is hysterical as well but not for the right reasons. Valerie is almost completely lost here. It starts out decently but once Valerie falls behind with the music and steps, she is never able to keep up. Some obvious and glaring errors in the Cha-cha-cha and the technique becomes non-existent toward the end. Kudos though to Valerie for keeping the entertainment value up and being the special lady that she is. Even though she knows she messed up, she has a big smile on her face throughout the entire routine and is as classy as ever.
Bruno thought the look was absolutely right. But he mentions Valerie went wrong many times. Carrie Ann agrees that Valerie lost her way throughout the dance but she loves how Valerie just keeps going. Len thought it was like flying coach on a cheap airline. Len loves the way Tristan takes care of his partner.
Carrie Ann-6, Len-5, Bruno-5, for a total of 16/30
To VOTE for Valerie & Tristan, call 800-868-3410, or use ABC.COM and/or Facebook. 11 votes per method allowed this week.

Bill & Emma (dancing the Paso Doble)
Bill is going to the Lone Ranger. I'm sorry but Emma has choreographed a very easy and safe routine here. Yes, this is a paso doble but could it have been any more basic? I guess I need to judge the dance as it was choreographed so yes, Bill is doing a solid job. He is keeping up with Emma and staying in character. Nothing is technically wrong at all here. But I have to repeat- this is one of the easiest paso doble routines I have seen done on this show in quite some time.
Carrie Ann says that Bill nailed the Paso. She thinks they must have rehearsed like crazy. Len loved the Lone Ranger. He thought Bill came out all guns blazing. He thought it was Bill's best dance. Bruno loved the attack.
Carrie Ann-8, Len-8, Bruno-8, for a total of 24/30
To VOTE for Bill & Emma, call 800-868-3409, or use ABC.COM and/or Facebook. 11 votes per method allowed this week.

Amber & Derek (dancing the Charleston)
Amber has had a very hectic week. Okay. This isn't a pure charleston at all. I see some charleston steps for sure but Derek really went all out here with some other moves. Amber rocks it and of course, the performance is a hundred percent given but this is probably my LEAST favorite routine from Amber. I wish Derek kept it more classic charleston and rehearsed more with Amber on that. If Amber infuses her own type of dancing into each routine on a weekly basis, it could get repetitive. Of course, she still does well enough.
Len mentioned a little issue with Amber's feet but thought it was fun to watch. Bruno loves how Amber performs. She sells it. But he mentions that Amber needs to be sharper with her feet and she lost it a bit. Carrie Ann loves Amber's upper body but the bottom wasn't working correctly. Carrie Ann mentions how tough the competition is, so she is going to be tough.
Carrie Ann-8, Len-8, Bruno-8, for a total of 24/30
To VOTE for Amber & Derek, call 800-868-3407, or use ABC.COM and/or Facebook. 11 votes per method allowed this week.

Jack & Cheryl (dancing the Cha-cha-cha)
And it is time for the 70's now. Jack slides down the entire staircase to open the routine. Jack is a tad bit stiff and awkward in this. His cha-cha-cha hips aren't exactly on point. He also looks really nervous, so the performance value is lacking too. He does most of the steps well enough to be considered adequate here but he has done better this season. It just looks like he needs to loosen up and let it go so his hips can do what they are meant to in a cha-cha-cha. All in all though, an average routine.
Bruno calls him cheeky-Jack. He called it a very ambitious routine but work on the hip action. Carrie Ann calls it good but wasn't Jack's best. She says he is taking too big steps. She also says to watch his hands. Len loves the commitment but he agrees the hip action was lacking.
Carrie Ann-7, Len-7, Bruno-8, for a total of 22/30
To VOTE for Jack & Cheryl, call 800-868-3402, or use ABC.COM and/or Facebook. 11 votes per method allowed this week.

Christina & Mark (dancing the Charleston)
Christina's daughter came to visit her at rehearsal. This is more the charleston I expected to see out of Amber and Derek earlier. Mark also adds a few other things but keeps it much more true to form. Christina is doing a fabulous job here. The duo are totally in-sync, in character, and giving a great performance. This could be arguably the most entertaining performance of the night. I am quite surprised that Mark, who usually choreographs crazy, was the one to tone it down and use basics while Derek went in the opposite direction. Interesting. But back to Christina. Fabulous job!
Carrie Ann called it incredible. She loves Christina's range of emotion. Len liked the fact that the dance mirrored the movements. Like Amber though, he would have liked a bit more of the charleston. Bruno thought it was visually inventive. He says she performed better than she ever has.
Carrie Ann-9, Len-8, Bruno-9, for a total of 26/30
To VOTE for Christina & Mark, call 800-868-3401, or use ABC.COM and/or Facebook. 11 votes per method allowed this week.

Snooki & Sasha (dancing the Quickstep)
Snooki is, as usual, funny in rehearsal. She doesn't want any 6's this week. WOW! Where did this come from? Snooki is doing a really solid job with a quickstep. She is actually moving with Sasha at the right pace and the technique is there. This Marilyn-inspired routine is showing off a whole lot of Snooki's strengths. I didn't expect her to do this well in a legit ballroom routine. Perfect? No. But if you think back and realize she is on the same show as her former reality-tv co-star The Situation, it is laughable. Snooki is so miles ahead of him. And she is actually ahead of a few people in this competition. I'm impressed.
Len was surprised knowing this was Snooki's first ballroom dance. Bruno thinks Snooki's commitment shows in a week. Carrie Ann calls her a superstar.
Carrie Ann-9, Len-8, Bruno-8, for a total of 25/30
To VOTE for Snooki & Sasha, call 800-868-3412, or use ABC.COM and/or Facebook. 11 votes per method allowed this week.

Bill Nye & Tyne (dancing the Jazz)
Bill is basically attempting to dance even though he shouldn't. I'm not entirely sure what this is. Tyne has choreographed some type of robot-inspired dance where Bill can stand and not move his leg too much. I mean, he is being entertaining and all but this isn't a jazz routine. It is hardly a dance routine. I will give him credit for doing this when he probably should have pulled out of the competition. I don't even know how to critique it properly except saying that Bill is injured and Tyne choreographed as best she could around it by making it funny and having Bill do as little as possible.
Bruno makes fun of the robot stuff. He comments that there was no jazz but it was entertaining. Carrie Ann compliments Bill's tenacity and Tyne's choreography. Len compliments Tyne as well for the choreography and gives Bill props.
Carrie Ann-6, Len-5, Bruno-5, for a total of 16/30
To VOTE for Bill Nye & Tyne, call 800-868-3404, or use ABC.COM and/or Facebook. 11 votes per method allowed this week.
Week 3 Judges' Leaderboard:
Brant & Peta- 27/30
Christina & Mark- 26/30
Corbin & Karina- 26/30
Elizabeth & Val- 25/30
Snooki & Sasha- 25/30
Amber & Derek- 24/30
Leah & Tony- 24/30
Bill & Emma- 24/30
Jack & Cheryl- 22/30
Valerie & Tristan- 16/30
Bill Nye & Tyne- 16/30
RESULTS are up next!
Christina And Mark are in jeopardy.
Brant And Peta are in jeopardy.
Bill Nye And Tyne are in jeopardy.
Everyone else is SAFE!
Brant and Peta are SAFE!
Oh, come on. IT HAS TO BE BILL. If Christina goes… this would be a huge travesty. Not necessarily the bottom two of course…
The eliminated couple is…
Bill Nye And Tyne

I can only assume that Christina isn't pulling in the votes the show expected, so they placed her in danger. I'm not surprised by Brant being in jeopardy because despite being good looking and actually a decent dancer, he is relatively unknown to this show's audience. Next week is going to be really interesting with Julianne Hough guest-judging and obviously, the chance for unexpected results.
And "Hollywood Week" comes to a close. POLLS will be up soon for tonight. I hope you guys enjoyed the program this week. :D