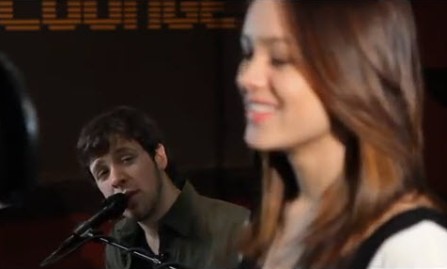 Here's a melding of worlds.  American Idol 10 Top 24 contestant Tim Halperin and Hayley Orrantia, who was a member of Lakoda Rayne, X Factor's dreadful faux-country girl group join forces to sing "What Makes You Beautiful" the single from X Factor UK boyband, One Direction. Whew!
I don't even recognize Haley out of the horrible outfits Paula Abdul made her wear. I wonder how soul-crushing it was for her to participate in those God-awful performances on X Factor? Because she's pretty good here.  Tim, who accompanies the duo on piano,  could have gone deep as a finalist on American Idol in a season that was more WGWG-friendly.  Season 10's "Sudden Death" format didn't do him any favors, either.
I will confess. The song, as performed  by One Direction is a guilty pleasure. So catchy. And kind of adorable.  The duo's acoustic version replaces the cutesy with a grown-up yearning that works nicely.
Check it out below.