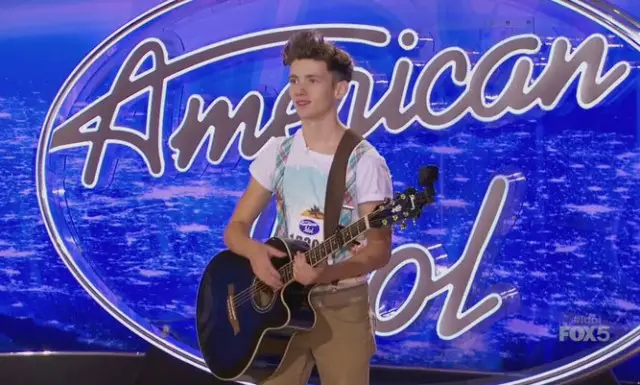 Thomas Stringfellow American Idol 2016 Season 15 Contestant
Thomas Stringfellow is a 17-year-old singer from Bentonville, Arkansas, who comes from a family that fosters children. According to Thomas, he has witnessed horrible stories of broken kids who have lost their families, and so he desires to show them dreams can still be fulfilled. Thomas began singing in the 5th grade, and is currently home schooled. He really admires and looks up to singer-songwriter Ed Sheeran as a role model. According to his Instagram covers, Thomas also enjoys the music of Fun, Maroon 5, One Direction and Jason Mraz. One other interesting fact is that Thomas is actually a cousin of The Voice season 4 champion, Danielle Bradbery
Click to see the FULL LIST of American Idol 15 Top 24 Contestants!
American Idol 15 Top 24 Video Sneak Peek
Over this past summer Thomas auditioned for the farewell season of American Idol. At his celebrity judges audition he performed Give Me Love, by Ed Sheeran, to strong praise from the judges. Receiving his golden ticket, The Idol Pad says Tomas survived Hollywood Week and made it to the Showcase Round, where he sang Story Of My Life, by One Direction. Giving a strong enough performance, Thomas was then admitted into the top 24.
Instruments Thomas Plays: Guitar, Piano
Links:
Website: http://www.tommyjake.com/
Vine: n/a
Soundcloud: n/a
Idol Audition: https://www.youtube.com/watch?v=X8rwCkcHjSQ
TV Interview with Thomas: http://www.nwahomepage.com/news/arkansas-native-american-idol-contestant-comes-to-fox24
Overall Thoughts: I'm digging Thomas this season. I really like his voice and I think he is an incredibly talented musician, but I do worry for him that he is very easily comparable to fellow top 24 contestant, Mackenzie Bourg. The key to any Idol run is separating yourself from the rest of the pack, but because these two singers are so similar, that connection could hurt him with vote splitting. My advice to Thomas is to first do whatever it is possible to distance yourself from Mackenzie and then try to build your own niche in the competition. Doing so will allow Thomas a lot more freedom with his decisions and will also take away that anchor that could trip him up with the votes. For me, Thomas is right on the bubble of inching his way into my top 10 bracket. However, while he may be one performance away from truly breaking out, I think one weak performance in the live rounds could send him packing, especially if he is competing with Mackenzie. I do worry that in the end only one of these two singers will make the top 10. Right now if it came down to it I would go with Mackenzie, but if Thomas can successfully distance himself it will be a much tougher decision for who I would put in the top 10.
Song Suggestions:
Can't Pretend, by Tom Odell. I was originally going to suggest this for Jordan Sasser, but I think Thomas maybe is a better fit for it.
Stitches, by Shawn Mendes. I will be surprised if he doesn't cover this song during his idol run. This just seems like a natural fit, but if he does cover it, I suggest he switch it up in some way.
Collide, by Howie Day
Thomas Stringfellow sang Give Me Love by Ed Sheeran at his Little Rock audition. Click to check out his FULL AUDITION
More American Idol Performances:
Showcase Round – Story of My Life by One Direction – Click to Watch VIDEO
Hollywood Round Last Solo – Click to Watch VIDEO
Semifinal Round – Creep – Click to Watch VIDEO
Idol Star Duet Round with Nick Fradiani – Man in the Mirror – Click to Watch VIDEO