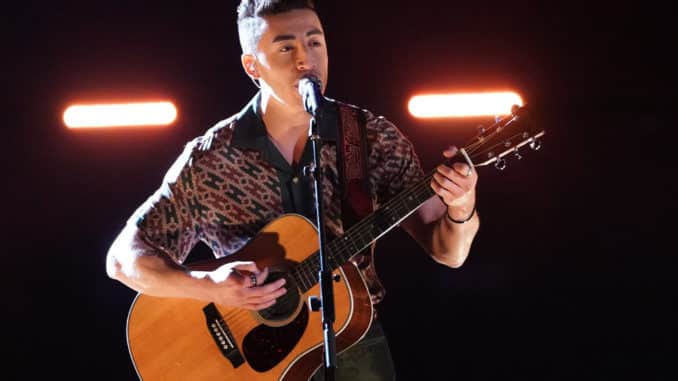 The Voice season 17 runner-up, Ricky Duran drops his first new song since competing on the show, fall 2019.
"I'm really excited to show this song to the world," Ricky said in an interview with NBC Boston 10. "And I'm anxious to see the reaction of my fans." He wrote the song, "She Closed Her Eyes" for his late mother, Odette Duran who died from breast cancer in 2018. The song is available now on all platforms to download and stream.
"I remember listening to this song with my producer after we had finished recording it and him saying 'this song is gonna save lives' and that stuck with me," Ricky told NBC10. "I hope the message in 'She Closed Her Eyes' speaks to anyone who has gone through the pain of losing someone and shows them that there is a light at the end of the tunnel."
Jake Hoot Covers 'La Bamba' with Ricky Duran, The Voice Pals (Video)
Unfortunately for Ricky, the COVID-19 pandemic added challenges to his ability to take advantage of the momentum his television exposure afforded him. And really that's true of any artist coming off a singing show in these uncertain times.
"There is no doubt that Coronavirus has been a huge hurdle in my career," said Ricky. " Me and my team were thinking 2020 would be a big year for me."
The upside of quarantine is that the downtime allowed him to work on his songwriting. He's spent much of the pandemic  working on music in the studio.
"I can't wait for this pandemic to be over. This is the longest I've ever gone without performing live and I gotta say it hurts," he said. "I'm really looking forward to the next time I can get on stage for a huge audience and sing and play my heart out. It's about time I get back to doing what I love."
However, Ricky is set to perform virtually tonight (Dec 9). It's his first full scale concert since his time on The Voice. Click here for tickets.
Check out the "She Closed Her Eyes" official video below