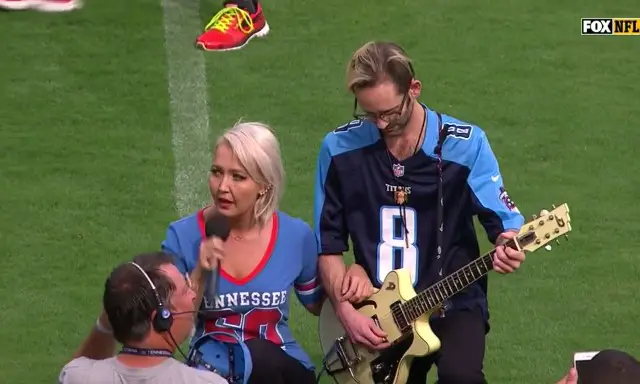 The Voice alum Meghan Linsey made a statement on Sunday after she and her guitar player took a knee after singing the National Anthem before the Tennessee Titans and Seattle Seahawks football game at Nissan Stadium.
In addition, both the Titans and the Seahawks stayed in their respective locker rooms during the anthem. The protest was only one of many around the NFL on Sunday. Meghan, a member to Team Blake Shelton, was the runner-up to Sawyer Fredericks on Season 8 of the show.
Meghan and her guitar player kneel after finishing the performance.
https://youtu.be/R3lcuFOXw84
Here's the last 18 seconds
https://www.youtube.com/watch?v=Gf0IGCuFD2Q
The protests across the league are the result of remarks President Donald Trump made at a rally Friday night in Huntsville, Alabama. He called for NFL players to be fired for protesting the national anthem:
"Wouldn't you love to see one of these NFL owners, when somebody disrespects our flag, to say, 'Get that son of a bitch off the field right now. Out. He's fired. He's fired!"
Both the Titans and the Seahawks issued statements prior to the game explaining their stances (The comment section is a cesspool):
"As a team, we wanted to be unified in our actions today," the Titans said in a statement. "The players jointly decided this was the best course of action. Our commitment to the military and our community is resolute and the absence of our team for the national anthem shouldn't be misconstrued as unpatriotic.
— Seattle Seahawks (@seahawksPR) September 24, 2017
Via USAToday
UPDATE: Meghan shared her thoughts with Yahoo Music after singing the anthem:
"I was absolutely terrified walking out there," country singer Meghan Linsey admits, speaking of her journey to the microphone at Nashville's Nissan Stadium, where she performed the national anthem before a Titans game Sunday afternoon. "I knew what I was getting ready to do, and I understood what it meant. Obviously, I made a name for myself in country music, and I knew what the backlash would be. So I walked out there scared. But I have to go into my gut and my heart, and I knew that was the right thing to do today."