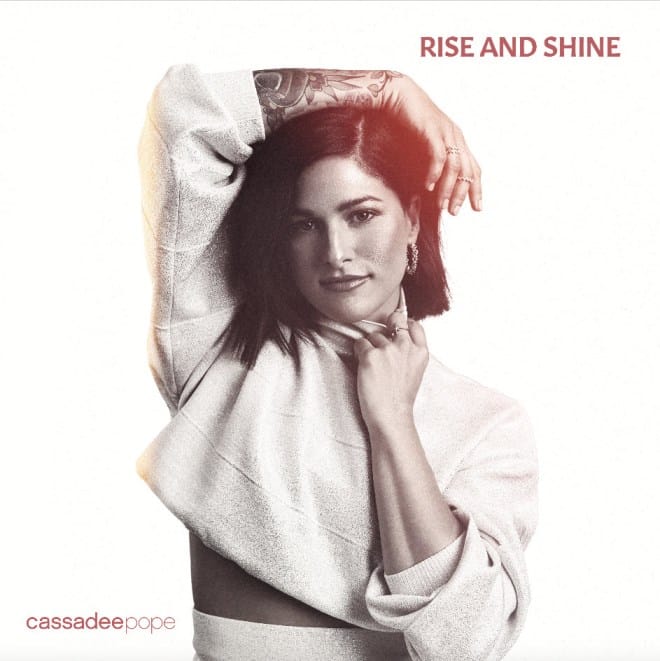 Cassadee Pope drops her new acoustic EP Rise and Shine today.
The 8 track set marks the first time The Voice season 3 winner has co-written every song on the record, and the first time she has served as a co-producer. The EP also includes a duet with actor and country singer, Sam Palladio.
In a statement, Cassadee explains that back in April she started thinking about what she could do during the coronavirus shutdown.
"I realized I had songs that could really help people feel through whatever it is they're going through right now." Cassadee says. "The purpose of the downtime became clear: to share those songs with you all. I wanted to put something out there that will help aid you through your own unique journey through everything we are experiencing."
Cassadee hopes the new songs help her fans deal with whatever they are going through, presently.
"This project, Rise and Shine is really just for you and is there for whatever you need," says Cassadee. "To cry to it, laugh to it, smile to it. As long as we're feeling, whether it's good or bad, we're ALIVE!"
"Personally, it's been a time of reflection for me," Cassadee told People magazine. "and a lot of what I've reflected upon has brought up some dark moments," she added. "I hope the lyrics help aid people into letting out whatever emotions they're holding inside."
Check out Rise and Shine below. It's available on all streaming and download services now.
Rise and Shine Track Listing:
Let Me Go (Cassadee Pope, Tina Parol, Kevin Rudolf)
Hoodie (Cassadee Pope, Johan Fransson, Emily Weisband)
California Dreaming (Cassadee Pope, Alex Kline, Shane Stevens)
Counting On The Weather (Cassadee Pope, Bobby Huff, Blair Daly)
Hangover (Cassadee Pope, Butch Walker)
Rise and Shine (Cassadee Pope, Danny Orton, Matt Scannell)
Sand Paper (Cassadee Pope, Alex Kline, Shane Stevens)
Built This House (Cassadee Pope, Forest Glen Whitehead, Kelly Archer)