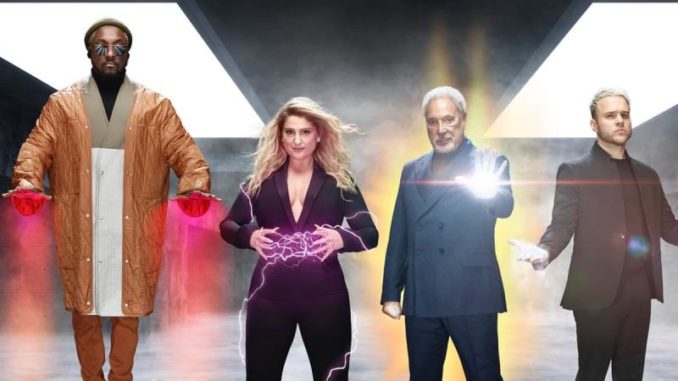 The Voice UK continues with the Battle Rounds continue on Saturday (Feb 29) on ITV. Olly Murs, Will.i.am, and Sir Tom Jones are all back for another season in the big red chairs. Pop singer Meghan Trainor is the new kid on the block. Emma Willis hosts.
In each battle, one act will win and advance to the Knockouts. The loser will either be eliminated, or stolen by another coach. Each coach has one steal to use. The Battle Rounds will air over the course of 3 weeks.
Team Meghan
Jordan Phillips vs Brooke Scullion – Water Under the Bridge by Adele – Jordan makes sandwiches and his dad's construction business. Brooke was a 4 chair turn. So uh oh. Jordan and Brooke have become good friends. Although Jordan is a decent singer, Meghan is the standout voice here. Her tone pops, and she's got good range, although a bit yelly in her upper range. Olly thinks Jordan stepped it up. "That sounded like a record," says Tom. Meghan heard Brooke's nerves, Meghan is impressed with Jordan's improvement. Still, she picks Brooke, who says she didn't want to win because of her friendship. After a super awkward pause, Olly saves Jordan! Only Tom's steal remains.
Meghan picks Brooke Jordan is stolen by Olly.
Team Tom
Sean Connolly vs Lois Moodie – Ordinary People by John Legend – Sean is a very old-fashioned singer, but Tom appreciates that. Lois has a beautiful voice. Fun fact: Ordinary People was co WRITTEN by Will.i.am. Lois looks very pretty tonight! Eh. Sean is kind of pitchy and his tone just meh. Lois is better in every way. Just in terms of charisma, she got it going on. Will called the performance "special." Meghan liked Sean's tone, but complimented Lois' range. Tom is the only one with a steal left. The eliminated singer WILL go home. He picks Lois, Sean is eliminated.
Tom Picks Lois, Sean is eliminated
Team Meghan
Holly Scally vs Trinity-Leigh Cooper – Keep Holding On by Avril Lavigne –  Holly is 17, pink-haired Trinity-Leigh is 16. Both girls have pretty big voices.  Hoo boy. Neither is very excited about the song. Charlie Puth checks in on the iPhone. The girls are impressed. Meghan gives them performance tips: smile, enjoy it, she says. They both sound like babies. There's a ton of off-pitch singing happening here. Both are nervous and awkward. I prefer Holly's tone. So I'd pick her? But both are pretty weak. Will said they did a "phenomenal" job. Tom didn't notice any nerves? Really? Oh geez. Both girls are crying before Meghan even chooses. Meghan chooses Trinity-Leigh. Holly is eliminated.
Meghan picks Trinity-Leigh, Holly is eliminated.
Team Will
Alia Lara vs Lucy Calcines – Bounce Back by Little Mix – Lucy, who has Spanish roots, is Latin singer, Alia sings R&B, but has confidence problems. Lucy doesn't know the song. Oops. Alia feels out of her comfort song with a "sassy" song. Will advises Alia to bring the electricity.  Both singers are bringing it. I'm not sure who I'd choose. Lucy maybe. She has better performance skills and confidence. "That was the most fun I had all day," says Meghan. Olly calls it a great battle, after going on with a put on accent that sounded vaguely racist. Hm. Will is happy with both singers. But he chooses Lucy. Alia is eliminated. Tom won't steal her because he already has a similar singer. SO AWKWARD.
Will picks Lucy, Alia is eliminated.
Team Tom
Elly O'Keeffe vs Shaun Samonini – I Lived by OneRepublic – Elly is a music teacher with a folky style, Shaun is a father with a big voice. Elly is struggling it a bit, but also approaches rehearsal like a teacher–even coaching Shaun a little. And like a teacher, she sings with a well trained voice. The contrast between the two is striking. She's clearly winning this battle! He's holding back a little and seems very nervous. Will compliments Shaun's beard and his voice by extension. He loves Elly's tone. Tom picks Elly, Shaun is immediately eliminated because Tom's got the only steal.
Tom picks Elly, Shaun is eliminated
Team Olly
Ty Lewis vs Millie Bowell – If The World Was Ending by JP Saxe and Julia Michaels – Millie was the last singer of the Blind Auditions. Ty identified so much with Olly, that he chose him. Millie isn't entirely comfortable with the song choice. I really like Ty's tone. There's something about him that's compelling. He has a beautiful falsetto. Millie has a huge voice and does the runs, but she doesn't stand out. Meghan says "Ty, you were vocally there." Will liked the song choice, and thought both did well. Olly picks Ty, Tom has his eye on another singer, so Millie is eliminated
Olly picks Ty, Millie is eliminated
Team Tom
Vivienne Isebor and Zion – My Love Is Your Love by Whitney Houston – Tom turned for her at the very very last minute. Zion is a gospel singer and is also a one chair turn. Both are into the song choice, although Zion is worried about his range. Vivienne is barefoot! Both are really great singers! This will be a hard decision for Tom. Meghan is really impressed with Zion's improvement since the Blinds. Will calls the duet "co-opitition." Olly has no idea who Tom should pick. Tom picks Zion, Vivienne is eliminated. Too bad there are no steals. 
Tom picks Zion, Vivienne is eliminated
Next week, it's the last of the Battle Rounds. Tom is the only remaining coach with a steal.