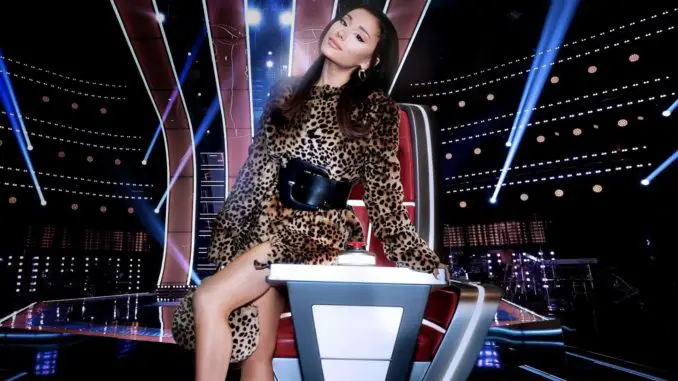 The Voice season 21 premieres on NBC Monday September 20, featuring a brand new superstar coach. Pop singer Ariana Grande will join Blake Shelton, Kelly Clarkson and John Legend on the panel to find new talent.  Now, fans will finally get a glimpse of the coaches all together in a new clip.
The Voice teased that the first coaches promo will drop on Tuesday (July 27). "Are you ready for the stars to align?" The Voice twitter post teases. In the clip, Blake exclaims, "Look at that amazing star over there!" John asks, "You mean the alpha centauri?" Blake responds, "No!  I mean Ariana Grande," he says, pointing at the sky. And there she is, sitting in a crescent moon, one of her signature high notes announcing her presence.
anyways…ariana grande https://t.co/l9S6sa5VXV

— becca| Liz's bday! ??? (@cloudygwss) July 26, 2021
Kelly doesn't make an appearance in the above tease, but she does post a behind the scenes clip alongside the quip, "The coaches took camping to a whole new level. The new promo for @NBCTheVoice comes out tomorrow y'all." In the clip she says, "Today's promo is all about how we chill around the campfire and sing," adding "and the whole thing is kind of cute and outdoorsy. This is just welcoming Ariana." The caption on the clip reads, "Ariana is coming to the campfire tomorrow."
The coaches took camping to a whole new level ?? The new promo for @NBCTheVoice comes out tomorrow y'all! #TheVoice #TeamKelly pic.twitter.com/UjRsEbSLtq

— Kelly Clarkson (@kellyclarkson) July 26, 2021
Ariana is excited for her new gig
The new coach wrote on Instagram, alongside a behind the scenes clip: "hello and screaming !!!! cannot wait for everyone to see our first promo tomorrow for season 21 of @nbcthevoice !!!" Arianna added, "it's ….. the most ridiculous and fun. i adore these humans so much and am already an emotional wreck worrying about saying goodbye to everyone the day of the finale and nothings even happened or aired yet."
She continues, "but yes ! tomorrow ! first promo. i love these people and this crew and my TEAM OH MY GOD and everything about this. i can't say anything else. but… simply cannot wait til we get started."
*

*
The Voice announced good and bad news at the end of last season.
While the show added Ariana, the series biggest star yet, to its coaches panel as Nick Jonas departs (at least for now), NBC also announced that The Voice is cutting back to one cycle a season. Instead, the American Song Contest will premiere spring 2022, which is based on the famed and long-running European Song Contest, which airs across the pond.
The Voice Blind Auditions filmed in June
The Voice Blind Auditions were filmed in June in front of a live studio audience and reports from the set say Ariana fit right in.
"Ariana was so fun and sweet," one eyewitness shared with E News. "She was interacting with the fans so much and was having the cutest moments on and off camera with the coaches. She was so sweet to anyone who came up to her from the production team, as well. Ariana and Kelly Clarkson were talking selfies. It was so cute."
And of course, since gifts for new team members have become a thing, "Ariana also had a cute little lunchbox filled with goodies for whoever chose to be on her team," the eyewitness said. "She was so excited to hand them out."