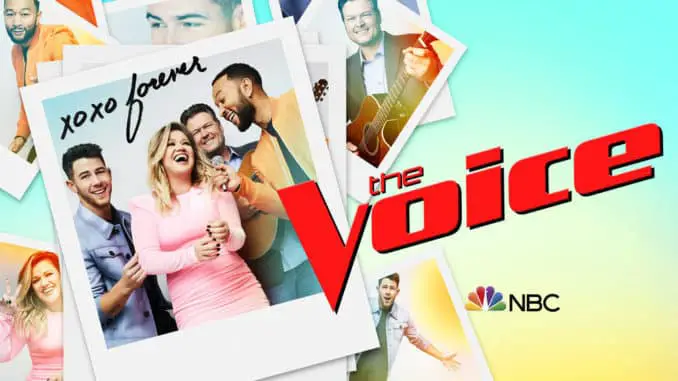 The Voice has FINALLY ANNOUNCED A PREMIERE DATE! In addition, NBC has announced the coach's Battle Round Advisors.
While Ellen's Game of Games is still listed for March 1 at 8 pm over at Futon Critic (They receive all their listings from official network press releases) it appears that the schedule has made way for The Voice to begin it's 20th season on Monday March 1.
The Voice Battle Rounds are set to tape on February 5 and 6. But in the meantime, the coaches–Blake Shelton, Kelly Clarkson, John Legend and returning star, Nick Jonas–have already sat with their battle advisors for interviews. 
This season's Battle Advisors include Luis Fonsi, Darren Criss, Brandy and Dan + Shay:
Team Kelly Clarkson: International chart-topping Grammy-Award winning artist Luis Fonsi. Kelly has longed for Spanish language singers on her team. So enlisting Luis Fonsi as her Battle advisor is a no brainer. 
Team Nick Jonas : Multi-hyphenated Emmy and Golden Globe award-winning actor and musician Darren Criss. Well, here's a blast from the past! Darren played the popular character Blaine on Glee from 2010 through 2015 when the FOX show ended. He's starred in a bunch of projects since then of course, but he hasn't often crossed the pages of this website. But he will now. 
Team John Legend: Icon and Grammy-winning R&B singer Brandy. Brandy is a 90s legend. She'll be a great advisor for John.
Team Blake Shelton: As we reported earlier, hot country duo Dan + Shay will help Blake advise his probably mostly country team.
Carson Daly returns as host.
The NBC press release posts a reminder: Season 20 marks the 10-year anniversary of The Voice Season 1 premiered on April 26, 2011 and ran through June 29, 2011. Javier Colon won the season on Team Adam Levine. Adam sat alongside Christina Aguilera, CeeLo Green and the only remaining coach, Blake Shelton. At the time, CeeLo had the biggest hit on the planet–"Forget You."  My, how times change. 
UPDATE:
Blake Shelton and Dan + Shay Access Interview WATCH.
Luis Fonsi Joins Kelly Clarkson as 'Voice' Team Advisor, Plus: She Talks Funny Coach Group Text
'The Voice': John Legend Reveals His Season 20 Celebrity Mentor and His 'Secret Weapon' (Exclusive) – The performer revealed on Monday that his celeb mentor for the upcoming season will be none other than… Brandy! Her track record as a successful artist speaks for itself and we've been loving her and cherishing her as an artist of our culture for such a long time," Legend raved when the two sat down with ET. What I tell her and what is so resonant to me about her is not only has she had a great career and had lots of hits, but singers love Brandy," he added. "They all look up to her and she's so influential to other singers.