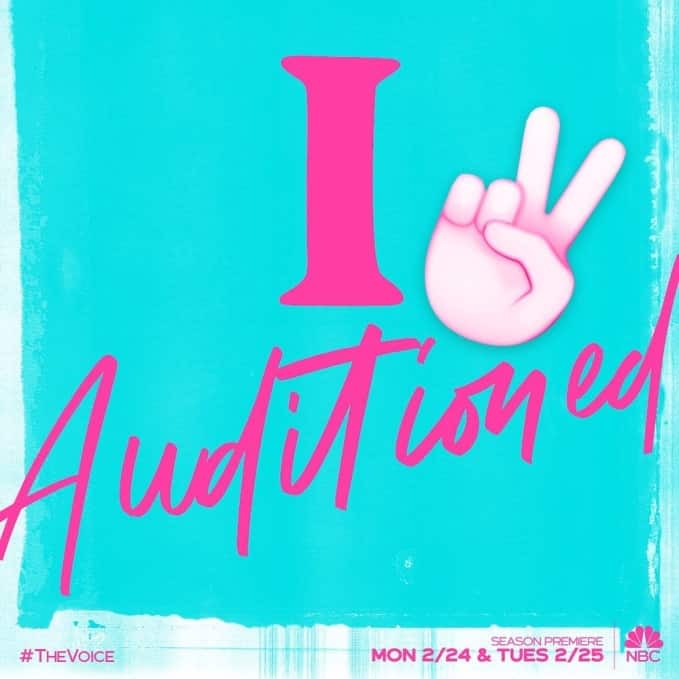 Prior to every The Voice Season comes Reveal Day. That is when contestants are permitted to announce to the world "I auditioned" on social media (see the season 18 artwork above)
And as they always do, Someone648 and The Voice fans at IdolForums.com gather tons of intel on the contestants for the rest of us to enjoy.
I've copied over all the contestants who are confirmed to have auditioned in front of coaches Blake Shelton, Kelly Clarkson, Nick Jonas and John Legend below. Additionally, Idol Forums has compiled a list of Blind Audition teams based on intel, which I've also posted below. 
AND, there are a few spoilers from the Battle and Knockout rounds which are finished taping. 
A few notes:
There are still questions about team size. Usually there are 48 singers, 12 on each team. But due to the elimination of most Tuesday episodes, the teams may be 40/10 or smaller.
Speaking of Tuesday episodes, note on the "I auditioned" announcement the TWO NIGHT PREMIERE Monday February 24 and Tuesday February 25. 
No saves for KO's again, steals all used during the first taping as expected.
I don't quite understand how this will work but the 4 saves from battles will be competing in a 4-way KO and America will choose the winner.
Check out Idolforums master list of contestants including Blinds, Battles and Knockout Round spoilers AT THIS LINK.  The contestants listed below have announced their audition on social media. 
*Contestant has not announced audition, but appear in spoiler reports. 
Partial list of Audition Teams
Team Kelly
JULES
Mandi Thomas
Megan Danielle
Micah Iverson
Sara Collins
Tayler Green
Team Nick 
Arei Moon (Kelly was blocked)
Allegra Miles
Jacob Miller
Joanna Serenko (2 chairs)
Kevin Farris
Samuel Wilco
Team Legend 
Cam Wesley
Cedrice Webber (1 chair)
Mandi Castillo (4 chairs)
Thunderstorm Artis (4 chairs)
Zan Fiskum
Team Blake 
Cam Spinks
Jamal Corrie
Joei Fulco
Kailey Abel
Levi Watkins
Toneisha Harris
Unplaced assumed chair turns 
Brandin Jay
Gigi Hess
Jon Mullins
Michael Williams
Samantha Howell (speculated to be Team Kelly)
Sara Collins
Tate Brusa
Todd Michael Hall
Todd Tilghman