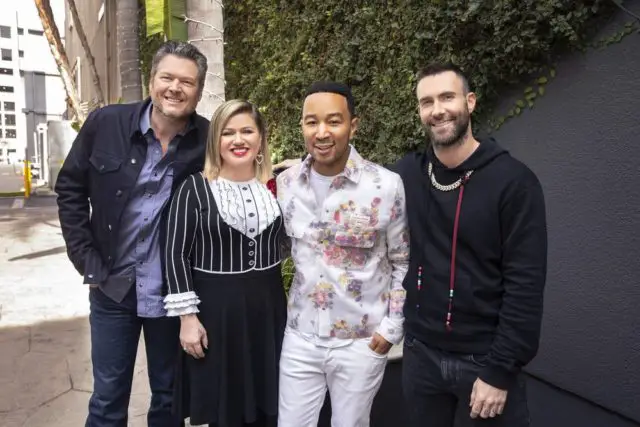 A new season of The Voice means new format changes. Along with the elimination of FOUR Tuesday episodes, season 16 boasts some significant tweaks. For instance, the traditional Knockout Round is history. After the Battles, a LIVE round called "Cross Battles" will commence. The live Finals may be cut back as a result.
New format details are found in the "How to Play" section of the newly available The Voice season 16 phone app. It's available for download now.  
Read the relevant section:
During the Blind Auditions, Battles and live Cross Battles you can add remove or swap artists by tapping the Your Team section found under the menu in the upper corner of your app screen.

Your Team will consist of 12 artists for the Blind Auditions and Battles. On Wednesday April 10th at 12 p.m. PT your team size will be reduced to a total of 8 artists. After the live Cross Battles and Top 24 results, on Wednesday May 1st at 12 p.m. PT, your team size will be further reduced to 3 total artists for the remainder of the season.
Futon Critic lists four Blind Audition episodes on the schedule so far: Mon Feb 25, Tues Feb 26, Mon Mar 4 and Tue Mar 5. At that point, Tuesday shows are off the schedule until Tue Apr 9. 
If the game teams are cut to 8 artists on April 10, that probably means the new LIVE Cross Battles begin on Monday April 15. At that point, there are SIX weeks of competition left in the season. Looking at the Futon schedule, sixish episodes of Blinds followed by 4ish episodes of Battles would allow a new round to begin on April 15.
The teams are cut further on May 1, leaving another 3 weeks of live shows. In other words, there are six weeks of live shows as usual, but arranged in a totally different format. Three weeks of "Cross Battles"/Top 24 Results followed by three weeks of finals? Will there really be only three weeks available to eliminate 23 contestants? Finale week is Monday May 20/Tuesday May 21. 
The Voice season 16 premieres on NBC Monday February 25 at 8 pm ET/PT featuring coaches Blake Shelton, Kelly Clarkson, John Legend and Adam Levine.
ETA: Knockout rounds were scheduled for early February. The dates were on the 1Iota calendar as late as January. Eventually, the dates simply disappeared off the schedule…