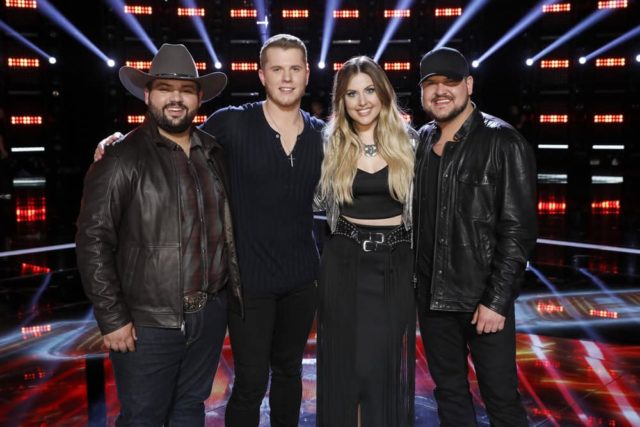 Here are your finale Top 4 The Voice iTunes studio recordings. Apple streams WILL count as votes tonight. Check out all The Voice season 16 Top 4 song spoilers right here.
The finalists will sing three times: A new cover, an original and a duet with their respective coach. 
The Voice Season 13 Top 4 Finale Power List: Rank the Contestants
Dayna live blogs The Voice the Finale performances tonight (May 20) at 8 PM ET. Join us!
Updated: SO MANY COUNTRY SONGS. Gyth Rigdon is a decent songwriter. He's got the best original song of the country boys. The Blake Shelton duets will probably be fun. As commenters noted, singing show fans may be sick of "Hallelujah" but casual viewers are not. Countless artists have had moments with the song. I suspect Maelyn's version will likely shoot up the charts. The "Unforgettable" duet with her coach John Legend is a perfect choice. Nat King Cole's daughter Natalie, recorded a posthumous duet of the song with her father.  And Maelyn's track is could be played on the radio today. It reminds of a Florence + The Machine track. 
The Voice Season 16 Top 4 Finale Song Spoilers
Gyth Rigdon – Once in a Blue Moon by Earl Thomas Conley – Audio
Gyth Rigdon – Proof I've Always Loved You (Original Song) Written by Hunter Ray Gyth Rigdon & James Grady Arnold – Audio
Gyth Rigdon & Blake Shelton – Take it Easy by The Eagles – Audio
Maelyn Jarmon – Hallelujah by Leonard Cohen – Audio
Maelyn Jarmon – Wait for You (Original) Written by Robert McCurdy, Hayley Warner, Gino Barletta & Christopher Petrosino – Audio
Maelyn Jarmon & John Legend – Unforgettable by Nat King Cole – Audio
Dexter Roberts – Anything Goes by Randy Houser – Audio
Dexter Roberts – Looking Back (Original) Written by Aaron Eshuis, Ryan James Hurd & Jessie Jo Dillon – Audio
Dexter Roberts & Blake Shelton – Hard Working Man by Brooks & Dunn
Andrew Sevener – Lips of an Angel by Hinder – Audio
Andrew Sevener – Rural Route Raising (Original) Written by Kyle Jacobs, Vicky McGehee, Keifer Thompson & Shawna Thompson – Audio
Andrew Sevener & Blake Shelton – All Right Now by Free – Audio