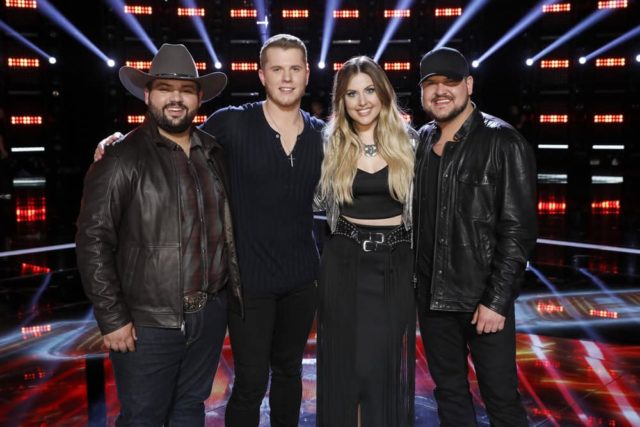 The Voice season 16 finale is coming. On Monday (May 20) the Top 4 finalists will sing 3 songs apiece: One new solo cover, a special duet with their coach and the debut of their first original single. On Tuesday (May 21), after an overnight vote, a new The Voice winner will be crowned.
I was sure that either Team Kelly Clarkson's Rod Stokes or Team John Legend's Shawn Sounds would earn a spot in the final four. But then Andrew Sevener delivered his best performance of the season when it counted–in the Top 8 instant save. His cover of Lynyrd Skynyrd "Simple Man" was the right song at the right time.  If Shawn had sung an emotional ballad instead of the dumb Bruno Mars song, "That's What I Like," he probably would have slid into the finals.
Blake Shelton must be a very busy coach this week, preparing three duets for Monday. All that work, and I predict none of his team members will take the win. I rank the remaining 4 contestants. How would you rate them?
4. Andrew Sevener – Team Blake Shelton – I can't see a world where Andrew bests two consistently popular members of his own team. I expect he'll deliver serviceably, after which he'll come in fourth place.
3. Dexter Roberts – Team Blake Shelton – Dexter has been a consistently great contestant all season. That's no surprise, considering the country singer had already endured the American Idol gauntlet in 2014, which was more difficult than any current TV competition, including Idol's ABC iteration. The Voice has probably been a cakewalk for him in some respects. Dexter is a more versatile singer, but will not overcome the good looking and charismatic Gyth Rigdon
2. Gyth Rigdon – Team Blake Shelton – Gyth hasn't been as consistent as Dexter, but he's pleasing to the eye and knows how to sing a country ballad like he means it. He pandered to country music fans last week with the uber-patriotic "God Bless the USA." Will he pull out a Gospel song this week? The big picture: It won't matter. MaeLyn Jarmon's got this. 
1. Maelyn Jarmon – Team John Legend – I know, the southern white guy always wins! Well not always! Back in season 9, I was sure Blake Shelton's country artist Andrew Wakefield would beat Christina Aguilera's Alisan Porter.  But it was Alisan who came out on top. Sure, she was already known as a child actress, and production pimped the heck out of her. But she was also clearly the better contestant. And that's true here as well. MaeLyn has had one terrific performance after another. And considering that she's won the streaming bonus for a couple of weeks in a row, I think momentum is in her favor. Plus, she's bound to stand out against the competition who are ALL country singers. 
The Voice two part finale airs Monday May 20 at 8 pm ET and Tuesday May 21 at 9 pm ET on NBC.