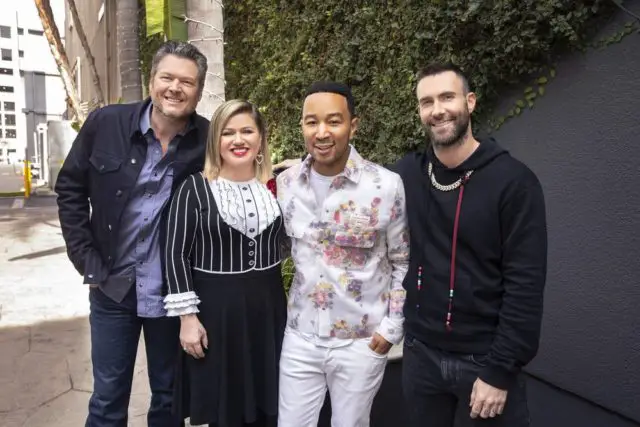 The Voice season 16 premieres tonight with Adam Levine, Blake Shelton, Kelly Clarkson and new coach John Legend as coaches. Check out FULL spoilers for tonight's (Feb 25) premiere. The Comeback Stage returns with Bebe Rexha as the 5th coach.
Gyth Rigdon – Drift Away by Dobie Gray – Married 24 year old from Louisiana. Describes his sound as soul-country. Blake, Kelly and John turned. Blake blocks John. Gyth picks Blake. 
Maelyn Jarmon – Fields of Gold by Sting – 25 year old from Texas who currently lives in New York. Maelyn is deaf in one ear. Currently she's a waitress, but was doing musicals. A four chair turn, Maelyn picks John.
Karen Galera – Mi Corazoncito by Aventura –  19 from Mexico currently lives in Texas. Her brother is in the military. Karen currently performs at malls. Kelly and John turn. Karen picks Kelly. 
Trey Rose – Wake Me Up by Avicii – Trey, a single dad from Oklahoma, plays guitar. Adam and Blake turn. Trey picks Adam
Kim Cherry – No Scrubs by TLC – Kim has no intro package. She's already been previewed HERE. She's an R&B singer/rapper who surprises John with her whiteness. Heh. Kelly and Blake turn. Surprisingly, Kim picks Blake because in the past, he mentioned wanting a rapper on his team. 
AJ Ryan – Love Runs Out by OneRepublic – 30 from Brooklyn, New York won a music scholarship. No turns.
Rizzi Myers – Breathing by Ariana Grande – 29 lives in Nashville and is a mom to 2 kids. Initially, she was a songwriter for artists, until a producer persuaded her to  take the stage. Rizzi is a big Kelly Clarkson fan. Kelly, John and Blake turn. Kelly blocks John. Rizzi picks Kelly
Lisa Ramey – Sex on Fire by Kings of Leon –  33 year old is a returnee from last season. Lisa is a one chair turn from John.
Jimmy Mowery – Attention by Charlie Puth – 31 has a tragic backstory. After his parents split, his mother's boyfriend murdered his father. Adam and John turn – Jimmy picks Adam.
Lil Joy – Cool by Gwen Stefani – 15 year old used to be bullied. She wears colorful wigs and plays the ukulele. Lil is a one chair turn from Blake. 
Nathan and Chesi – Waymore's Blues by Waylon Jennings – 28 and 27 year old duo, respectively. The two are married and live with her parents.  – NO TURNS BUT PICKED FOR THE COMEBACK STAGE WITH BEBE REXHA 
Matthew Johnson – I Smile by Kirk Franklin – Church youth singer from Jacksonville, FL. Works in customer service. 4 chair turn. Matthew picks John.