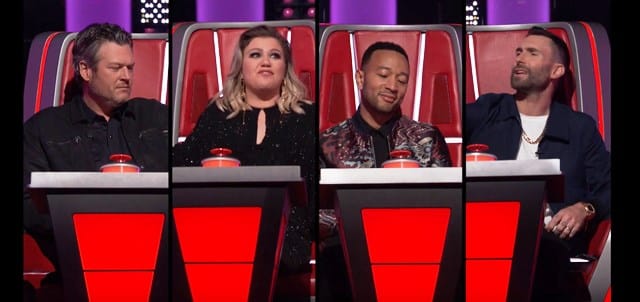 The Voice season 16 kicks off on Monday (Feb 25). And here is your very first look at a Blind Audition.
Coaches Blake Shelton, Adam Levine, Kelly Clarkson and John Legend were mighty surprised by Kim Cherry's performance of the R&B classic "No Scrubs" by TLC. 
Kim's soulful vocals keeps the coaches moving in their seats. But when the artist breaks into a rap, Kelly becomes motivated to smash her button.  But when the singer turns, she can't keep the shock off her face! Maybe it's Kelly's expression that motivates Blake to turn at the very last moment. 
The Voice cameras play coy, with wide shots of the artist, while mostly concentrating on the coaches reactions. It is only when Kim finishes her song and the entire panel turns, that viewers get a good look.   
"She's white!" says a surprised John. "Quote of the day!" Adam responds. 
"I love you!" gushes Kelly, "When you did the rap, your voice was owning it!"
"You were the T, the L and the C," John adds, "It was a lot of letters."
"You have pitch, you have tone, I think you're amazing," woos Kelly. 
Blake compliments Kim, "You just went for it! The fact that you chose that song shows me how fearless you are." Blake adds, eliciting a laugh from the panel, "When you started rapping…rapping is my thing! Your rapping was dope!" He namechecks his song "Boys Round Here" as a song where he "lays it down." Ha.
Kelly literally wipes tears from her eyes as Blake tries to convince Kim to join his team. "They'll be talking about it on twitter!" Immediately, the coaches mock Blake's social media skills. 
Who will Kim choose? PROBABLY NOT BLAKE!  Season 16 of  The Voice premieres Feb. 25 at 8/7c on NBC.
https://youtu.be/Ey3CdREfvug
In addition, The Voice introduces new coach John Legend in a brand new featurette. The video also includes a few tantalizing glimpses of hopeful artists. 
"I was so excited to join The Voice," John says in the clip. "I've been on here as a guest and mentor. I've been here as a performer before. But as someone who sings for a living and produces, that whole concept to be able to make someone's dream come true with the push of a button is a really powerful thing."
John makes Kelly a little nervous. "I won Season 14 and I won Season 15, but he is my biggest threat this season," The Voice champ admits. Fun fact. John was blocked THREE TIMES on his first day…
https://youtu.be/VqkpMBicUlo