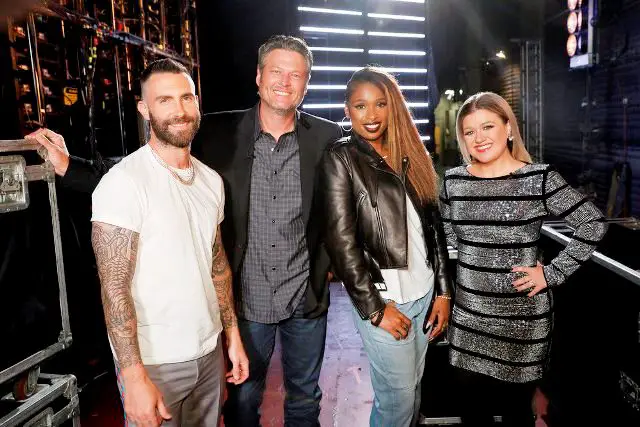 The Voice season 15 Blinds are behind us and the Battles have begun! How long will the round last? When do the Knockouts begin? When do the live shows begin? The answers to all of your The Voice schedule questions are right here.
The Battles air over 4 nights, and feature team members paired up for memorable duets. Coaches pick a winner who advances to the Knockouts. The loser is eliminated OR can be stolen by a fellow coach. Each coach get two steals each. Music stars are assisting the teams, including mentors Cee Lo Green (Team Adam Levine), Halsey (Team Jennifer Hudson), Thomas Rhett (Team Kelly Clarkson) and Keith Urban (Team Blake Shelton) will air its final episode on Tuesday October 23.  Forty-eight contestants will be whittled down to 32. 
The Knockouts will air in 3 parts beginning Monday October 29 and ending Monday November 5. Team members are paired up again. But this time, each singer performs a song of their own choosing. Their coach picks a winner who moves or to the lives. Each coach gets one opportunity to SAVE the loser and one opportunity to save a fellow coaches eliminated contestant. The winning contestants move on to the LIVE Playoffs. No details on the live rounds yet, but KEEP WATCHING THIS POST FOR UPDATES!
UPDATED: Tickets for the Live Playoffs and the first Live Finals episodes are available at ticket booking agency 1Iota.com. The Playoffs will happen in two parts: Live Playoffs TOP 24 2 hour episode on Monday November 12 and Live Playoffs Top 24 Eliminations on Tuesday November 12. So, it looks like overnight voting has returned to the Playoffs. But twenty four performances in two hours? Also, when will the two Comeback winners compete? Stay tuned!
UPDATED: Here we go! The Top 24 will perform on Mon Nov 12. After overnight voting, on Tues Nov 13 the Top 24 will be whittled down to 12 (Top 2 vote getters + coaches save from each team).  THEN the remaining two Comeback Artists will sing for the instant save. The winner will choose WHICH TEAM they'd like to join, making the finals a Top 13.  Read more HERE.
Mon Sept 24 – Blind Auditions Season Premiere (8 PM ET/PT 2 HRS)
Tue Sept 25 – Blind Auditions Part 2 (8 PM ET/PT 1 HRS)
Mon Oct 1 – Blind Auditions Part 3 (8 PM ET/PT 2 HRS)
Tue Oct 2 – Blind Auditions Part 4 (8 PM ET/PT 1 HRS)
Mon Oct 8 – Blind Auditions Part 5 (8 PM ET/PT 2 HRS)
Tue Oct 9 – Blind Auditions Part 6 (8 PM ET/PT 1 HRS)
Mon Oct 15 – Blind Auditions 7/Battles Premiere (8 PM ET/PT 2 HRS)
Tue Oct 16 – The Battles Part 2 (8 PM ET/PT 1 HRS)
Mon Oct 22 – The Battles Part 3 (8 PM ET/PT 2 HRS)
Tue Oct 23 – The Battles Part 4 (8 PM ET/PT 1 HRS)
Mon Oct 29 – The Knockouts Premiere (8 PM ET/PT 2 HRS)
Tue Oct 30 – The Knockouts Part 2 (8 PM ET/PT 1 HRS)
Mon Nov 5 – The Knockouts Part 3 (8 PM ET/PT 2 HRS)
Thu Nov 8 – Road to the Lives (Clip Show) (9 PM ET/PT 1 HRS)
Mon Nov 12 – Live Playoffs TOP 24 (8 PM ET/PT 2 HRS)
Tue Nov 13 – Live Playoffs Top 24 Eliminations (8 PM ET/PT 1 HRS)
Mon Nov 19 – Live Top 13 Performance (8 PM ET/PT 2 HRS)
Tue Nov 20 – Live Top 13 Results (8 PM ET/PT 1 HRS)
Mon Nov 26 – Live Top 11 Performance (8 PM ET/PT 2 HRS)
Tue Nov 27 – Live Top 11 Results (8 PM ET/PT 1 HRS)
Mon Dec 3 – Live Top 10 Performance (8 PM ET/PT 2 HRS)
Tue Dec 4 – Live Top 10 Results (8 PM ET/PT 1 HRS)
Mon Dec 10 – Live Semi-Final Top 8 Performance (8 PM ET/PT 2 HRS)
Tue Dec 11 – Live Semi-Final Top 8 Results (8 PM ET/PT 1 HRS)
Mon Dec 17 – Live Show (8 PM ET/PT 2 HRS)
Tue Dec 18 – CLIP SHOW (8 PM ET/PT 1 HRS)
Tue Dec 18 – Live Show (9 PM ET/PT 2 HRS)