The Voice season 13 Battle Rounds begin next Monday October 16 and are set to air in four parts. On October 30 The Knockout Rounds begin with season 14 coach Kelly Clarkson as Key Advisor.
The Battles feature celebrity mentors as well. Jennifer Hudson has enlisted singer Kelly Rowland to help get her team ready to face off. Blake Shelton brought on the group Rascal Flatts to get his team ready. Miley Cyrus turned to dad Billy Ray Cyrus for assistance with her all-girl team. And, Adam Levine brought Joe Jonas on board to help coach his team.
Check out photos, battle pairings and videos below.
Team Jennifer Hudson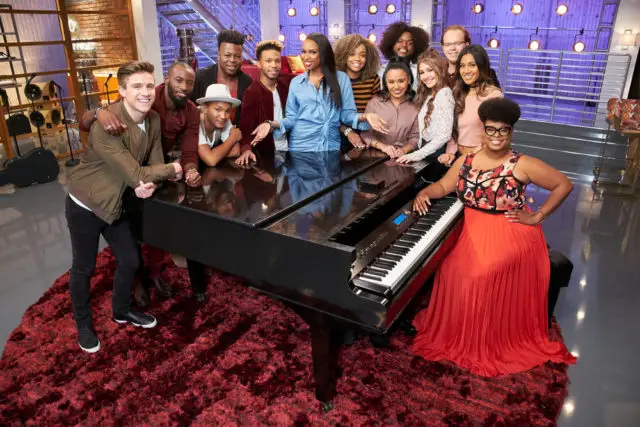 THE VOICE: (l-r) Jeremiah Miller, Stephan Marcellus, Eric Lyn, Chris Weaver, Ignatious Carmouche, Jennifer Hudson, ShiAnn Jones, Kathrina Feigh, Davon Fleming, Alexandra Joyce, Lucas Holliday, Maharasyi, Meagan Mcneal — (Photo by: Tyler Golden/NBC)
Team Jennifer Hudson's Battle Pairings
Alexandra Joyce vs Jeremiah Miller
Shi'ann Jones vs Stephan Marcellus
Lucas Holliday vs Meagan McNeal
Davon Fleming vs Maharasayi
Kathrina Feigh vs Chris Weaver
Ignatious Carmouche vs Eric Lyn
Team Blake Shelton

THE VOICE – (l-r) Red Marlow, Esera Tuaolo, Mitchell Lee, Dennis Drummond, Ryan Scripps, Keisha Renee, Noah Mac, Rebecca Brunner, Blake Shelton, Adam Cunningham, Kristi Hoopes, Anna Catherine Dehart, Natalie Stovall — (Photo by: Trae Patton/NBC)
Team Blake Shelton's Battle Pairings
Ryan Scripps vs Red Marlow
Mitchell Lee vs Dennis Drummond
Anna Catherine Dehart vs Kristi Hoopes
Esera Tuaolo vs Rebecca Brunner
Noah Mac vs Keisha Renee
Natalie Stovall vs Adam Cunningham
Team Miley Cyrus

THE VOICE – (l-r) Megan Rose, Ilianna Viramontes, Moriah Formica, Sophia Bollman, Brooke Simpson, Shilo Gold, Miley Cyrus, Katrina Rose, Janice Freeman, Chloe Kohanski, Karli Webster, Ashland Craft, Addison Agen — (Photo by: Trae Patton/NBC)
Team Miley's Battle pairings
Brooke Simpson vs Sophia Bollman
Karli Webster vs Addison Agen
Ilianna Viramontes vs Chloe Kohanski
Shilo Gold vs Moriah Formica
Katrina Rose vs Janice Freeman
Ashland Craft vs Megan Rose
Team Adam Levine

THE VOICE – (l-r) Brandon Brown, Anthony Alexander, Emily Luther, Whitney Fenimore, Gary Carpentier, Adam Levine, Brandon Showell, Michael Kight, Dylan Gerard, Dave Crosby, Jon Mero, Adam Pearce, Hannah Mrozak — (Photo by: Trae Patton/NBC)
Team Adam Levine's Battle pairings
Brandon Brown vs Jon Mero
Brandon Showell vs Hannah Mrozak
Michael Kight vs Anthony Alexander
Adam Pearce vs Whitney Fenimore
Gary Carpentier vs Emily Luther
Dylan Gerard vs Dave Crosby