It's The Voice season 12 Top 11 LIVE elimination. Tonight one singer goes home after the bottom two perform for the instant twitter save. Get your tweet fingers ready to save a singer.
Members of Team Alicia Keys and Team Gwen Stefani will perform with their coaches. Season 10 winner Alisan Porter returns to perform her brand new single "Deep Water."
Will a singer from Team Alicia Keys, Blake Shelton, Adam Levine or Gwen Stefani head home tonight? We're live blogging all the results here.
Straight away, the Top 11 take the stage. Host Carson Daly mentions that every single hit the iTunes Top 100. Two made the Top 10. Carson asks Aliyah Moulden about support from her hometown. Blah blah blah thank you hometown. Jesse Larson says that from Adam, he's learned so much about pushing beyond his comfort zone. America saved…from Team Blake…Lauren Duski. Low hanging fruit. America also saved…from Team Adam…Jesse Larson.
Next, Alicia Keys takes the stage with her team, Stephanie Rice, Vanessa Ferguson and Chris Blue plus 3 pianos to sing "Natural Woman." Chris solo. It's not often a dude sings this song. Like ever. Hands down, Alicia has the best singers on her team. She won't win though.
The singers take the stage again. What would it mean to Chris to advance to the Top 10? Zzzzz. Big ups to the singers answering these dumb questions cheerfully. Hunter Plake is basically asked the same questions. Here we go. America saved…from Team Alicia…Chris Blue. America also saved…from Team Gwen…Brennley Brown, SURPRISE FACE. Tears. Screaming. Calm down girlfriend!
Next, Gwen Stefani joins her team members Hunter Plake and Brennley Brown to perform "Fix You" by Coldplay. Hunter has admitted to being a total Chris Martin fanboy. What the hell is Gwen wearing? Here comes the backing choir! Gotta have that. Is that a church in the background?
Switching gears, we watch a few humorous Voice outtakes. TIME WASTERS featuring the coaches.
The remaining seven finalists take the stage. After Stephanie Rice and TSoul answer more dumb questions…Carson says…America saved, from Team Blake…Aliyah Moulden. Welp. My predictions are crap again. America has also saved…from Team Adam…Lilli Passero.
After the break, it's time for season 10 winner, Alisan Porter. First a video package where she talks about recording her independent EP. "It's such an honor to come back here and perform my own song," she says. Next, she performs "Deep Water." Alisan belts out the gospel tinged tune with passion. The singer is in fine voice. Her EP I Come in Pieces will be released this summer.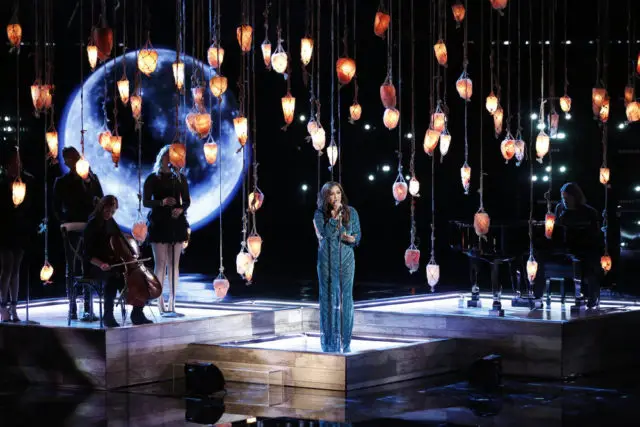 Next, the five remaining contestants take the stage. Vanessa Ferguson, talks about how Alicia helps her connect to a song. America saved…from Team Alicia…Vanessa Ferguson! America also saved…Hunter Plake from Team Gwen. As if! America also saved TSoul!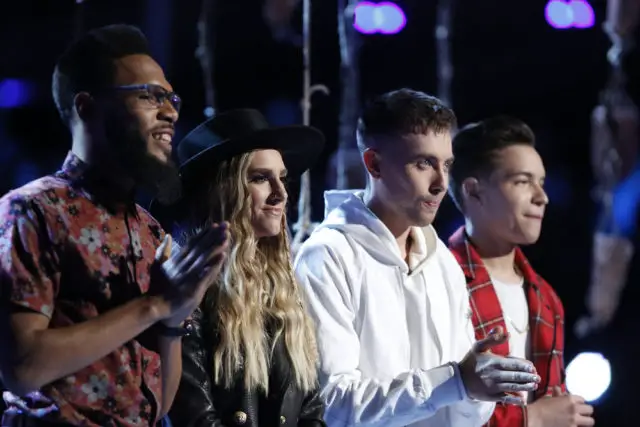 Mark Isaiah and Stephanie Rice had the lowest number of votes and will sing for the save!
Stephanie Rice – Issues by Julia Michaels – Hm. This is a very odd song choice. Not a song I'd pick as a save me song. Her vocal is fine, but the song choice is too obscure. It's a MUST to connect to viewers on a very emotional level during save me time. You gotta give them a reason to reach for their phones. Alicia goes on about Stephanie becoming her "own woman." She begs America to save her.
Mark Isaiah – Seven Years by Lukas Graham – I hate this song so much. But it's a crowd pleaser. Mark is performing last, which will help him. He seems really nervous–his voice is quavering and he's got breath issues again and some pitch stuff. Adam calls Mark a "fighter." He wants Mark to stay so he can fight again next week.
Ok guys you have five minutes. Tweet #VoiceSaveStephanie or #VoiceSaveMark! During commercials: It's Mark 60% and Stephanie 40%. BYE STEPHANIE. Dang. Her performance last night was one of my favorites. I dug her switch up to rock. Oooh. Alicia is basically giving Stephanie a "goodbye" speech. Adam is a lot more hopeful speaking to Mark "I'm going to fight tooth and nail for you bro," he says.
America instantly saved…Mark Isaiah! "You did it again!" crows Carson.
Stephanie Rice eliminated.
Once again I got half of my prediction correct. I said that Mark would be in the bottom two and would be saved again. But I did not think Stephanie would be on the chopping block this week. Next week for sure–but I thought Aliyah or TSoul would go out first. I knew that Stephanie would be a polarizing presence on this show due to her problematic relationship with her super religious parents. It's awful, but generally, a conservative audience is OK with the gay as long as it's not "in my face" so to speak. It's why many LGBT contestants either don't bring it up at all, or don't make their sexuality a central component of their backstory. It's a shame it's like that–but it is what it is.
The Voice Top 10
Lauren Duski – Team Blake
Jesse Larson – Team Adam
Chris Blue – Team Alicia
Brennley Brown – Team Gwen
Aliyah Moulden – Team Blake
Lilli Passero – Team Adam
Vanessa Ferguson – Team Alicia
Hunter Plake – Team Gwen
TSoul – Team Blake
Mark Isaiah – Team Adam – America Saved
Stephanie Rice Eliminated!