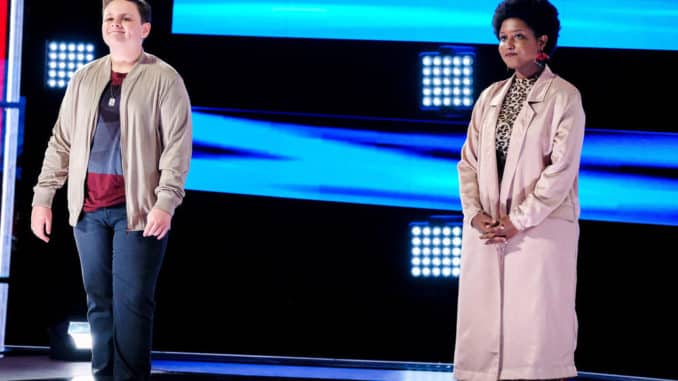 The Voice Recap Season 19 Knockouts 2
The Voice season 19 Knockouts continue tonight with coaches Blake Shelton, Kelly Clarkson John Legend and Gwen Stefani. Carson Daly hosts. We'll be live blogging all the Knockout performances and Results right here.
Former The Voice coach Usher will serve as Mega Mentor. 
Twenty-eight contestants remained at the end of the Battles. Each coach will pair up their remaining artists who will choose a song to perform in front of the coaches. The coach will pick a winner to advance to the Live Playoffs. The remaining singer will be eliminated OR stolen by another coach
Each coach gets one steal (The four saves from Battles will compete in a four way Knockout)
The Voice 19 Top 16 SPOILERS: Battle, Knockout Results, Song Choices
The Voice 19 Knockouts 2: Matchups and Song Spoilers
REMINDER: NO SPOILERS IN COMMENTS. Keep spoiler talk under spoiler posts above, thank you.
The Voice Recap Season 19 Knockouts 2
Team Kelly Clarkson – Desz vs Sid Kingsley
Desz's song choice was a huge part of her childhood.  Singing helped her overcome shyness. Kelly suggested she do 2/3rds of what she did in rehearsal. Create mystique, Usher suggests. "Just because you know it all, doesn't mean you have to show it all," he says. Kelly stole Sid from John Legend. He gets very nervous singing without an instrument. He'll perform from behind the piano this time. Usher gives him advice on how to modulate his performance. Kelly wants more "falsetto ache." She hopes somebody gets stolen. 
Desz – Can We Talk by Tevin Campbell – Her range is impressive, and not just in her upper register. Desz can sing low notes and make them sing. And her alto has an unexpected upper reach. It's obvious Desz is in her comfort zone here. Her phrasing is perfecto. She handles the key change and everything after it beautifully. 

Sid Kingsley – Make it Rain by Foy Vance – Sid also chose his song well. I may have said this before, but Sid reminds me of Team Usher's season 6 winner, Josh Kaufman. But Sid sings with more urgency and rasp. Kelly is on her feet. It's hard to imagine her giving up Desz, especially for someone she stole. But Sid deserves a Playoff spot too  
Blake says Desz ups her game every performance and calls Sid the big surprise of the day. He suggests Kelly pick the singer already on her team–Desz. John regrettably pit Sid against another good singer in the Battles. He calls the performance "a stunning tour de force." Gwen is impressed by Desz's control. Kelly would buy Sid's record. She loves Desz's runs. Kelly picks Desz AND JOHN STEALS SID BACK Oops Blake Steals him too. Sid chooses Blake! Blake reminds him that he tried to get him in the Blinds. He chastises John for giving him up. "I'm sorry about what John did to you." In the end, Sid decided working with as many coaches as possible would be a good thing. 
Team Blake Shelton – Jim Ranger vs Jus Jon
Usher says the pair are two of his favorite singers this season. Jon performs "Finesse" with his band, Raw Jazz, at home. Usher suggests Jon speak talk parts of the song. "When you get to the end of the song, don't hide it, divide it!" says Usher. "If you don't show it, they don't know it!" Jim dedicates the song to his three children. They love the song. Three generations of his family love and sing the song together. Usher calls Jim "limitless" as a vocalist. But to start out, he would give the song "a little more gas." (We previewed this performance HERE)
Jim Ranger – Humble and Kind by Tim McGraw  – This is a very pretty, yet powerful song. His earnest and confident performance will be hard to beat. It's the type of song that  a contestant saves until the end. Maybe he wasted it at this point of the competition. 
Jus Jon – Finesse by Bruno Mars – Upbeat is hard. Especially up against a heartfelt ballad. But he's staying true to himself, he knows how to move and work the stage. His speak/rapping works (good suggestion, Usher).  I just can't imagine him taking this round. Jim is a front runner AND he sang well. 
John thinks Jon performed with charisma and charm. He calls Jim's voice, "well worn and rugged." He thinks the song "really worked." Gwen was blown away by Jon's dancing and singing, but she thinks Jim can win the show. Kelly leans toward Jim because of his song selection. When Blake invites Jim to tearfully share the song's emotional backstory, it's obviously all over for Jon. Kelly feels bad, "I like the fun song too!" she assures the doomed Jon. Blake picks Jim, Jus Jon is eliminated.
Team John Legend – Bailey Rae vs Lauren Frihauf
Bailey Rae is John's first country artist. "I don't know much about the genre," he confesses. The way he describes her voice, referring to her swoops and twang, makes it clear that country is like a foreign language he doesn't speak particularly well. Usher gives Bailey tips on her stage presence. Laura, whom John stole in the Battles, grew up on a secluded farm. John thinks she's pushing the performance too hard. Usher suggests re-arranging the song. They make the Janis Joplin blues-rock classic more "indie." Usher suggests that she stretch her syllables out. 
Bailey Rae – Let Me Down Easy by Billy Currington – Bailey has a really nice tone. But at 18, she's still imitating her favorites. She has all the country "tics" down, but her phrasing isn't creative. Also, that song is too boring for a music competition.
Lauren Frihauf – Cry Baby by Janis Joplin – Hm. To start, the pacing of the new arrangement seems wrong. Also, Lauren doesn't seem comfortable at first. But after a rocky start, Lauren finds her footing as the song ramps up. Her voice cracks a little, but overall, she's great. She has an interesting tone, and is frankly, the better and more original singer of the two.
Gwen calls Bailey's voice "beautiful" but can't take her eyes off of Lauren. Kelly loves Bailey's song selection. Kelly fels Lauren embodied the song's lyrics. She can't choose. Blake calls Lauren "charming." John was worried the song would be beyond her, but Lauren impressed him. He stresses again how very little he knows about country. And probably because he doesn't know better, he can't give up his very first country singer. John picks Bailey, Lauren is eliminated (UNFAIRLY)
Team Blake Shelton – Ian Flanigan vs James Pyle
James was 18 when his mom passed away, and he's dealt with depression ever since. Usher notes that James sings behind the beat. After Ian met his current partner, he got sober. Blake notes Ian's habit of dropping out of a line. And that was a super-short mentoring session!
Ian Flanigan – Beautiful Crazy by Luke Combs – I've said this before, but Ian's tone is not for me? I'm not a fan of deep male voices. Plus, he sounds like he needs to hawk up a hairball. Also, his voice isn't very forceful. His phrasing needs to carry him. But he's different enough to be appealing to some folks, I'm sure.  
James Pyle – In My Blood by Shawn Mendes – Poor James. He's fighting a losing battle. I prefer his voice personally. But Blake is obviously enamored with Ian. Also, Ian has the more identifiable sound. Plus…was his performance edited? That was really short.
Oh. Blake stole James from John. He compliments his range. Gwen calls James' voice "stunning." She thinks they are "both super talented." Kelly loved James phrasing. But she appreciates Ian's vibe. Blake picks Ian, James is eliminated
Team Gwen Stefani – Joseph Soul vs Van Andrew
This performance was edited into a montage. No mentoring session. We heard most of Joseph's performance. But NONE of Van's. Poor guy. 
Joseph Soul – lovely by Billie Eilish ft Khalid
Van Andrew – Human by The Killers
Gwen Picks Joseph, Van is eliminated
Team Kelly Clarkson – Kelsie Watts vs Madeline Consoer
Kelsie experienced an emotionally abusive relationship, which is why she chose Alanis' 90's anthem to anger. She's in a healthy relationship now. Wait. She met her husband "waiting in line at a singing competition." Was that American Idol? Do we know this guy, or nah? ETA: His name is Brandon Brits. Kelly and Usher feel she picked a HARD song. They advise her to be ANGRY and INTENSE. Madeline has also had "horrible" relationships. She cried when she first heard her song choice on the radio. Usher and Kelly push Madeline to be more vulnerable. 
Kelsie Watts – You Oughta Know by Alanis Morissette – Kelsie does have a tall order. She's putting her own stamp on the song, but I'm not convinced it's a great song choice, because it's so easy to over sing. Indeed, the performance is a bit overwrought.
Madeline Consoer – Die from a Broken Heart by Maddie & Tae – Madeline's performance isn't as showy. But I prefer this? It feels real and authentic. Madeline has a beautiful tone and simple, emotional phrasing. I'd give the round to her. 
Blake thinks Kelsie really made her song work. Blake wishes Madeline was on his team. John felt Madeline was connected. He felt Kelsie did a good job staying true to the song, but also doing her thing. He'd lean towards her. Gwen is blown away by Kelsie's talent. Kelly is torn! Kelly picks Madeline. Kelsie is eliminated. That was the right choice. Kelly considers Madeline a "hidden gem" the other coaches missed.
Team Gwen Stefani 
As a 14 year old theater kid with a voice that hasn't dropped yet, Carter has suffered at the hands of bullies. So he chose the song because it embodies his struggle with other kids his age. Usher reminds Carter to breath properly, and support himself with air. The talented Chloe teaches middle school kids like Carter about the history of black music. Thank god John uses his steal tonight.
Carter Rubin – You Say by Lauren Daigle – It's a perfect song choice for Carter. It's age appropriate, and gives him the opportunity to show off his strong, clear upper register. FINGERS CROSSED HIS VOICE DOESN'T START CHANGING, RIGHT. The coaches are on their feet. "I can't breath!" says an emotional Kelly.
Chloé Hogan – Weak by SWV – This is such a weird match up–a young tween singer vs a mature singer who could be his voice teacher. I don't know this song at all, but Chloe is really bringing it home. Her interpretation of the song is a great combination of R&B and jazz. 
Kelly says Carter's performance "broke" her. But she loves Chloe's texture and tone. Blake marvels at Carter's skill. But he loved Chloe's performance, calling it magical. "You had the moment of the night," he says. John reminds everyone he has a steal, as he gushes over Chloe's performance. Ha. Gwen calls it a difficult moment. But of course, Gwen picks Carter, leaving it open for John to steal Chloe. Most predictable result ever. Chloe was a one chair turn, which is why she isn't on his team in the first place. Her cerebral personality is a much better fit for Team Legend.