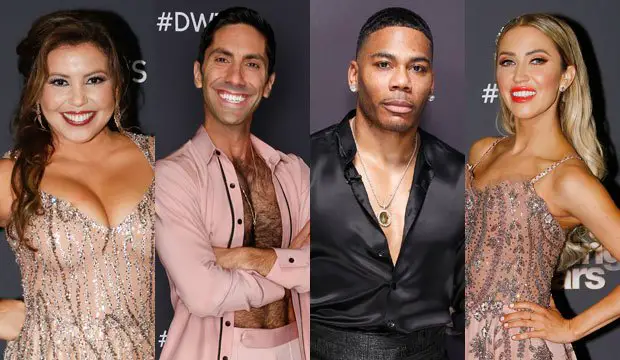 Hey Everyone :)
This is it! Welcome to the season twenty-nine finale of Dancing with the Stars. Following ten weeks of competition, hundreds of competitive routines, and ten eliminations, we have our final four. Tonight- Kaitlin, Nev, Nelly, and Justina compete for the final time and new champions are crowned.
Last week, the semi-finals saw a double elimination where Skai & Alan and Johnny & Britt were eliminated. Only two dances remain for the finalists this evening- a favorite routine and the popular freestyle round. One could definitely make an argument for any of these finalists walking away with the win.
Despite being the weakest overall dancer left, Nelly has the true underdog story of the season, as well as being the most improved of the remaining celebrities. He has never been in the bottom and is a hit with audiences. Justina has only hit the bottom once (last week) and has consistently been one of the most entertaining dancers. She has a great work ethic and her joy has been infectious.
Nev is arguably the strongest technical dancer left. He has never been in jeopardy this season and has been a real gentleman with a perfect partnership with Jenna. His love of dancing has been great to watch unfold. Kaitlyn has been stellar since the very start, taking the judges notes to heart and coming back each week with strong routines. She has also never been in jeopardy and is partnered with returning pro, Artem.
Speaking of, only Jenna out of these four pros left have won this show before. The rest will all be earning their very first victory. And even Jenna would be winning her first full season victory, as her last one came in the shortened athletes season a few years back. All four pros need to bring it tonight in the choreography for the freestyle routines. It has been said before that the freestyle could determine who ends up winning.
In addition to the actual competition tonight, some of this seasons couples will return. Derek Hough will once again go from behind the judges table into the ballroom to dance. Nelly will entertain us with a medley of some of his biggest hits.
I have said it before but it bears repeating that producers have done a wonderful job keeping everyone safe during this pandemic. They have managed to give us an entertaining season despite some real hardships in putting the show together. It definitely felt like a different season but all in all, that dancing magic was still there and I'm thankful we had a full season. My only real gripe, once again, is that we lost Tom and Erin and gained Tyra. She has improved as the season went out but our former hosts were sorely missed.
I will include voting details under each performance review but remember, you can begin voting as soon as the show begins and ends during the final commercial break before Tyra reads the results for the last time. For anyone wanting to vote right at the top of the show- go to ABC.COM to vote online or use the following information to vote via text.
Text JUSTINA to 21523 to vote for Justina Machado
Text KAITLYN to 21523 to vote for Kaitlyn Bristowe
Text NELLY to 21523 to vote for Nelly
Text NEV to 21523 to vote for Nev Schulman
Nice. We get a proper opening with an actual dance number featuring our pros. A bit of socially distanced dancing if you will. The final four and their partners are on stage. And here comes Tyra. My heavens, she is wearing a huge gown. And I mean HUGE. Ray Leeper choreographed that opening number. I think this outfit weighs more than Tyra. Anyways, time for round one- the favorite routine of the season for the contestants.
Kaitlyn & Artem – Argentine Tango
Smart choice to pick this. This was the routine where Kaitlyn really shined above all other weeks. It was a powerful and passionate Argentine Tango, just as good the second time around. Great footwork like before and stellar posture as well.
Derek compliments the choice. He says Kaitlyn has met their expectations. Bruno says she took his breath away. He loved the details and feels it was even better this time around. Carrie Ann is happy she picked this as well. She feels she challenged herself.
Carrie Ann- 10, Derek- 10, Bruno- 10 for 30/30
Nelly & Daniella – Samba
So fun. It really is amazing how far Nelly has come from week one. I am interested in seeing how the judges score this. It wasn't a thirty routine (neither was his dance last week) but they might just tie everyone and leave it to America. But there were some mistakes in that, some awkward looking samba steps. But it was a hell of an entertaining routine.
Bruno says Nelly has a natural feel and is engaging to watch, despite some technical issues. Carrie Ann feels Nelly has had the most fascinating journey. She thinks Nelly has shown dance is the joy of life. Derek agrees and calls Nelly a moment maker.
Carrie Ann- 9, Derek- 9, Bruno- 9 for 27/30
Nev & Jenna – Paso Doble
DAMN. Perfect. I believe they started different this time, with Nev beginning the dance as opposed to Jenna. Good call. It made him stand out more. Just an amazing routine definitely worthy of the tribute to Swan Lake.
Carrie Ann says it was once again perfection. Carrie Ann feels he has given a thousand percent. Derek noticed the changed in the beginning. Bruno also loved the switch of the characters. He calls it more thrilling and that Nev killed it.
Carrie Ann- 10, Derek- 10, Bruno- 30 for 30/30
Justina & Sasha – Cha-Cha-Cha
I remember this dance from week one. It was short back then because we had so many couples so I was pleased to see some added material here, even if it was Justina "singing" into the mic. LOL. So much fun with so much energy and so much joy. I knew straight out in week one that she would end up going the distance on this show. She should be very proud.
Derek says Justina explodes with energy and charisma. He loved the singing part too. Bruno says she was almost too hot to trot tonight. Carrie Ann says Justina knows how to bring it and has something different.
Carrie Ann- 10, Derek- 10, Bruno- 10 for 30/30
Now, time for some filler as we look back at the past eleven weeks of season twenty-nine. Well, not all filler thankfully.
Time for some Derek Hough dancing. :) So damn cool. Go out of your way to see this. Tapping, paso, jazz…I mean, everything. And only the way Derek can do it. What a nice celebration to the season and to dance on a whole. Just joyous and absolute perfection. Derek is very much missed as a pro on this show but what a carreer he has made for himself.
Nelly & Daniella – Freestyle
Cool. Very, very much Nelly. Daniella did him right with the choreography. If we are being totally honest, parts of that were incredibly sloppy. One of those lifts…yikes. But it was quite entertaining and Nelly looked like he was having a blast out there. A good way to end his run on the show. A quite unexpected run at that.
Bruno says we are in the presence of hip-hop royalty. Carrie Ann loves the partnership. She loved the hybrid of hip-hop and ballroom. Derek says it felt like a Grammy performance.
Carrie Ann- 10, Derek- 10, Bruno- 10 for 30/30
*Yes, they are turning it over to the audience to vote for the winners because while fun, that dance was not perfect by any means.
Kaitlyn & Artem – Freestyle
Nice. You see, how can you compare that to Nelly's freestyle and say his was a 10 if this is also a 10? Impossible. Very smart choreography by Artem here by incorporating some jive, some jazz, some technical, some artistry. It had just about everything. And Kaitlyn really kept up with the fast pace of it and all the intricate sequences. Great job.
Carrie Ann feels her expectations for that dance were met. Derek tells her well done and congratulations. Bruno feels the dance really captured the theme and was dazzling.
Carrie Ann- 10, Derek- 10, Bruno- 10 for 30/30
Nev & Jenna – Freestyle
Adorable. Very old school Hollywood. Loved the tribute to Singing In The Rain. Loved the umbrella work and then the dancing on water. That was cool. We've seen it before of course but it always impressive. Nev is absolutely a stunning dancer and more, a performer. He should continue performing well after this show is over if he wants.to.
Derek calls him a leading man and tells Nev that he brings out the best in Jenna. Bruno loved the midsection and felt it was show stopping. Carrie Ann calls him an incredible performer.
Carrie Ann- 10, Derek- 10, Bruno- 10 for 30/30
Justina & Sasha – Freestyle
Wow. Very content heavy freestyle. No real frills in this one. Just a whole lot of Latin dancing. And Justina kept up so well with all that. Love those underarm passes- hard to do so many and not mess it up. This was really the perfect all around dance for Justina because it is what she does best- energy, fun, smiles, and groove. So good.
Bruno calls it a celebration of the Latin spirit. He calls it a tonic for the soul. Carrie Ann says Justina used the freestyle to send out a message. Derek couldn't think of a better freestyle to finish the season.
Carrie Ann- 10, Derek- 10, Bruno- 10 for 30/30
Well, that's it for the competition and voting is now closed. That was a strong two rounds of competition and the judges have left it up to the audience to decide.
And now, we have Nelly is here to perform some of his biggest hits. By the way, the returning celebrties from this season did not dance but they were present in the ballroom. We saw Anne, Jeannie (she's doing well), Jesse, among others. It was probably easier for health concerns to not have them do any dancing. Meanwhile, Nelly is having a blast doing his hits. Daniella comes out to join him for a bit. It is crazy to me that I am watching Nelly on this show singing these songs that I was in love with in high school. LOL.
Up next…the final results of the season. Gotta say- they were light on filer tonight thankfully. Here we go guys…
A special tribute to the final four from the finalists family and friends. Aww. That's really sweet of them to have everyone's loved ones speak about them. Damn. Justina got some major celebs in the audience rooting for her. I see a few people in these packages who could be future contestants on the show.
AND NOW…THE RESULTS.
The 4TH place finishers are… Justina & Sasha
The 3RD place finishers are… Nelly & Daniella
And the WINNERS of season 29 of Dancing with the Stars are… Kaitlyn and Artem.
Congratulations to Kaitlyn and to Artem on his first win. And congrats to Nev and Jenna on a very well deserved second place.
That's it everyone. I want to thank MJ for letting me blog another season, all of you who watched, voted, commented, took polls, and joined me. Please continue to stay safe. Please continue to love one another and have a happy holiday season. See y'all next year!!! <3