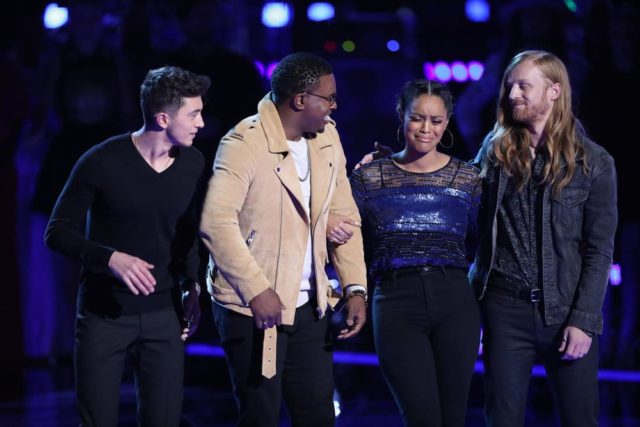 The Voice ratings on an atypical Wednesday night, earned a 1.4 in the 18-49 demo. Might that number be the lowest ever for a non-clip show episode? However, NBC can't be too disappointed–it helped Law & Order:SUV earn its second best ratings of the season.
Survivor beat The Voice in the demo, but not in number of viewers (The Voice actually won the night in viewers). In fact, Empire won the timeslot in the demo, but had the fewest viewers of all three shows. Now talk about your erosion: Empire, now in its 4th season, earned Roseanne sized ratings for its first season. The season 1 finale garnered a 6.9 rating and almost 18 million viewers back in 2015.
UPDATE: The Voice and Empire both rose 1/1oth of a point in the final update.
Via TVByTheNumbers
8 p.m.
Empire (FOX) 1.8/7 5.41
Survivor (CBS) 1.6/7 7.73
The Voice (NBC) 1.5/6 8.38
The Goldbergs (ABC) – R 0.7/3 3.39
Riverdale (The CW) 0.4/2 1.10
8:30 p.m.
Alex, Inc. (ABC) 0.6/3 2.76
9 p.m.
Law & Order: SVU (NBC) 1.4/5 6.58
Star (FOX) 1.3/5 4.00
Criminal Minds (CBS) (9-11 p.m.) – F 0.9/4 5.65
Modern Family (ABC) – R 0.7/3 3.13
The Originals (The CW) – P 0.4/2 0.97
9:30 p.m.
American Housewife (ABC) – R 0.8/3 2.94
10 p.m.
Chicago PD (NBC) 1.2/5 6.62
Designated Survivor (ABC) 0.6/3 3.51