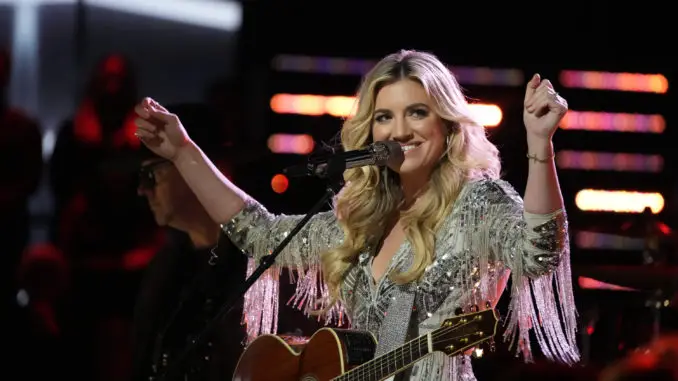 Morgan Myles turned 4-chairs on The Voice season 22 last fall with a powerful performance of Leonard Cohen's "Hallelujah." Now, the country singer is releasing her own version of her well-loved cover, filmed at the iconic Ryman Auditorium in Nashville.
"Bottom line, 'Hallelujah' is my all-time favorite written song. It means something different to everyone on such a deeply emotional level," Morgan told People magazine where the song premiered last week. "You have to have experienced deep heartbreak and loss in your life to be able to deliver it in a genuine way. It was an honor to share my rendition for America and brought me to tears with the response it had on so many people, it's why I absolutely love what I do."
The Voice's Bryce Leatherwood, Morgan Myles Recorded a Duet
The Voice: Morgan Myles Helps Brayden Lape Record New Music
Morgan ultimately chose Camila Cabello as her coach over Blake Shelton, John Legend and Gwen Stefani. The singer finished in third place behind winner Bryce Leatherwood and runner-up bodie.
"The most memorable moment was hearing what each coach had to say afterward because after all the years of pursuing my dream, the ups and the downs, their words gave me so much encouragement," she says of her experience on the show. "I'm still so touched by what they each said and that will forever leave a huge impression on me."
"It was like the Ryman chose me"
As far as choosing the Ryman to film her video, Morgan said "It was like the Ryman chose me."
"I was offered this once-in-a-lifetime opportunity right after my Opry debut and it was a no-brainer for me. The 'Mother Church' has this spiritual embedded history in its walls, pews, everywhere. All the greats have played there before you and when you're in that space you're swept away," she shared with People.
Morgan is about to embark on a tour. "UPCOMING SHOWS!!!! All tickets available at morganmyleslive.com!" Morgan wrote on Instagram. "Happy #MylestoneMonday because there's nothing better than doing what you love for the ones you love, see y'all out there soon!"
Fellow finalist Brayden Lape will join Morgan on select East coast dates! She told People that "new music coming very soon."