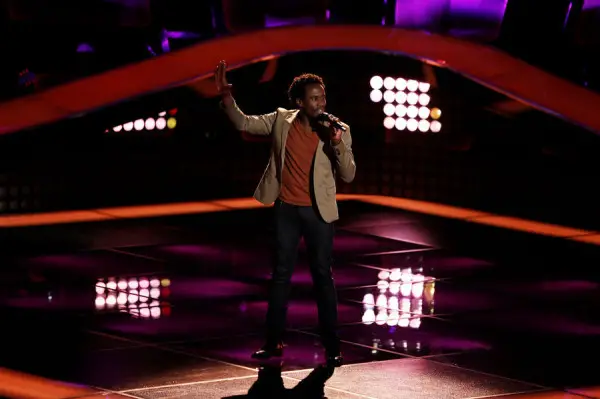 Former The Voice 8 contestant, Anthony Riley, was found dead of an apparent suicide Friday in the basement of the Center City apartment where he was staying, according to Philly.com.
Now, a statement from the medical examiner's office, reported by TMZ and other media outlets, reveals that Anthony hung himself. The singer died on Tuesday, but his body wasn't found until Friday, a friend, Robby Parsons told Yahoo.com.
The singer had sat down with The Voice's production staff in January after winning the Battle Round victory, and shared his ongoing struggle with substance abuse. That night, NBC producers flew him back to Philadelphia so he could enter Clarity Way, a drug and alcohol rehab facility in Hanover, Pa.
After completing rehabilitation back in March, Anthony told the Philadelphia Inquirer that he struggled with drug addiction for two years. "For me it's tough because everyone's just finding out and I've been moving forward [past my departure]," said Anthony.
"We are sad over the passing of Anthony Riley," an NBC rep said in a statement issued to The Hollywood Reporter. "We offer our deepest condolences to his friends and family during this very difficult time."
"This is incredibly sad. Anthony was one of the greatest singers and entertainers I've ever known personally," said fellow Team Pharrell member, and The Voice winner, Sawyer Fredericks on Facebook, "My mom and I want to send love and condolences to his family. Such a very sad loss."
And one-time, Pharrell Team member, and runner-up, Meghan Linsey also posted a message of condolence on Facebook, "This is absolutely heartbreaking. Please keep Anthony's family and friends in your prayers. Such an incredible talent and gentle soul. My heart hurts."

l-r Paul Pfau, Meghan Linsey, Kimberly Nichole, Anthony Riley