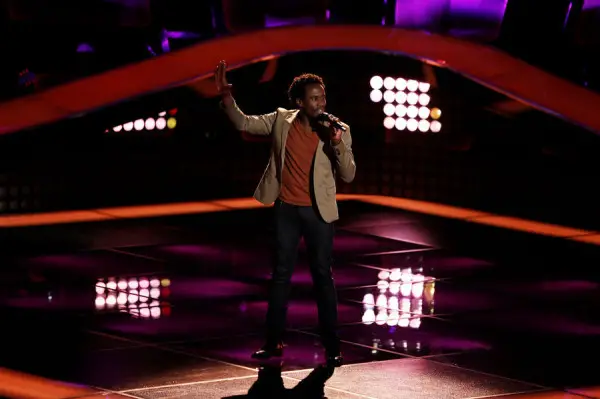 UPDATED: According to Philly.com, Anthony took his own life.
Riley took his life, and was found Friday in the basement of the Center City apartment where he was staying, said Tootsie Iovine. Iovine and her brothers both own shops in Reading Terminal, and had been "like family" to Riley.
Yahoo music spoke with one of Anthony's friends:
While representatives for The Voice have yet to comment on the tragedy, a man identifying himself as Riley's best friend, fellow Philadelphia busker Robby Parsons, spoke exclusively to Yahoo Music's Reality Rocks and confirmed the news.

"Anthony passed away Tuesday. He wasn't found until yesterday [Friday]," said Man. "His sister called me at 7:30 yesterday to tell me… I called the friend he'd been living with, Bobby Iovine, and Bobby was in tears. And he said, 'Robby, it's true.'"

Parsons added: "Anthony was a gentle soul. Just a loving, caring, gentle person, is what he was."
It hasn't been confirmed by media yet, but friends of The Voice 8 contestant, Anthony Riley, are reporting that he died. Anthony dropped out of the competition to enter rehab for alcohol and drug addiction.
Anthony told the Philadelphia Enquirer back in March, after he had completed a rehabilitation program at a local treatment center, that he struggled with drug addiction for two years.
"For me it's tough because everyone's just finding out and I've been moving forward [past my departure]," said Anthony.
The singer sat down with The Voice's production staff in January after winning the Battle Round victory, and shared his ongoing struggle with substance abuse. That night, NBC producers flew him back to Philadelphia so he could enter Clarity Way, a drug and alcohol rehab facility in Hanover, Pa.
There are no details yet regarding Anthony's death. I'll update the post when more news becomes available. RIP Anthony.
Read More:
Anthony Riley Left the Voice 8 to Enter Rehab
RIP @iamanthonyriley … Unreal

— Dave Tallman (@Coach_Tallman) June 6, 2015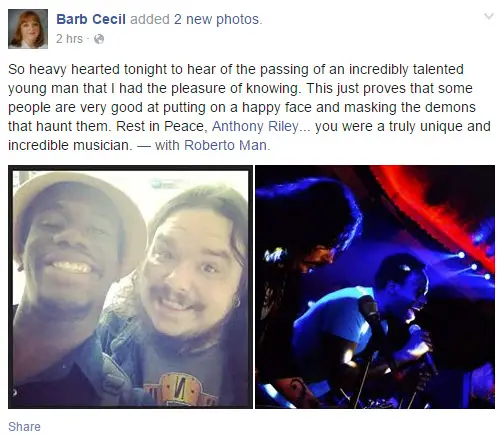 Anthony had mentioned in interviews that he was considering returning to The Voice for season 9. The Philadelphia native and street performer, was a member of Team Pharrell Williams.
Blind Audition – "I Got You (I Feel Good)"
https://youtu.be/f9gAl7ir8qo
The Voice 2015 Battle – Travis Ewing vs. Anthony Riley: "Get Ready"
https://youtu.be/HDBfPoEz__g